Elm Street | Barbed Wire Metal
by Mark Allen
Staff Writer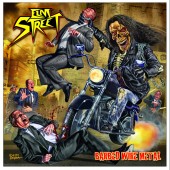 Despite hailing from Australia, Elm Street's sound is deeply rooted in '80s NWOBHM and American heavy metal. Not the mousse-and-spandex model, but the denim and leather definition. We're not talking the pretty boy gloss of Poison or Stryper, we're talking the clenched fist aggression of Priest or Maiden. You know, the kind of metal that is more interested in kicking ass than getting ass.
Barbed Wire Metal is the band's debut and it must have some jackrabbit DNA in its blood, because it has done its fair share of hopping around. Originally independently released by the band, the album was then snatched up for a limited run by Stormspell Records and is now seeing an expanded release via Massacre Records. Fingers crossed that the third time is the charm, because for fans of old fashioned metal fury, this is really fine stuff that deserves to find its niche audience.
The thrash attack starts immediately; with an onslaught of rapid-fire drums and speed-riffing, the band waste no time in ramming their big, loud, ballsy metal right in your face, a musical time machine transporting you back to 1986. And Elm Street bring some big hooks to back up the banging riffs. Mind you, these are heavy metal hooks, not commercial hooks; Elm Street have zero interest in catering to the corporate rock crowd clogging mainstream radio. No, these are the hooks of Accept, of Saxon, of Grim Reaper, of bands who believed the only way to sing a chorus was to shout it out with thundering gang vocal power.
In keeping with the band's old-school mentality, they bloat their lyrics with more cheese than the whole state of Wisconsin. Make room in your cheek for your tongue, because taking these songs seriously is as impossible as licking the back of your own neck. Lyrical subjects include metal power, Freddy Krueger, Leatherface, demonic disciples, and even Jesus Christ. Yes, Elm Street are equal opportunity lyricists, with no allegiance to either the dark or the light. Okay, there's only one song about the Son of God and seven songs about metal and monsters and Satan, so maybe they do tilt toward the darker end of the spectrum. But hey, at least they tossed Jesus a bone.
The band is comprised of confidently competent musicians doing a quality job of slamming out the kind of throwback metal they have chosen to play. The vocalist sustains a snappy snarl in the David Mustaine vein, the guitarist gets to ripping with some tasty solos, the bassist keeps things beefy, and the drums, while a little diminished in the punch department, do their job well enough that they are not a detriment. Throw in an engineering mix that is just as retro as the music itself and cover art featuring a skeletal biker riding roughshod over a bunch of suit-wearing corporate types and you've got a heavy metal album that wholeheartedly embraces its '80s inspiration, not just a little, but the whole kit, kitsch, and caboodle.
Elm Street just want to bring back the good ol' days when heavy metal was fast and fun and a little cheesy and didn't take itself too seriously. If you find all the angst-fueled screaming and growling that passes for modern thrash metal to be about as pleasant as a barbed wire enema, you are exactly the kind of headbanger that needs to lend Elm Street your ears. Go ahead and start practicing your devil horns right now—you're gonna need 'em.
Genre: Heavy Metal
Band:
Ben Batres (vocals, rhythm guitar)
Aaron Adie (lead guitar)
Brendan Farrugia (bass guitar)
Tomislav Perkovic (drums)
Track Listing
1. Barbed Wire Metal
2. The Devil's Servants
3. Elm St.'s Children
4. Heavy Metal Power
5. King of Kings
6. Leatherface
7. Merciless Soldier
8. Metal is the Way
Webpage: www.metalelmstreet.com
Label: Massacre Records
Hardrock Haven rating: 7.4/10