Filippo Cavallini of Voodoo Highway
by Alexandra Mrozowska
Staff Writer —
Hard rock might not be a genre which we immediately associate with Italian music, and we still cannot talk about any serious revolution happening in the European rock scene yet. However, the increasing number of great hard rock acts from Italy appearing recently might portend some future invasion in a way!
While most of the promising Italian bands and projects are comprised of the experienced and acclaimed musicians – like Edge of Forever, HungryHeart or Shining Line – the Ferrara-based Voodoo Highway brings youth and enthusiasm onto the stage.
Founded last year, the group has recently released their debut album Broken Uncle's Inn. This fact itself was a great reason to catch up with the band's bassist Filippo Cavallini and take a closer look upon the band, their classic rock roots that influenced considerably their first effort… and the plans they have for their bright future ahead!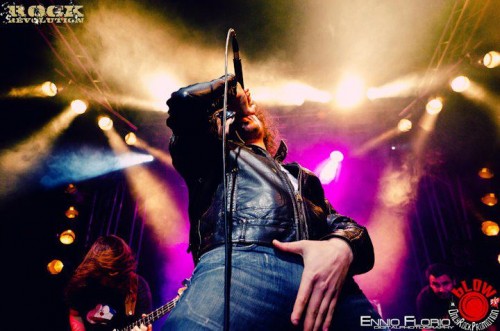 Hardrock Haven: Hi guys! Thanks for a possibility of talking; it's a real pleasure to promote Voodoo Highway. Let's begin with the most important thing – your newly released album, the first in band's history. What can we find on Broken Uncle's Inn?
Filippo Cavallini: Nice to meet you all readers of Hard Rock Haven! It's our pleasure to be here answering this cool interview from the divine Alexandra! So let's begin… Broken Uncle's Inn …what can I tell you? Someone told it's one of the best albums of the year, other guys told it's a sort of a tribute to Deep Purple (probably they didn't listen to it for real…) but all I can tell you is that our album is a pure concentrate of hard rocking, nothing else! There you can surely find a great seventies rock influence with a kinda eighties style in the choruses, but I'm not a music journalist, and all I can tell you is that we've just rocked hard to make it, and put every inch of our souls in it! ..and that's also the reason why it's filled with really weird lyrics! [laughs] We're just a bunch of boys from a small town in the wetlands of North East Italy, who like rock n' roll and having dirty adventures! [laughs]
HRH: What are your favorites of the album, which songs would you pick up as the most important?
FC: It's hard to answer this one… I could probably tell you the usual thing that all the bands say in an interview… so that we like each song, that each song it's important etc. etc. … but I'm sure that what we really like of this album is the opening track 'Till It Bleeds', as it's the first tune we've ever made together, and it's about the dirtiest and funniest thing in life: having sex with fat girls! It's not an autobiographic story (exception made for our drummer), but we really like it! We know that a famous Australian band made a song about it before, but our lyrics are far more dirty! [laughs]
HRH: Broken Uncle's Inn was produced by Luca Magni. Are you satisfied with the results of this co-work? In what way did he influence the album?
FC: Oh, Mr. Magni!! Luca has been a great friend of us since we were teenagers (he's the same age of mine: 24), and he always supported Voodoo Highway! Luca is quite a good sound engineer and he has tons of great ideas in terms of artistic production… he helped us a lot! He's patient (and a man needs a lot of patience, if he's going to work with us!) and he likes booze – and that's all we need! We had fun with him, for real! He helped us in building up the we-are-having-a-lot-of-fun-doing-this atmosphere that a lot of people who has listened to the LP have noticed; he has somehow been the key of the album! Great guy, great friend!
HRH: 'Broken Uncle's Inn' gained rave reviews all across the world. Craig Gruber (ex-Rainbow, Black Sabbath, Gary Moore) has named the band the next Deep Purple. What is your take on that?
FC: Oh well… you can guess we are honored about the great critics, the quotes etc. etc. … we have won some really cool nominations this year, and the LP as sold out TWICE!! We are really happy about it all… and well, Mr. Gruber is our idol, a man who helped writing the rock 'n roll history, so it's amazing! But in the end of it we just love to think that what really has rewarded us it's our feet-on-the-ground mood! So we just keep thinking about rocking and having fun, which is just what we love!
HRH: What kind of promotion do you plan for the album?
FC: You must ask to our manager darlin'! In the last six months we've gigged a lot, collected tons of reviews, interviews, radio airplay, TV airplay etc. etc. … and it's been amazing! We'll just continue keep doing this 'till the end of times… hoping one day soon someone will notice us and will give us some millions of dollars to spend in fireworks!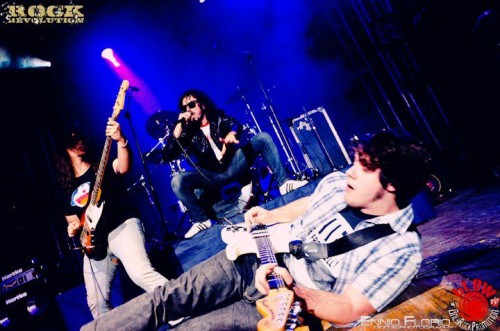 HRH: Your management is Rock N' Growl. Are you satisfied with their work?
FC: It's a super cool management, and they also deal with the distribution of our LP with distributors all over the world, including digital release on all the majors digital shops! By the way, Rock n' Growl it's amazing! Mr. Axel Wiesenauer, who's the guy behind the band, is just the top manager around! He's cool and he put his heart in it, such a cool guy and friend!
HRH: Now, a bit of history. When was the band formed? Please, tell a few words about Voodoo Highway's current line-up.
FC: It all started back in springtime 2010, when we decided to have some jams together to fight the boring nights of our hometown! After a few rehearsals we've composed 'Till It Bleeds' and we saw that it was good (in our modest opinion at least…). We are just friends or neighbors who started a band just for game! Federico Di Marco (vocals), Matteo Bizzarri (guitars) and myself (Filippo Cavallini, bass) know each other since we were at high school, Alessandro Duò (Organ) used to play with me in another band before Voodoo Highway was formed, and Lorenzo Gollini (the drummer who recorded the album) was a Matteo's contact.
The current line-up is up since July 2011, when our original drummer Lorenzo Gollini left the band due to personal problems, and Vincenzo Zairo replaced him. Vincenzo is a cool one, bad ass drummer with a real rock n' roll attitude! We're happy with having him aboard, as we compose quicker than before and, even if Lorenzo used to have that lovely blues-groovy style, Vincenzo is such a more powerful drummer!
HRH: From where came an idea for a band's name?
FC: Well… strange story, and I'm sure that everyone always think that the idea came from the super album from Badlands ('Voodoo Highway'), but the truth is different…
In April 2010 I found myself traveling to Rome as I was attending a gig there with my other band… While I was on the bus I started to think badly to my favorite Black Sabbath's album from the DIO era, which is Mob Rules, and to the song 'Voodoo' as at the time a girl somehow broke my heart and I was looking for something evil to listen to… obviously on my MP3 player there was no song of 'Mob Rules'! So I started singing 'Voodoo' in my head looking at the highway… From that association comes 'Voodoo Highway.'
HRH: What were your main inspirations and influences?
FC: Each of us has several different influences… Matteo and myself (we are cousins too) always used to listen to very retro rock n' roll: Deep Purple, Rainbow, Led Zeppelin, Black Sabbath, The Who, Uriah Heep, UFO, and so on… We also love more modern acts like The Darkness, and personally talking, the American act Foxy Shazam. Matteo is also a great fan of thrash metal; his idols are Ritchie Blackmore, Dimebag Darrell and Zakk Wylde. Personally I also love eigthties heavy metal such as Judas Priest, Savatage or Saxon, while my all time fav band is Led Zeppelin. I also love some death metal acts like Carcass… Federico, the singer, is a great fan of Queen and Gianni Drudi (a weird singer and performer from Italy). Alessandro Duò has the strangest musical taste in the band as he listens to power prog acts, power metal acts, black metal acts, hard rock acts, retro progressive acts etc etc. … a very complicated guy! [laughs] Vincenzo is a great fan of Pantera and Badlands… he's such a macho guy!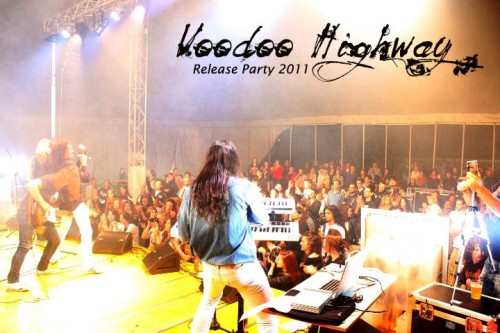 HRH: What would you call the real breakthrough in the band's career?
FC: Well… I guess, and I HOPE that the real breakthrough is still to come… anyway the best thing that happened to us was to meet Mr. Wiesenauer instead of signing with some weird record label! Rock n' Growl Management is really helping in make the band great; I guess it was the first step for a future breakthrough!
HRH: When was the first concert the band ever played in this line-up? What was the audience's reception?
FC: We did it at the end of July 2011, in our hometown… The audience was in frenzy! Vincenzo made a great performance and the people immediately loved him! And obviously, our usual stage show was at the top with fireworks, strange costumes, smoke, guests etc. etc.! We love playin' live and we do our best in every single gig since we've started gigging back in May 2010. People must love our live shows… it's like going to the circus, but with no animals exploitations, as we are the animals!!
HRH: How do you judge current music scene in Europe? Is it different in Italy than in other parts of the mainland? Ain't that quite hard to play hard rock stuff nowadays, in the world of digital downloads, hip hop and techno?
FC: I think there is a great bunch of cool bands in Europe nowadays! Coldspell and Vains of Jenna are cool, and they play great hard rock! Also Myon band is a cool act and Rob Mancini has a killer album with him! The Darkness are on the road again too, and that's great as well… In Italy we have some really cool realities, as… VOODOO HIGHWAY [laughs], our friends Asgard, Game Over, Black Wings and many more! I like what's going to happen in Europe… I'm sure that one day soon REAL ROCK N' ROLL will be back!! Nowadays it's hard indeed, but if you have good people working with and for you, and you put your soul in it, all is possible! Good music never dies, as Mozart will never die.. I don't play for money (maybe for women, yes…)… all we want to do is to find a good job that will allow us to continue touring all around and delivering good music all over the world! Rock n' roll is a mission, a faith, a love first of all! Having fun is the most important thing… OK, to become a millionaire is also preferable! [laughs]
HRH: Are there any great hard rock acts on Italian scene you'd like to recommend to us?
FC: Sure!! You must check out The Hot Pants! They've just released their brand new video clip called 'Leavin' All 4 Rock n' Roll'… they rock!
HRH: Let's not forget all of us are rock 'n rollers – are there any wild backstage stories you'd like to share? The 70's and the 80's are long gone now – being a rock band nowadays, can you still say that the party never stops?
FC: Sure it never stops! [laughs] We always have booze, we always go after girls… probably Motley Crue used to have more girls than us, but who cares!… I can't actually recall nothing in particular apart the usual mess we make after the concerts (also before them… and meanwhile sometimes…) you know… usual things like getting drunk and going with any girl that you meet! The most rocking thing is to find out she was a bog the morning of the next day! [laughs]
HRH: What are the future plans for Voodoo Highway? How do you see your career in 5-10 years from now?
FC: First of all let's hope we will be alive… in the next 5 or 10 years? I really don't know… We really don't care about the future of the band, we just think about it all step by step… we are too stupid to think too much about the future! Thinking of the future is a peculiarity of women and managers, thanks God we have Axel! [laughs] Hope we'll have some women too one day! [laughs]
HRH: Do you plan to expand your concert territory onto the other parts of the world someday?
FC: Well… In 2012 we'll probably play in some other European countries… let's see what happens! Meanwhile we'll keep on rocking Italy!
HRH: Is there anything you'd like to add in the end?
FC: All I can do now is to thank you for the great chance of having an interview on your site! It's a pleasure, guys! And thanks to Alexandra, who's a really cool girl! The last words goes to the readers.: we know you are now probably thinking we are an idiotic band, and probably you're right… but please, please… buy our album! Luca Magni is still waiting for money we own him for the recordings and he has just sent us our singer's tongue! [laughs]