by Joe Mis
Staff Writer —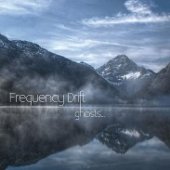 Ghosts is the third studio release from German progressive rockers Frequency Drift. The band's evolving sound now crosses a number of genre lines, blending elements of progressive rock, atmospheric music, jazz, classical and folk to create a diverse and unique album. Mysterious and thought provoking lyrics deal with, as the band's web site puts it, "things that haunt us, things that cannot fully be grasped, things we carry with us, emotions that echo from former times," and they deliver these with a cinematic and orchestral flair.
Fronted by the haunting vocals and ethereal violin of Antje Auer, Frequency Drift brings many "non-rock standard" instruments into play, including the violin, flute and electro-harp. All of these are nicely blended with the more traditional guitar, bass, drums and keyboards while not being overplayed, overdone or melodramatic. This is definitely not a metal album, or even a real rock album, but rather a unique style of progressive music with rock elements added.
The instrumental "Crows" starts things off with some atmospheric nature sounds and soothing Andreas Hack keyboard work and amazing harp notes. Nicely done keyboards lead into some slick guitars courtesy of Sebastian Koch and Christian Hack on "Dreams." A fine prog drum line by Martin Fox serves to highlight Auer's layered vocals and violin work as the song builds to a guitar and flute driven (dare one say Jethro Tull-ish?) climax. "Sadness" has a bit of a late 70s vibe to its gritty guitar and synth intro, then Jürgen Rennecke's tidy bass line pulls it all together and makes it the hardest rocking track on the release. Well-done instruments, changing tempos and fine vocals make "Tempest" a powerful ten minute long piece of ear candy.
Moody atmospherics and interesting guitar/harp/keyboard phrasings give the instrumental "Ringshine" an almost ethereal feel – appropriate for an album called Ghosts. Mellow guitars and an almost Celtic contribution by flute and keys give "Dance No More" a very different sound at the start, before switching to more Pink Floyd meets Dream Theater groove. "Mermaid" flows nicely from start to finish. Sweet vocals, simple melodies and spiraling guitar work that hits many moods make this the best track on the release. "Come" wraps up the album's journey as a serene keyboard / vocal driven track that features a beautiful violin passage that ramps up into a blistering guitar solo.
If you are looking for something a bit different, Frequency Drift may be the band to follow. Their well engineered album is easy on the ears and a musical smorgasbord of styles – and as a result always interesting and melodic. Long songs with fascinating lyrics and excellent musicianship make Ghosts a winner. Long instrumental passages only serve to enhance the orchestral feel and sweeping melodies carry the soft and melancholy mood to perfection. While the "cinematic" stylings of Frequency Drift won't appeal to every listener, those who follow progressive rock will find this a mellow, melancholic and thoroughly enjoyable trip.
Genre: Progressive Rock
Band:
Antje Auer (vocals, violin)
Sebastian Koch (guitar)
Christian Hack (guitar, flute)
Jürgen Rennecke (bass)
Andreas Hack (keyboards)
Martin Fox (drums)
Guest musicians: Wolfgang Ostermann (drums), Frank Schmitz (violin), Rainer Hartmann (guitar), Nerissa Schwarz (electroharp)
Track Listing:
1. Crows
2. Dreams
3. Sadness
4. Tempest
5. Ringshine
6. Dance No More
7. Mermaid
8. Come
Label: ProgRock Records
Website: http://www.frequencydrift.com/
Hardrock Haven rating: 8/10