by Nikiforos Skoumas
Staff Writer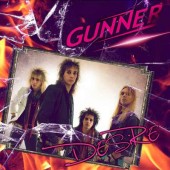 Though mainly recognized as a re-issue label amongst melodic rock enthusiasts Retrospect Records has also released a good few albums by contemporary melodic rock artists namely Wild Rose's Half Past Midnight and lastly Gunner's Desire.
At first glance Argentinean quartet Gunner comes out as a glam metal band-big hair, fancy clothes and even fancier colors. Music-wise, however, Gunner have little in common with the sound of Poison or Motley Crue, since their approach is clearly based on melodic hard rock and AOR. For that matter, Gunner seem to look up to such renowned American melodic hard rock groups as King Kobra, Vinnie Vincent's Invasion and Danger Danger.
The line up of Gunner features lead singer Aaron Briglia, guitarist Rodrigo Bugallo, bassist Jonathan Marabotti and drummer German Calero. Upon first play one is able to make out that Gunner have at least two formidable aces in their ranks, one being their lead singer Aaron who uncovers a very impressive vocal range (even by melodic rock standards) which he puts to good use, delivering a variety of vocal harmonies and intense choruses. The other major weapon in Gunner's arsenal is guitarist Burgallo who is a versatile but consistently melodic shredder; not only does he place melodic guitar lines during the opening riffs, verses and choruses but he seems to have mastered a plethora of solo modes (significant example is "Till I Reach the End" where he goes totally neoclassical). One might also note that Rodrigo also performs all keyboards on Desire, yet with ever-present guitar attack that covers everything from riffs, to melodies, even improvisations, the keys end up a mere complement to the overall sound of Gunner.
Experiencing such songs as "Holdin' On", "While Dreams Have Been Gone", "Lady of the Night" and "Someone to Love" should not fail to impress even seasoned melodic hard-rock-glam-metal fans, providing the ideal example of an album that is diverse but consistently melodic.
That is not to say however, that if you are looking for faults you won't find any: Some of Aaron's vocal lines may come out as too aggressive or sleazy, momentarily disrupting the AOR essence of Desire. Similarly some of the rhythm guitar parts and riffs could have been a tad more polished; but then again these attributes could be regarded as part of Gunner's glam metal side.
What you get with Desire is a young band combining melodic rock music with the style and intensity of glam metal, subsequently delivering a debut album that should satisfy long term fans of AOR, melodic hard rock and glam/sleaze metal. You will most likely find yourselves playing Gunner's album over and over in the following weeks.
Genre: Melodic Hard Rock, Glam Metal
Line up:
Rodrigo Bugallo -Roxx- (Guitar)
Rubén Estrada (Bass)
Germán Calero (Drums)
Aaron Briglia (Vocals)
Track list:
1. Intro
2. Holdin' on
3. Desire
4. Till I Reach the End
5. While Dreams Have Been Gone
6. Secrets of Loneliness
7. Lady of the Night
8. Someone to Love
9. Dirty Love
10. Insane
11. Rockin' in the City
12. Over Again
Band website: http://www.gunner-sixx.com.ar/eng/index.php
Label: Retrospect Records
Hardrock Haven rating: 9/10