Himora | Argue All You Want
by Trevor Portz
Staff Writer —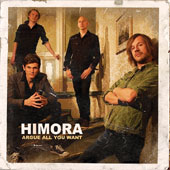 Throwback bands have a difficult job to do. They somehow have to capture the magic that made a style cool in the first place, but also add their own twist. Plus, they have to avoid the less spectacular bits that inevitably forced the style out of fashion in the first place. Norway's Himora, while successful at the first part, have unfortunately failed on the second, creating retro rock that reminds the listener why the eighties were great, but also why they seem so cringe-worthy and cheesy now.
Mostly living up to their self-described sound; "Cheap Trick meets Bad Company with a bit of old-school Aerosmith/James Gang funkiness thrown in there too," Himora leave one very important piece out of their description. While they are clearly influenced by the aforementioned bands, they don't mention that it's the '80s incarnations from which they draw the most inspiration. Remember how many great '70s bands went all pop and glam in the 80s to stay "relevant"? Somehow they left all of the grit and rawness that made them cool and instead relied on sappy lyrics and watered-down melodies. That's Himora to a T. They sound like a band that was once rock royalty, but is now trying desperately to save their career. Only Himora don't have that back story. Nope, they jumped right into the desperation chapter.
The songs are overly saccharine and watered-down, as if the band had written ballsy rock songs and then castrated them unnecessarily. And like anything that's had its balls chopped off, it's very unlikely to leave anyone satisfied. Considering that state of music today, it seems a wasted effort as well. Maybe in Norway people are still jonesing for some family friendly radio rock, but that's not the case everywhere else. Himora would be better off rocking a little harder to appeal to the ever-shrinking rock record buying public.
What this record does contain are some good melodies and catchy hooks. There's no question that the writers in the band have an ear for melody. But somehow the songs are left limp and dull, as if somewhere between the writing couch and the studio someone replaced their cigarettes with chewing gum. Perhaps it's all the fault of the producer, and one can't help but hope the songs would sound far better in a live setting.
Ultimately, Himora seems custom made for a crowd that likes to rock, but not too hard. They're the caffeine-free diet soda of rock, if you will. The can may look similar, and the taste isn't terrible, but you'll still be left craving the real thing.
Genre: Rock
Band:
Terje Kjørlaug
Morten Fredheim
Remi Fagereng
Endre Hallre
Track Listing:
1. Just Can't Stop
2. Like a Heart Attack
3. Too Long At the Fair
4. Birmingham
5. When the Boys Are Back
6. Wings
7. Big Betty
8. Summer Dress
9. Fisherman's Blues
10. Mexican Smile
11. Legend in Your Lunchbox
Label: Drugstore Records
Website: www.facebook.com/HimoraMusic
Hardrock Haven rating: 4.9/10