by Erik Tweedy
Staff Writer —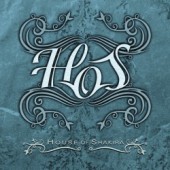 After a 5 year hiatus, one of Sweden's greatest exports, House of Shakira, return to the forefront of the European melodic rock scene. HOS features 13 tracks chock full of pure melodic rock bliss that have made House of Shakira one of the biggest bands in the genre. Since their 1997 debut Lint, House of Shakira has put together a string of first class melodic releases, with the most recent being Retoxed in 2007.
Over the past 15 years, House of Shakira have had their share of lineup changes and in 2011, things are no different. HOS features former Mind's Eye vocalist, Andreas Novak, taking over the mic duties and welcomes Basse Blyberg and Martin Larsson on bass and drums. These new additions have reshaped the band significantly and have provided a punch to the songwriting while maintaining that signature House of Shakira sound. For old school fans of the band, vocalist Andreas Novak picks right up where former vocalist Andreas Eklund left off. A transition to a new lead singer for a band that has such a highly regarded history would seem difficult to do, but House of Shakira have pulled it off magnificently with Novak and have surely set themselves up for continued success.
With an opening bass riff right out of the back catalog of any Tool release, HOS immediately introduces the listener to new vocalist Novak as he sings his way through 'Brick Wall Falling'. Novak brings a dirtier edge to the vocals and takes the band further away from the "Journey Clone" stigma that has followed them since their debut. The fantastic musicianship of Hallstensson and Lundström is on full display throughout this release with plenty of crunchy guitar work and some stellar soloing. This is what separates House of Shakira from most bands in melodic rock today. The twin axe attack and brilliant songwriting by these two remaining original members is hard to match.
Without sounding too cliché, it is hard to find anything bad about this release. HOS is full of upbeat melodic rock numbers, like 'Changes in Mind', 'Fractions of Love' and 'Carry My Load' that should be played at full volume while rocking down the highway. 'Zodiac Maniac', 'What Goes Around' and 'I'll be Gone' are all perfect mid-tempo rockers and 'Midnight Hunger' is a flat out smoking hot tune with some killer guitar work. The background vocals are flawless on every track and helps keep that signature House of Shakira sound intact. With only one true ballad, the acoustic 'Lost In Transition', that has a great guitar solo ending, HOS should please any fan of the melodic rock genre that likes their rock a bit more on the hard side. HOS is scheduled to drop in late January 2012 and hopefully it won't be forgotten when it comes time for websites and magazines to make up their top ten releases of 2012 as it surely will be one of them.
Band:
Andreas Novak Lead Vocals
Mats Hallstensson: Guitars, Backing Vocals
Anders Lundström: Guitars
Basse Blyberg: Bass
Martin Larsson: Drums
Track Listing:
Brick Wall Falling
Changes In Mind
Carry My Load
Zodiac Maniac
Fractions Of Love
Midnight Hunger
Endless Night
All Aboard!
What Goes Around…
I'll Be Gone
Voice In The Void
Lost In Transition
Out Of My Head
Label: Lion Music
Website: http://www.houseofshakira.com/
Hardrock Haven rating: 9.5/10