Journey | Greatest Hits Vol. 2
by John Kindred
Staff Writer —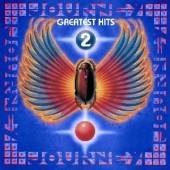 Following up 1988's release of Journey Greatest Hits is the release of Greatest Hits Vol. 2, 23 years later. The CD contains the singles, album rock hits and album tracks that weren't included on the first release. The album features 17 songs and hits, such as "Stone in Love," "Still They Ride," "After the Fall," "The Party's Over (Hopelessly in Love)," "Suzanne," and "Walks Like a Lady." Unfortunately, the rest of the album contains music that only would be known by die-hard fans who have listened to all of Journey's music.
Re-mastered on vinyl and CD by former Journey vocalist Steve Perry and Robert Hadley, the album covers music from 1978 through 1996. The selection of songs was chosen by Perry, with Neal Schon and Jonathon Cain's approval. Featuring music from their fourth album, 1978's Infinity, '79's Evolution, '80's Departure, '81's live albumCaptured, '81's Escape, '83's Frontiers, '86's Raised on Radio, '92's Time3, '96's Trial By Fire and, finally, '06 Live in Houston 1981: The Escape Tour.
Without well-known songs such as "Stone In Love," "Feeling That Way," "Anytime" and "Just The Same Way," this compilation really will fall on deaf ears. These songs should have appeared on the first volume of Greatest Hits by Journey. While the other songs are OK, they don't shine as well as the radio hits, and listeners will skip over these obscure songs to hear to the hits. Now, die-hard fans will counter this argument, as, after all, they are probably married to the band more than your average classic rock radio listener would be.
The CD includes a nice booklet with full-color photographs and brilliant cover art by legendary Haight-Ashbury poster artists Alton Kelley and Stanley Mouse. As companion to the first Greatest Release, it may fill a void for those who do not own any of the aforementioned studio and live albums by Journey. Again die-hard fans already have these albums and will purchase Greatest Hits Vol. 2 just to complete their collection.
Genre: Classic Rock
Line-up:
Gregg Rolie (vocals, keyboards)
Steve Perry (vocals)
Neal Schon (guitar)
Jonathan Cain (keyboards)
Larrie Londin, Steve Smith , Aynsley Dunbar (drums)
John Jackson, Jeremy Holiday, Jeff Magid (bass)
Track Listing:
1. Stone In Love
2. After The Fall
3. Chain Reaction
4. The Party's Over (Hopelessly In Love)
5. Escape
6. Still They Ride
7. Good Morning Girl
8. Stay Awhile
9. Suzanne
10. Feeling That Way
11. Anytime
12. Walks Like A Lady
13. Little Girl
14. Just The Same Way
15. Patiently
16. When I Think Of You
17. Mother, Father (Live In Houston, 1981)
Label: Sony/Legacy
Hardrock Haven rating: n/a