by Chris A.
Staff Writer —
December 12, 2011 at Taft Theater in Cincinnati, Ohio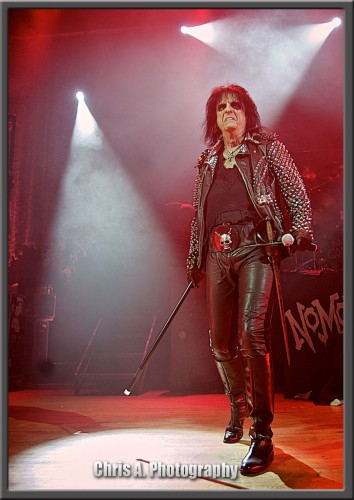 He's one of the most recognizable people in the world, a big-time rockstar who inspired the likes of Kiss, Motley Crue and even Ke$ha. He's been in movies, television shows, commercials and hosts a nationally syndicated talk-show. The guys a star and could have retired from all the rigors of the road years ago but from all indications, he genuinely loves what he does. At 63 years old Alice Cooper still rocks like he's 18 and based on the bombastic, mock-carnage filled performance at the Taft Theater in Ohio's Queen City, there's no sign of him packing up the makeup and shipping his death-dealing props off the the Rock n Roll Hall of Fame yet.
A genuine icon of rock n roll and recently inducted into the aforementioned hall of fame, Alice Cooper's brand of musical theater continues to wow his fans and influence rock n roll.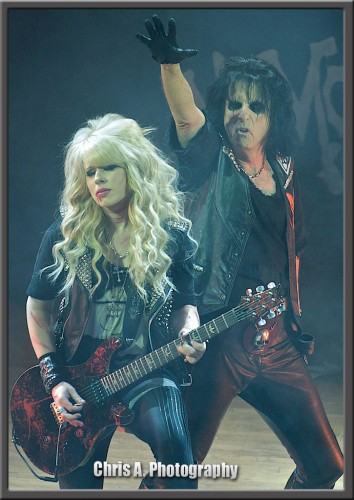 Opening the show with "The Black Widow", Alice towered above the audience blanketed by smoke and a wall of lights. On the stage below him, the 2011 Alice Cooper band consisting of Chuck Garric, Orianthi, Tommy Henricksen, Steve Hunter and Glen Sobel, waited for their leader to descend to the stage. Once down from his spiders lair, Cooper prowled the stage, working his way to the front, unfurling his eight-legged spider garb. It was absolutely classic Alice Cooper.
For the next 90 minutes,
Alice and his crew ripped through at least 20 classic tunes including; "Brutal Planet," "I'm Eighteen," "Under My Wheels" and much more. The tunes spanned nearly the entire Alice Cooper catalog and included cuts from the Love It To Death album through Coopers newest release Welcome 2 My Nightmare.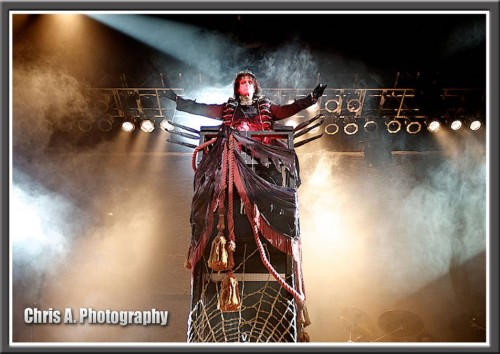 For rock 'n roll fans, an Alice Cooper show is one of those events that has to be experienced. As 2011 comes to a close, Alice is certain to continue to perform live and record. He was recently quoted as saying he'll keep performing until his last breath. I hope that's a long, long time from now. Check out Alice Cooper's newest release "Welcome 2 My Nightmare" and visit Alice on-line at www.alicecooper.com and check out Alice on his radio show, "Nights With Alice Cooper."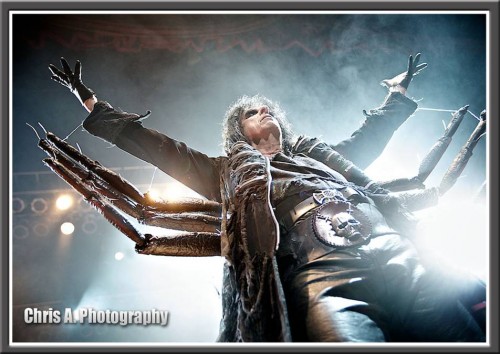 [Photos Appear Courtesy of Chris A.]