Messenger | See You in Hell
by Justin Gaines
Staff Writer —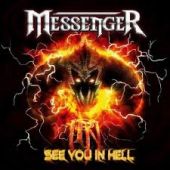 Long-running German heavy metal band Messenger is back with a new album, their first in five years and fourth overall, titled See You in Hell. Messenger's sound is somewhere between the power and traditional metal genres, and it's firmly rooted in the classic '80s style, which is not a bad thing at all.
It's hard to peg Messenger's sound sometimes, though they bring to mind a lot of really good bands. One minute they sound like early Hammerfall (see "Falconlord") and the next they channel Grim Reaper. No, "See You in Hell" is not a cover of that band's signature song, but it's easy to imagine Steve Grimmett belting this one out. Other songs range from the upbeat, melodic, early Gamma Ray sounding "Dragonships" and "Lindisfarne" to the simpler, more traditional "Final Thunder" (that one could have been a Warlord song) to the slower, though no less powerful, "Valkyries." The closing cover of Helloween's "Dr. Stein" was a nice touch, though it's hard to top Freedom Call's version from a few years ago.
The musicianship on See You in Hell is impressive, especially the balance between the equally addictive melodies and rhythms, but it's the vocals that steal the show most often. Siggi Schüßler is very steady in the midrange, and is very reminiscent of Hammerfall's Joacim Cans, but he can also unleash a piercing high-octave wail to great effect.
Messenger may not break any new ground here, but it's hard to argue with the results. See You in Hell is just a totally solid, totally enjoyable slab of old school European heavy metal. This is an album that's just as likely to appeal to fans of the old school bands like Grim Reaper, Helloween, Warlord and Accept as it is newer traditional metal warriors like Widow, Mean Streak and Split Heaven. Either way, if classic-style heavy metal is your thing, See You in Hell is not to be missed.
Genre: Heavy Metal
Band:
Patrik Deckarm (g)
Frank Kettenhofen (g)
Siggi Schüßler (v)
Benny Strauß (b)
Markus Merl (d)
Track Listing:
1. Flames of Revenge
2. See You in Hell
3. Make It Right
4. The Prophecy
5. Alien Autopsy
6. Final Thunder
7. Falconlord
8. The Dragonships
9. Lindisfarne
10. Valkyries
11. Land of the Brave
12. Dr. Stein
Label: Massacre
Website: www.messengerband.de
Hardrock Haven rating: 8/10