Nightvision | Consequence of Sin
by Mark Allen
Staff Writer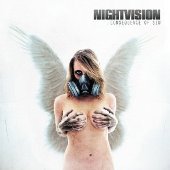 Nightvision open their song "Sob Story" with this damningly dismissive line: "Everybody wants to be a rock and roll star / But none of these fuckers have ever played guitar." Well, such an accusation cannot be laid at the feet of this British band, because the guitarist tears it up on this album, blazing away on the six-string with ripping riffs and searing solos, all in service to Nightvision's tasty sound, which crossbreeds this authoritative axe-work with crunchy heaviness, slick hooks, and bad boy swagger.
Somewhere in the soon to be forgotten past, Nightvision wavered on whether they wanted to be hard rock or heavy metal; on Consequence of Sin, they deftly straddle the genres, occupying that no man's land between the two. If you must put a tag on this, label it heavy hard rock, thrashing out the grooves, pumping out the power-riffs, hurtling from one hook to the next. When the guitars smoke hotter than a five alarm inferno, the bass-drum combo is tighter than a toad's touchhole, and the production contains more beef than a steakhouse freezer, it's impossible to quell the urge to bang your head. Don't even try to resist.
Nightvision is not all about the slam—they bring slickness to the package as well. Not content to simply crush you with heaviness, they incorporate catchiness into the equation as well. "Nowhere to Hide" proves a prime example of this, a stellar track driven by tough but melodic guitars and the kind of ear-candy chorus that would be a smash hit for Shinedown but unfortunately won't see a nanosecond of radio play for a "no name" band like Nightvision.
No, the music business is not a righteous place and merely possessing the chops is not always enough to make the rock 'n' roll gods smile upon deserving bands. But if Nightvision continue to crank out music of this caliber, it is possible with a little bit of luck and maybe a prayer or two that those rock gods might stop feigning ignorance and actually give these guys the break they deserve. The brain is boggled by the thought that a group like the White Stripes are so successful they can wipe their ass with hundred dollar bills, but a song like Nightvision's "What Makes You Bad" with its Nickelback-on-steroids muscularity will languish in obscurity. Where's the justice?
When it comes to subject matter, the band is unashamed of wallowing swine-like in sleaze metal sludge and '80s metal tropes such as "I want to undress you / with more than my mind." However, they are also capable of swimming in deeper lyrical waters, such as on the track "Find Me," which offers this plaintive observation: "I feel like God is on His day off / 'Cause He's not answering any of my prayers / The writing's on the wall / but the script is quite small." A band capable of both fun-fueled sexual shenanigans and provocative dissertation of life's tribulations? A rare beast indeed.
That said, while the band certainly merits copious amounts of praise, let us not overstate their importance. While less corporate than their peers and packing superior guitar heroics and a harder edge, they are still traversing the same well-trodden turf that the likes of Rev Theory, Egypt Central, Hinder, etc. have traveled before. They are not quite as good as some of the top tier talent on the modern hard rock scene, but they are significantly better than the rest of the pack, with several songs capable of topping the charts if ever given the chance. Nightvision may not change the face of the game, but the consequence for ignoring them is that you will miss out on some very good modern hard rock/metal.
Genre: Hard Rock / Metal
Band:
Dave McKee (vocals)
Bolda (guitar)
Dean Hocking (bass)
Daryl Hocking (drums)
Track Listing
1. So Many Lies
2. Sob Story
3. Words Like Bullets
4. Long Way From Home
5. Nowhere to Hide
6. Find Me
7. What Makes You Bad
8. Enter Escapism
9. Nothing to Lose
10. Petrol and Practise
11. Mirrors and Smoke
12. Post Your blues
Label: Rocksector Records
Hardrock Haven rating: 7.6/10