One Man's Trash | History
by Nikiforos Skoumas
Staff Writer —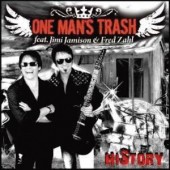 Fresh from the highly acclaimed Kimball-Jamison project album, iconic AOR singer Jimi Jamison debuts for the second time in 2011 with a new project One Man's Trash. One Man's Trash is Jamison joining forces with German songwriter/guitarist Fred Zahl, subsequently making History the first product of this collaboration.
Music-wise One Man's Trash play rather up-tempo melodic rock, often combining AOR structures with rock 'n roll riffs and country melodies. Production wise One Man's Trash come fairly close to the sound of a Jamison solo album, contrasting the melodic hard rock approach of Kimball-Jamison. This new album, in good AOR tradition, prioritizes great songwriting over flamboyant performances with the vocals being the protagonist instrument, also delivering most of the melodic lines on History.
Upon first play History seems like the natural continuation of Jimi's latest solo album Crossroads, since the new project takes shape on the same mixture of acoustic and electric guitars, complemented by keyboard harmonies and supported by a very natural-sounding rhythm section. Still History is a substantially more up-lifting album than Crossroads, a super-positive release, one that comes out as a celebration of Jimi's thirty-year career in rock.
Fans of Jimi Jamison should note that History comes out far more a personal album than either Crossroads or Kimball-Jamison. One happily notes that Jimi has co-written with Zahl all twelve featured as opposed to Crossroads which was composed by Jim Peterik (for the biggest part) and Kimball Jamison having been put together by external songwriters.
No question, the material on History is straight to the point, optimistic melodic rock baring no fillers within its track-list; "Real Thing," "The Restless Kind," the ambiguous "Lose My Mind," the autobiographical "History" and the classic-sounding ballad "Through Your Eyes," really say everything regarding the songwriting quality and level of musicianship featured on History.
If you are a fan of Jimi Jamison and have enjoyed his latest works you definitely do not want to miss out on this remarkable melodic rock, AOR effort. One Man's Trash indeed seem to come out of nowhere, still bringing to front the same stimulating sound we have come to expect from the singer over the last decade.
Genre: Melodic Rock, AOR
Line up:
Jimi Jamison: Vocals
Fred Zahl: Guitars
Track Listing:
1. Real Thing
2. The Restless Kind
3. History
4. She Shines
5. Meadowland
6. Tears In My Eyes
7. Out Of Control
8. Long Time
9. Mama
10. Tomorrow
11. Fast And The Furious
12. Burning Love.
Label: As Is
Website: http://www.onemanstrash.de/
Hardrock Haven rating: 8.5/10