Various Artists | Reborn in Sleaze: A Tribute to Dave Lepard
by Justin Gaines
Staff Writer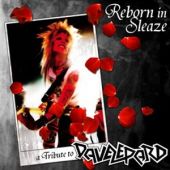 If you're a fan of the current Swedish sleaze rock scene (and really, if you like rock n' roll you ought to be), you know that Crashdiet is one of the best bands around, and one of the scene's major players. Despite their success, Crashdiet's early career was marked by a defining tragedy – the suicide of vocalist Dave Lepard in 2006. Five years later, the Street Symphonies label has assembled a motley crew of up-and-coming sleaze rock bands to pay homage to Lepard. The project is titled Reborn in Sleaze: A Tribute to Dave Lepard, and features Midnite Sun, Speed Stroke, Skull Daze, Peep Show, Superhorrorfuck, Ragdolls, Cyanide 4, DNR, Hell in the Club, Shining Line and Black Rain.
Since Lepard only recorded one album with Crashdiet (2005's Rest in Sleaze), Reborn in Sleaze is essentially a cover of that entire album, with each band taking on one song, plus the bonus track "Lost Horizons," which is covered by Black Rain. The album is something of a mixed bag. If you have Rest in Sleaze, you probably have played it enough to know these songs pretty well; enough to tell whether each band truly does their chosen song justice, at least. Some really knock their songs out, and others…not so much. The more established bands like Peep Show, Black Rain and the supergroup Shining Line (which features members of Edge of Forever and Lionville) deliver the better performances, but Cyanide 4 and Hell in the Club also turn in impressive showings. Some of the others just don't measure up, so the album as a whole doesn't have a consistent quality level.
As uneven as it is, Reborn in Sleaze is still a respectful tribute to Lepard's too-brief career, and will definitely be of interest to serious Crashdiet fans. It's also a cool way to check out a bunch of new bands in the sleaze rock scene at once. It would have been a smart move by the label to include a sampler of the bands' original material as a bonus disc, but hearing them perform these familiar songs still gives you a good enough idea which ones are worth further listening.
Genre: Sleaze Rock, Melodic Rock
Track Listing:
Knockk 'Em Down (Midnite Sun)
Riot in Everyone (Speed Stroke)
Queen Obscene (69 Shots) (Skull Daze)
Breakin' the Chainz (Peep Show)
Needle In Your Eye (Superhorrorfuck)
Tikket (Ragdolls)
Out of Line (Cyanide 4)
It's a Miracle (DNR)
Straight Outta Hell (Hell in the Club)
Back on Trakk (Shining Line)
Lost Horizons (Black Rain)
Label: Street Symphonies
Online: www.streetsymphonies.com
Hardrock Haven rating: 7/10