by Justin Gaines
Staff Writer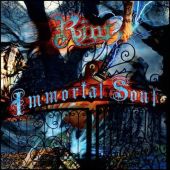 Now here's an album many fans doubted would ever materialize. Immortal Soul is the fourteenth studio album from American heavy metal stalwarts Riot. It also marks the return of on-again, off-again vocalist Tony Moore and the rest of the lineup responsible for the 1988 classic Thundersteel. Getting to this point has been a bit turbulent, but the end result is a Riot album a lot of fans are anxious to sink their teeth into.
Of course, Riot wasn't exactly idle without Moore at the microphone. They put out a series of good albums with Mike DiMeo (now with Creation's End), including one – 1999's Sons of Society – that's about as good as anything the band has ever released. Still, no one who owns a copy of Thundersteel could resist the potential of having Moore back together with guitarist Mark Reale and drummer Bobby Jarzombek. Fortunately, Immortal Soul for the most part lives up to those high expectations. Riot has in the past walked the line between hard rock and heavy metal, but on Immortal Soul the band is firmly on the metal side of things. It's without a doubt an album that "goes to eleven." The riffs are speedier, the rhythms heavier, the solos more intricate, and Moore goes from a steady midrange to stratospheric highs left and right.
Immortal Soul best moments are when the band is in full-on Judas Priest mode, like on the soaring, dramatic and powerful "Wings Are For Angels," "Sins of the Father," "Fall Before Me" and the stirring title track. This is when you are reminded just how good Riot is. Other times, the over the top shredding and piercing vocals are almost too much to handle, like on the blaring "Riot" and the verses of "Echoes" (the chorus saves that one). The more rock-oriented "Whiskey Man" and "Still Your Man" are solid enough, but they seem somewhat out of place mixed with the album's power metal songs. Lyrically, the album ranges from the sacred to the profane. Moore has been involved with more overtly Christian side-projects, and you can hear a bit of that here, but it's never overbearing.
If you're a Riot fan, there's really no getting around this one. Immortal Soul is a mandatory purchase. It's probably not another Thundersteel, but then again, what is? It is, however, another very strong album from a band with a long history of very strong heavy metal releases. It's also an album that grows on you – a lot – every time you listen to it, so it's well worth another chance if it doesn't grab you right away. Immortal Soul is also an album that could potentially draw some new fans to the Riot camp, as it's an album that could easily appeal to fans of bands like Iced Earth and Primal Fear.
Genre: Heavy Metal
Band:
Mark Reale (g)
Don Van Stavern (b)
Tony Moore (v)
Bobby Jarzombek (d)
Mike Flyntz (g)
Track Listing:
Still Your Man
Riot
Crawling
Wings Are For Angels
Sins of the Father
Fall Before Me
Majestica
Immortal Soul
Insanity
Whiskey Man
Believe
Echoes
Label: SPV
Hardrock Haven rating: 8.25/10