Skull Fist | Head of the Pack
by Justin Gaines
Staff Writer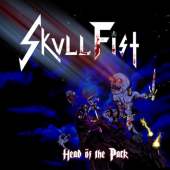 One of the more exciting and energetic bands in the so-called New Wave of Traditional Metal movement, Canada's Skull Fist, is back with a new album. Head of the Pack is the band's first full-length album after winning a lot of fans over with their electrifying debut No False Metal. Now we get a full dose of the band's hard-rocking, hard-partying take on traditional heavy metal.
Unlike White Wizzard and Cauldron, whose sound stays pretty close to the Iron Maiden/Judas Priest template, Skull Fist tends towards the thrashier end of the spectrum, recalling (very) early Metallica, Exciter, and Accept. Rapid fire riffs and lightning drumming set the pace, but the album is loaded with great melodies and catchy choruses to shout along to. Jackie Slaughter's high-pitched vocals take some getting used to, but in the end that's exactly the kind of voice you want belting out high octane metal anthems like "Commanding the Night" and "Commit to Rock." Head of the Pack features a pair of songs — "Ride the Beast" and "No False Metal" — that previously appeared on the No False Metal EP. They're both great songs, and they've been fine-tuned a bit for this release. The album closes with a cover of Tokyo Blade's "Attack Attack," which is a cool nod to the NWOBHM sound. The production is noticeably improved this time around, but the cover artwork remains on the amateur side.
2011 has been a great year for traditional heavy metal releases, and Head of the Pack is one of the better ones. It's not quite the powerhouse that the latest albums from Widow and Twisted Tower Dire are, but if you're a traditional metal fan Skull Fist's latest is definitely going to satisfy. With all of the seemingly endless sub-genres in metal, it's great to hear an album like Head of the Pack that reminds us what classic heavy metal is all about. Turn it up, raise your fist, and bang your head!
PS – After relentless touring through Europe and Canada, Skull Fist will finally be hitting the US in 2012 with an appearance at the Ragnarokkr Metal Apocalypse festival.
Genre: Heavy Metal
Band:
Casey Slade (b)
Jackie Slaughter (g) (v)
Johnny Nesta (g)
Alison Thunderland (d)
Track Listing:
Head of the Pack
Ride the Beast
Commanding the Night
Get Fisted
Cold Night
Tear Down the Wall
Commit to Rock
Ride On
Like a Fox
No False Metal
Attack Attack
Label: NoiseArt
Hardrock Haven rating: 8.5/10