The Magnificent | The Magnificent
by Justin Gaines
Staff Writer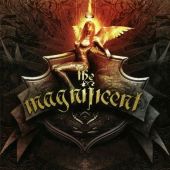 One of the most eagerly anticipated melodic rock projects of 2011, The Magnificent is a supergroup put together by vocalist Michael Eriksen (Circus Maximus) and guitarist/producer Torsti Spoof (Leverage). If you've heard any Circus Maximus albums, you know that despite the progressive metal style the band employs, Eriksen's vocals are pure melodic rock gold. On The Magnificent's self-titled debut we get to hear him belting out songs in the classic melodic rock style.
Eriksen and Spoof handle songwriting duties, with assists by members of Leverage, Urban Tale, Circus Maximus and Brother Firetribe, so you know The Magnificent is going to be a first class melodic rock album. The hooks and melodies are HUGE, and it's polished to perfection. This is the kind of bright, shiny AOR that has as much in common with classic bands like Journey and King Kobra as it does newer acts like Brother Firetribe and Houston. It has to be said that the lyrics are incredibly cheesy in the best possible '80s power ballad kind of way. This is going to give some Circus Maximus fans heartburn, but if you take it in the spirit in which it's intended, you'll have fun singing along to songs like "Cheated By Love," "Angel" and "Love's on the Line."
Oh, and the vocals are pretty decent too. Actually (and does this really surprise anyone?), Michael Eriksen's vocals are the main attraction here. The man has such incredible power, range and emotion that he can sing just about anything, but he absolutely shines on this album. The Magnificent gives him a chance to really showcase his melodic ability and emotional delivery, and he's every bit as responsible for the album's larger than life sound as Spoof's dazzling guitar work and production job.
There have been a lot of really good, but not necessarily essential, melodic rock albums released this year. The Magnificent is one that not only reaches that essential level; it smashes its way to the head of the pack. If you're a fan of high quality melodic rock with powerful, dynamic vocals, this is a must-have album. Open-minded Circus Maximus fans should also get a kick out of this fantastic album.
Genre: Melodic Rock
Band:
Michael Eriksen (v)
Torsti Spoof (g) (k) (v)
Rolf Pilve (d)
Sami Norbacka (b)
Jukka Karinen (k)
Track Listing:
Holding On To Your Love
Cheated By Love
Memories
Angel
Satin & Lace
Love's on the Line
Bullets
Smoke & Fire
Tired of Dreaming
If It Takes All Night
Lost
Harvest Moon
Label: Frontiers Records
Hardrock Haven rating: 9.25/10