Thunderstick | Echoes From the Analogue Asylum
by Justin Gaines
Staff Writer —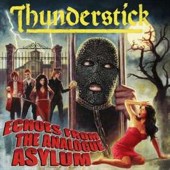 The fifth entry in Heaven & Hell's Lost Relics reissue series, Echoes From the Analogue Asylum is a loaded anthology of solo recordings by Thunderstick. Best known as the enigmatic masked drummer of New Wave of British Heavy Metal (NWOBHM) pioneers Samson, the ever-theatrical Thunderstick (real name: Barry Purkis) decided to form his own band once Samson's sound started moving into blues rock territory.
Between the brash female vocalists (Anna Borg on 1983's Feel Like Rock n' Roll and Jodee Valentine on 1984's Beauty and the Beasts) and more pop-oriented approach, Thunderstick's solo albums were quite a departure from the bluesy Samson and the NWOBHM sound in general. It's got a metal, or at least hard rock background, but the power-pop meets girl-punk elements bring to mind bands as varied as Girlschool, the Runaways, the Go Go's and Suzi Quatro. This is upbeat, quirky, commercially oriented rock, and it didn't win over many metal fans. It's not without its charms though. Songs like "Heartbeat (In the Night)," "Another Turnaround" and "Buried Alive" rock pretty hard, and even the poppier songs have a great '80s b-grade horror movie soundtrack vibe.
Echoes From the Analogue Asylum collects Thunderstick's Feel Like Rock n' Roll EP and the full-length album Beauty and the Beasts, plus a few interesting extras. Neither album had been available on CD previously, and they've both been digitally remastered by Thunderstick himself for this collection. Bonus tracks include instrumental versions, demos and the Jack the Ripper themed "You Get Me In Pieces (Love Letter to Jack)." As with previous releases in Heaven & Hell's Lost Relics series, Echoes From the Analogue Asylum looks as good as it sounds, with a fantastic horror film-style cover image and detailed liner notes.
If you're a Samson fan looking for the kind of music on Shock Tactics or Head On, this…isn't it. At all. If you're a serious NWOBHM collector, Echoes From the Analogue Asylum is well worth checking out. It's definitely one of the less conventional entries from that era, but Thunderstick does capture the scene's wild energy and anything goes approach to heavy metal.
Genre: Rock, NWOBHM
Band:
Thunderstick (d)
Anna Marie Carmella Borg (v)
Jodee Valentine (v)
Ben Reeve (b)
Wango Wiggins (g)
Chris Martin (g)
Track Listing:
1. Heartbeat (In the Night)
2. Rich Girls (Don't Cry)
3. In the Name of the Father (Echoes From the Analogue Asylum)
4. Long Way To Go
5. Contact Angel
6. Afraid of the Dark
7. Another Turnaround
8. Feel Like Rock n' Roll
9. Alecia
10. Runaround
11. Buried Alive
12. Heartbeat (In the Night) (instrumental version)
13. Afraid of the Dark (instrumental version)
14. You Get Me in Pieces (Love Letter to Jack)
15. Feel Like Rock n' Roll (alternate demo version)
16. Long Way To Go (Reprise)
Label: Heaven & Hell Records
Website: www.thunderstick.co.uk
Hardrock Haven rating: 7.5/10