Touchstone | The City Sleeps
by Joe Mis
Staff Writer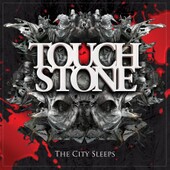 The City Sleeps is the third studio release from British progressive rockers Touchstone, and it is an interesting one. Blending elements of progressive rock, modern melodic metal and a touch of gothic moodiness, Touchstone has unleashed ten tracks that show influences of Rush,Asia, Dream Theater and Savatage while maintaining their own unique sound.
Touchstone came together in 2003 when keyboard player / vocalist Rob Cottingham and guitarist Adam
Hodgson began collaborating. They were joined by bassist Paul Moorghen in 2006, vocalist Kim Seviour in 2007 and drummer Henry Rogers in 2010. In 2004 they released a 4 track EP, Mad Hatters, and their debut full length album with Kim Seviour entitled Discordant Dreams a few years later. A second album Wintercoast followed soon thereafter, and now they have released The City Sleeps in late 2010.
Built primarily around the vocal talents of Kim Seviour and Rob Cottingham, Touchstone's music is diverse and rich, with heavy doses of keyboards and other electronic miscellany. Kim Seviour has a very crisp and clear voice, and it refreshing to hear a female vocalist who simply sings without trying to sound operatic or attempting to step beyond the boundaries of her natural range. Cottingham also has a decent voice with a smooth delivery. He makes a fine counterpoint to Seviour whether singing in harmony or solo.  He is also a solid keyboard player whether doing melodic piano phrasings or intense synthesizers. Adam Hodgson contributes fine guitar work and fits nicely into the music as a rhythm player and laying down some fine breaks when it is his turn in the spotlight. Drummer Henry Rogers and bassist Andre Moorghen make an excellent rhythm section, making their instruments an integral part of the music without dominating the sound. The members of Touchstone work well together, as one would expect from a veteran group.
Neat bass and drum work are the highlight of "Corridors." The vocals on the opening track are stunning, and there is a massive disconnect between the nightmarish gothic toned lyrics and the upbeat, almost commercial rock sound. The guitar driven opening also contrasts nicely from the keyboard filled closing. "When Shadows Fall" is a solid track but is marred by a nearly two and a half minute synthesizer opening that seems to drag on forever before the rest of the band joins in.  The balance of this 10 minute flowing track is excellent, with the great piano, subdued guitar, heart-rending lyrics, and the first real appearance of Cottingham's vocals. "These Walls" is an upbeat rocker with slick guitar work and some great drumming. "Throw Them To The Sky" highlights keyboards, bass and drums with great performances by all, while fine vocals make the short but sweeping "Sleeping Giants" the best track on the release.
Very proggy guitars and keys open the oddly schizophrenic "Good Boy Psycho" and guide it through multiple tempos and tones, many reminiscent of old Savatage. "Horizons" is a warm and pleasant melodic rock track with good vocals and a catchy beat, and a great gurgling bass riff and gritty guitar solo. The melodic "Half Moon Meadow" is Kim Seviour's best vocal track, and this track on the whole showcases all the best of Touchstone – thoughtful lyrics, great vocals, interesting mood and tempo swings, all done with tight and expressive musicianship. The epic title track "The City Sleeps" features an almost orchestral opening before dropping into a great bass driven verse covered with good vocals from Kim and Rob, nice keyboards, kicky drums, slick guitars and a moody but effective spoken interlude by guest Anna-Marie Wayne. The final brief instrumental "Corridors Epiphany" brings the album full circle.
The songs are all melodic and tight, running the gamut from soft instrumental passages to straight on fast rock. The band's performances are tight and professional, with each note purposely building up the complex layers of music. The vocal back and forth is amazing – some of the finest duet vocals in modern rock. Sound quality and engineering are also top-notch, but the tracks are mixed with an almost power-metal precision and clarity giving the music a bit of an icy feel at times, but considering the subject matter of most of the tracks this is appropriate.
Overall, The City Sleeps is an excellent progressive rock album, one that should appeal to any fan of the genre. This well-done release will cement Touchstone permanently into the progressive rock pantheon as a true prog band, not as a "female-fronted" act. The contrasts they generate with their duet vocals and the dichotomy of the mood of their lyrics with the musical tone make the album something unique and vital. Mysterious lyrics dealing with dreams, nightmares, missed opportunities and eventually a bit of joy carry the listener through many stages of the night. With very few negatives, The City Sleeps can only be highly recommended.
Genre:  Progressive Rock
 Band:
Kim Seviour (vocals)
Rob Cottingham (vocals, keyboards, SFX)
Adam Hodgson (guitars, SFX)
Henry Rogers (drums, percussion)
Andre Moorghen (bass, backing vocals)
Guests – Anna-Marie Wayne (voiceover on track 9)
 Track Listing:
Corridors
When Shadows Fall
These Walls
Throw Them To The Sky
Sleeping Giants
Good Boy Psycho
Horizons
Half Moon Meadow
The City Sleeps
Corridors Epiphany
 Label: Steamhammer / SPV
 Website:  http://www.touchstonemusic.co.uk/
 Hardrock Haven rating: 8/10