Virgin Steele | Age of Consent (Remastered)
by Erik Tweedy
Staff Writer —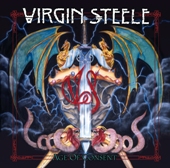 Originally released in 1988, Age of Consent, Virgin Steele's fourth studio release, was to be the album to catapult the band to metal stardom. Much to the band's dismay the album was released with no label support and subsequently went unnoticed by most of the global metal community. Fast forward to 2011 and this lost metal gem has been digitally re-mastered from the original tapes and is being released with a ton of bonus material including several new tracks and some very cool cover songs.
If you are a longtime metal fan, you may have heard the name and in fact you might even own a CD or two, but for the most part Virgin Steele has largely been overlooked by the metal world. Forming in 1981, this New York City based quartet has been churning out some of the best Power Metal that America has to offer. Their early material, especially their sophomore release Guardians of the Flame and the epic Noble Savage were big influences on bands like Queensryche and Metallica.
Their music is very thematic, with visions of sword swinging gladiators and mythological creatures living in a world of fantasy. Virgin Steele adds plenty of pomp and blazing guitars to come up with what they describe as "barbaric romanticism". With Age of Consent, Virgin Steele released some of their best material with "Lion In The Winter," "Perfect Mountains" and "On The Wings Of The Night." The bonus material included is in itself worth the price of the CD. Tracks like "Chains of Fire, "The Curse" and "Cry Forever" rival anything the band previously released. And the band does a terrific job covering the Judas Priest classics "Desert Plains" and "Screaming For Vengeance" and a blazing cover of Uriah Heep's "Stay on Top."
With a total of 23 tracks included, the re-release of Age of Consent should please the longtime fans of this band. The production is very good and if you already own the original get this just for the bonus material as there are several great Virgin Steele originals included.
Band:
David DeFeis – Vocals/Keyboards
Ed Pursino – Guitars/Bass
Joe O'Reilly – Bass
Joey Ayvazian – Drums
Track Listing:
The Burning of Rome (Cry For Pompeii)
Let it Roar
Prelude To Evening
Lion In Winter
Stranger At The Gate
Perfect Mansions (Mountains Of The Sun)
Coils Of The Serpent
Serpent's Kiss
On The Wings Of The Night
Seventeen
Bonus Tracks:
Tragedy
Stay On Top
Chains Of Fire
Desert Plains
Cry Forever
We Are Eternal
Screaming For Vengeance
The Curse
Breach Of Lease
Another Nail In The Cross
A Changeling Dawn
Under The Graveyard Moon
Down By The River
Label: SPV, Steamhammer
Website: http://www.virgin-steele.com/
Hardrock Haven rating: 9.5/10