Chris A.
Courage and Carnage at the Alrosa Villa MJS Music Publications
Written by Derric Miller
Staff Writer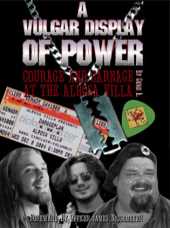 It is not up for debate: what happened to Dimebag Darrell Abbott on Dec. 8, 2004, is one of the worst tragedies in Heavy Metal history. You cannot even compare the simple insanity that ended John Lennon's life to Dimebag's passing. Lennon's killer had a cycloptic focus on his goal; Dimebag's killer, Nathan Gale, was a schizophrenic slaughterer who somehow only managed to take four people out before the heroic efforts of Police Officer James Niggemeyer ended Gale in one shotgun blast.
The new book by Chris A., titled A Vulgar Display of Power, is an homage to the fallen heroes of that tragedy — Nathan Bray, Erin Halk, Jeffery Thompson, and of course, Dimebag. Writer Chris A. makes the critical point that we often remember the murderer and let his victims fade from memory. (Case in point: name one Jeffrey Dahmer victim.) Chris A.'s book now sets in print the memories of those who gave up their lives that day.
Besides the victims, the book also dissects the life of the killer Gale. Some of the minutiae is a bit curious — he was purportedly slow at potty-training — but most of the facts point to warning signs all along his life that makes you wonder why he was ever allowed to own a gun. Even more so, the worst fact of all, is that Gale tried to force himself on stage at an earlier show on April 4, 2004, and was summarily beaten by security and left to bleed in a parking lot. This was obviously the turning point of the whole book: had the bar, security, ANYONE pressed charges against Gale on April 4, maybe this book never would have been penned. Instead, it seemed that Gale's wrecked mind understood that physical power was not enough to meet his ungodly goals.
The book also gives you bios of the aforementioned victims that day, giving them a human face instead of just a statistic. Nathan Bray left behind a daughter and a wife, and his "sin" was confronting Gale and basically screaming at him "what are you doing!" Their security man, Jeffrey "Mayhem" Thompson, is the most colorful character of the trio, who seemingly knew that his days on earth were numbered, something he portentially noted time and time again to his friends. Erin Halk may have been the bravest of them all. Unlike Mayhem, who was doing his job, Halk literally stepped into the fray time and time again, using cunning and blank fearlessness to attack Gale, hoping to end the nightmare. There is no scale to measure the levels of their heroism, though. They will all be remembered as such.
Unfortunately, there is another dark side to the story, and this rests solely on former Pantera singer Phil Anselmo. Metal Hammer magazine printed an article with Anselmo (before the tragedy) in which he in no uncertain terms described how Dimebag should be severely beaten, and that he himself, "could kill him like a fucking piece of vapor." He then went on to say he wouldn't have to lift a finger, because "I have a devoted following that would do anything for me, anything I say." Since Gale believed that Pantera was reading his mind and basing all of their music on his life, it's not a stretch to believe that Gale read this interview or at least excerpts of it on the Net. After the tragedy, Anselmo tried to call the Alrosa Villa but Dimebag's brother Vinnie wouldn't talk to him. When Anselmo attempted to attend the funeral, Dimebag's longtime girlfriend Rita Haney said if he showed she would "blow his head off."
Chris A. has written a clear and clinical study of what happened before and after Dec. 8, 2004. He gives you insight into those who should be remembered, even Gale. The story haunts, and will bring tears to your eyes.
This is a piece of metal history that needed to be written, and needs to be read. Pick up your copy today at www.mjspublications.com.