Chuck Klosterman
Killing Yourself to Live Scribner
Written by Derric Miller
Staff Writer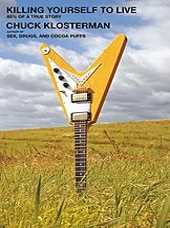 Chuck Klosterman lives in a world rife with beautiful, intelligent women, who all happen to know the melting point of Einsteinium — yeah, they are that smart. In his new book titled "Killing Yourself to Live, 85% of a True Story," you'll meet many of those women that he shares his life with and watch him fumble through a love triumvirate as he travels across the country, penning his emotions and thoughts as he visits rock and roll tragedy sites. And does drugs.
That's a lot.
Klosterman is honest. Reading his new book, you are going to step inside the head of a man you do not know, and after only a few pages, you'll want to know more about. His writing is spare and precise, almost a surgical strike. Not stream of consciousness, because he makes sense throughout, but he does meander from time to time.
The book starts off with him heading to the Chelsea hotel, where Nancy Spungen, girlfriend of Sid Vicious, was murdered. Klosterman makes plenty of bold statements throughout the book — like Rod Stewart is the best male singer of the rock era — and almost nonchalantly defines and explains an entire genre in just a few words. Take for instance, his statement on Sid Vicious: "The fact that he could not do something correctly (play bass) — yet still do it significantly — is all that anyone needs to know about punk rock."
From there, he heads to Warwick, R.I., where 100 people died in a bar Great White just happened to be playing in. Upon arrival, he casually does a line of coke with a stranger, and listens to the locals call Great White's lead singer Jack Russell a fucking coward, amongst other things. Later on in the book, he actually catches a Great White show and briefly speaks with Jack Russell and guitarist Mark Kendell. The conversation shows that Russell is still haunted and Kendell has moved on.
The best part about the book, though, has to be his sense of humor. He probably doesn't have any clue how funny he is, which is why he's funny. He writes a play about every conversation he's ever had when in L.A. that could not capture the Narcissistic breed of humans living in that metropolis any better. Just to ruin it for you, it ends with a dunderheaded waiter knifing himself.
Klosterman will give you lessons in life too, like "Europeans have terrible taste in everything," "Live weird, die weird," and "We all have problems, brother."
Coupling his keen insight into himself with an encyclopedic vault of rock and roll minutia, you are going to find out Klosterman is one of the best reads today. His journey is interesting, he is interesting, and his book is interesting. And you'll find out that no matter how much you think you know about music, Klosterman probably knows more.