Jaime Vendera
Raise Your Voice Vendera Publishing
Written by Derric Miller
Staff Writer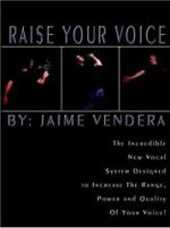 Do you know what "The Bullfrog" is? Or how about the "Falsetto Slide," "Transcending Tone" or "The Siren?" Even better, do you know how to shatter a wine glass just by the power of your own voice? Well, the only documented person to do so, Jaime Vendera, has written a new book called<em> Raise Your Voice</em> so you can arm yourself with the best techniques in the industry, and maybe even learn how to shatter a wine glass yourself.
Vendera gives all of his credits to Nitro singer Jim Gillette, who is also capable of blowing up wine glasses with his voice. In fact, Vendera honed his ability under Gillette's tutelage. But Raise Your Voice&lt is really a vocal system that will teach you the proper techniques to be the best overall singer you can be.
Vendera himself owns a six octave range, and if you go to his Web site http://www.thevoiceconnection.com/ you can see a clip of him hitting a note in six different octaves while one of his students stands there in awe.
<em>Raise Your Voice</em> is really for the serious student. Warming up your voice is just a smattering of what lies inside the pages. Vendera gives recommendations on dieting, how to get rid of colds, how much water you should drink each day, and also details how things like cocaine, alcohol and smoking ruin a voice.
The most interesting section of the book probably lies in the section about "using falsetto," and that Vendera claims any note you can hit falsetto, you can hit using full voice. Of course, this takes months of practice; this isn't an overnight fix. The entire Vendera system is really a vocal lifestyle.
The book ends with Vendera detailing his record setting time on "MythBusters," blowing up wine glasses on TV.
You will not be able to find a more detailed technical guidebook to train your voice and become the singer you truly want to be. He leaves nothing out. In fact, he has another book out now that is all about proper breathing techniques. While the subject matter is indeed technical, Vendera writes as a layman, making it easy to follow along.
Raise Your Voice is a great investment for anyone who wants to learn to sing as a professional. If his techniques are used by world-class singers like Tony Harnell … then they are good enough for you.