Lonn Friend
Life on Planet Rock Morgan Road Books
by John Kindred
Staff Writer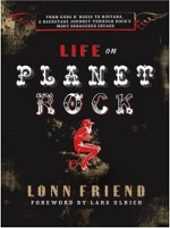 At a time when Metal was king and fans lived and died to know the inside skinny on their favorite bands, Lonn Friend lived the lifestyle and reported to a generation of metal fans, from an insider's perspective, the happenings of daily living from the pulpit of RIP magazine.
Lonn Friend's days as editor of RIP ('87 – '94) lifted him to a level of equal status as bands treated Friend to the inside scoop of their existence, for a moment in the sun in the celebrated pages of RIP magazine. Friend's rise to editor carried him from the sleaze pages of smut to the penthouse of rock when Larry Flint's wife, Althea, proposed the magazine, and Larry Flint made it so.
Here in lies Friend's journey and existence with rock's elite. Rubbing elbows with musicians such as Slash, Ritchie Sambora and Lars Ulrich, Friend developed a bond and kinship that put him shoulder to shoulder, on the same plane and at the same parties with the "who is who" of rock 'n' roll. Fans could only attain the same level attention if the were female and had five minutes to become the sexual carnage of metal's primal male role models. The male fans just looked on in envy and vied to be the next prodigal son of metal.
Lonn Friend's memoir takes the reader on an emotional journey that aims a bit at self-discovery and garners to gain perspective of a time period that was decadent. Between the wild stories, Friend examines his life and has open conversations with Alice Cooper, Ritchie Sambora and Lars on life and purpose.
Leaving RIP magazine for a job as an A&R man for Arista, Friend learns the ins and outs of the music industry, where the top control the bottom and continually thwart the careers of artists and bands as the money rolls in. We see, if not but a glimpse, into Friend's personal life as his marriage implodes. And we see the emotional bond he has with his daughter. His journey continues as his career as a journalist swings in a direction where he becomes an outsider to the music industry once his stints with RIP and Arista conclude.
Through it all, Life on Planet Rock gives the reader a perspective on a time period that was pinnacle part of our lives as we lived through the words of our bands and stood up for each other through the power of a genre of music that lives on in our souls. It also gives hope to the future as a new generation of rockers brings forth the music.