Crown the Lost Blind Faith Loyalty
by Matthew Hoffman
Staff Writer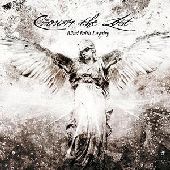 One of the last great unsigned bands, Crown The Lost, formed in 2006 in Pittsburgh Penn., have finally found a warm welcoming home on Cruz Del Sur Music. Their sophomore effort is entitled Blind Faith Loyalty. It features 10 tracks lasting a mind melting 54 minutes.
On the band's spectacular debut Reverence Dies Within, their music was a mix of power metal and early Bay Area Thrash, with a massive focus on the guitar prowess of Joe Bonaddio. On this CD the Steel City boys have added a bit of extreme vocals to the mix but as a whole have stuck to that same basic formula of pure youthful aggression, through vicious riffing and all out shred guitar.
The band's front man Chris Renaldi brings forth his usual soaring NWOBHM vocals as well as some extreme black metal vocals. These new bastard vocals seem a bit awkward at times (which signify the band's need to work on their "flow") but are not totally out of bounds, and when applied properly wind up being a major asset.
Lead axe freak Joe laces millions of lead pieces over top of the sick riffs and rhythms laid down by David Gehlke and really shows his wares as takes one of the most underrated guitar slingers in metal. The little ones are the tastiest like the "mini" thunder shred barrage 1:00 into "Dreaming in Reverse," or the one that starts off the proceedings on "Defame the Hypocrites." With every note he plays people are reminded of the guitar freak that spent his entire youth in his room with his 6-string (while everyone he knew were doing beer bongs and hittin' peace pipes.)
The sleeper performance that really lifts this CD to the next level is the percussive storm of Kevin Antonacci. His double bass explosions as well as dozens of original beat selections are really wicked throughout Blind Faith Loyalty.
The band's follow up effort, much like that of popular metal act All That Remains (who after their successful hook heavy Fall of Ideals brought forth a more aggressive lead guitar laden CD with Overcome), is less melody and less sing-a-long, but extremely rough and vicious. This may not help them relate to many 12 year old Jonas Brother fans who also have lots of Mudvayne and Shinedown on their I-pod's, but those aren't the supporters real metal bands want anyway.
So ladies and gentlemen even though everyone's idol (at the time) Metallica so sickeningly sold them out in 1991 with their girly Black Album, (and for 17 years made truck loads of dollars through gaining millions of "new fans" with watered down 3 ½ minute solo-free drivel in lieu of Bay Area Thrash until their decent 2008 Death Magnetic release) others like Megadeth, Lamb of God, God Forbid and Dethklok have charted high on Billboard while sticking to their guitar heavy "real" metal formulas.
At this time we need to add Crown the Lost to that list of "Goodfellas" that smash ear drums with total disregard for feelings or approval. And it's that attitude that makes their new CD so damn worthy of purchase. We can only hope word gets out and makes this band as successful as the aforementioned sickos.
Label: Cruz Del Sur
Band Members
Chris Renaldi -Vocals
Joe Bonaddio -Lead Guitar
David E. Gehlke -Rhythm Guitar
Shaun Gunter -Bass
Kevin Antonacci -Drums
Track Listing
1. Defame the Hypocrites
2. Drawing the Parallel
3. Bound To Wrath
4. Symbiotic
5. Finality
6. Dreaming In Reverse
7. Privation
8. Impose Your Will
9. Hollow Refuge
10. Blind Faith Loyalty
HRH Rating: 8/10