Daath The Concealers
by Matthew Hoffman
Staff Writer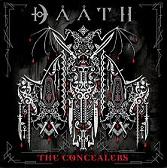 Daath (originally know as Dirtnap) is back with their third full-length effort entitled The Concealers which will be released on Century Media Records/Roadrunner in Late April.
The band plays death metal style music with a high slant on industrial metal influencing. The band started with three dudes at Berklee College of Music in Boston and after several years has been whittled down to Eyal Levi the bands Guitarist and Synthesist.
Daath means "Knowledge," in Hebrew though there is no religious connection associated with the band.
The guitar play of Levi and Emil Werstler is solid throughout and sees some especially poignant moments on "Wilting on the Vine" with a mind smoldering guitar solo and on "Translucent Potency" which sees cool background leads and a rapid fire tail-gunner solo. This section unfortunately identifies the biggest challenge of the music too as the guitars here are not prominent enough in the mix. With such top-shelf instrumentation from all the members it had to have been a mixers nightmare to sort out the emphasis needed to be given to the varied instrumentation on this record. Another pretty guitar piece that sees more of a rock basis is the solo on "The Unbinding Truth" further showing the axe men's multi-faceted attack. Beautiful piano yields to a highly charged emotional guitar section on the 76 second piece entitled "The Worthless" showing the bands soft side.
Drummer Kevin Talley (Cattle Decapitation, The Red Chord, Chimaera) may have shined brightest here on The Concealers as of all the beautiful technical pageantry his rocket fast feet and hands layered multiple levels of sick rhythm leading the band forward on virtually every track.
New lead singer Sean Z also does a wonderful job landing somewhere between Kip Winger and Geoff Tate apparently having no glaring weaknesses. His best vocal line is seen on "Silenced."
Bottom line here is as usual Daath create exceptionally melodic metal that is also killer aggressive bringing in fans from virtually all genre's of rock and metal.
This album is recommended for purchase.
Label: Century Media
Band Members:
Eyal Levi – Guitar, Synth
Emil Werstler – Guitar
Jeremy Creamer – Bass
Kevin Talley – Drums
Sean Z – Vocals
Track Listing
1. Sharpen the Blades
2. Self-Corruption Manifesto
3. The Worthless
4. The Unbinding Truth
5. Silenced
6. Waiting on the Vine
7. Translucent Potency
8. Day of Endless Light
9. Dust storm
10. …Of Poisoned Sorrows
11. Incestuous Amplification
HRH rating: 8/10