Big B American Underdog
by Leyla Hamedi
Staff Writer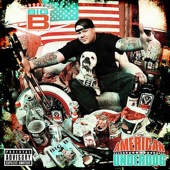 With his Fred Durst costume down pat, from the sheepish expression to the backwards cap, you'd expect the worst from Big B. But the record is filled with surprisingly mellow white boy rap that takes itself way less seriously than Everlast did back in the day.
"To The Moon," is a summery track, all Sublime-like guitars and easy rhymes. But then we get into the electronic, hip-hop spectacle that is, "Hot Women." You can pretty much guarantee the video will have hot women, duh, as well as everything else seeing as how the first verse includes wishes for, "hot asses." But instead of the classy champagne of P. Diddy, with Big B you get the trailer-tastic dreams of cold beer.
And then there's, "Criminal," with its gunshot-riddled verses. Literally. There are gunshot samples and a distinctly darker tone as befitting someone's, "[whose] friends are all criminals, all [their] friends are low-lifes [who'll try to take] your life." "F*cked in Vegas," with it's courteously asterisked "u" is a 38 second phone call for one Kevin Zinger, someone who is indeed fucked in Las Vegas as he has lost his wallet. The tinny mariachi-like horn then comes in and leads to, "Life Lessons," which also includes the high-pitched piano beat that '90s rap songs made so popular.
It's not all straight-up words getting hurled with simple backing though, there's another guitar-accompanied track with, "Let It Rain." Not to mention, "Play These Cards," with it's Southern fried guitar, it features actual singing. Briefly. "Tattooed Queen," is another ode to hot women, except this one is more specific since she's so hot she should be illegal. Slow, electronic beats highlights exactly how nasty she is.
"In My City," comes back to the guitar lead and mellow beats and leads the to record to it's gracious end. So, if you're really into rock in the way that you're not at all and prefer white-trash hip-hop wannabe rap, then by all means, Big B awaits you.
Label: Suburban Noize Records
Track Listing:
To The Moon
Hot Women
Criminal
F*cked In Vegas
Life Lessons
Drink More
Sinner
Let It Rain
Supastar
Born 2 Ride
Trouble
Play These Cards
Money
Sunday
Tattooed Queen
Gotta Do
Let's Go Play
Hi Dad
In My City
Web site: Official site
Hardrock Haven Rating: 4/10