Dame Fortune The Secret Art
by Justin Gaines
Staff Writer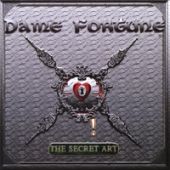 This is a strange one. What do you call a party rock album full of songs written about Calvin & Hobbes and V for Vendetta? High concept hair metal perhaps? Whatever you call it, that's what you'll find on The Secret Art, the latest offering from California rockers Dame Fortune.
Initially, there's a lot to like about Dame Fortune's sound. They've got a nice mix of '70's glam rock and slightly sleazy '80's Hollywood hair metal. Think Motley Crue, Slade and Quiet Riot meet Cheap Trick. American Heartbreak also plays this kind of music, but where that band is all fun, all the time, Dame Fortune's high concept songs are a bit of a drag. When they ditch the comic store worship, you find yourself really responding to the music and turning up the volume. Songs like "Perpetual Emotion Machine", "Good for What Ails You" and especially "I Only Miss You When I Breathe" are an absolute blast, but the rest of the album just isn't as much fun, and isn't that the point of this kind of music?
Aside from the band members (and judging from their photos in the liner notes they're really into this stuff), it's hard to say who would get the most out of an album like The Secret Art. If you like upbeat party rock, and wish there were more bands that wrote about comic books and instead of sex, booze, partying and the almighty power of rock, you'll love what Dame Fortune is delivering.
You have to give the band credit for pushing the boundaries, but they're not doing themselves any favors ignoring the things – cliché though they may be – that made us fall in love with this kind of music in the first place.
Label: Independent
Lineup:
Mike James – Guitars, Vocals
John Merritt – Drums, Vocals
David Blake – Guitars, Vocals
Jeff Wire – Bass, Vocals
Track Listing:
1. In Like Flynn
2. Perpetual Emotion Machine
3. If You May Not When You Will (You Will Not When You May)
4. Holly Fenton
5. Interlude
6. The Days are Just Packed
7. A Special Place
8. Santa Ana Blues
9. I Only Miss You When I Breathe
10. The Edge
11. V for Vendetta
12. Secret Rulers (Of the World to Be)
13. Good for What Ails You
14. Hikikomori (Live as though the Day Were Here)
Online: Online
HRH Rating: 5/10