Yngwie Malmsteen Angels of Love
by Heather McNamara
Staff Writer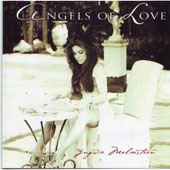 If you've been a guitar aficionado for the last 25 years, the name Yngwie Malmsteen (or Yngwie J. Malmsteen, if you prefer) will have at least some meaning for you. As most metal guitarists know, Malmsteen has been riffing it up like a madman from his early days with Steeler and Alcatrazz to his most recent release Perpetual Flame. Yngwie's classic albums are all about speed and bombast, but occasionally the man shows a softer side with sweet, soft ballads or instrumentals. That's the approach Malmsteen took with Angels of Love, his latest offering, which may leave you pleasantly surprised.
According to the somewhat sparse liner notes, Angels of Love was conceived by Yngwie's wife April Malmsteen. Listeners will notice right off the bat that this is not a run-of-the-mill Yngwie album. It's an entirely instrumental collection of ballads from Yngwie's earlier works (such as Trilogy, Facing the Animal, and The Seventh Sign) largely performed on acoustic guitar and completely arranged and orchestrated by himself. Heck, he even plays most of the instruments on the disc (with a little help from Michael Troy Abdallah on keyboards), which is actually quite above his last few albums.
The CD is a delicate mix of acoustic and electric guitar that bespeaks a kinder, gentler Yngwie than music fans have seen in quite some time. There are no sky-high rock vocals or pounding drums this time out. For the most part, Yngwie restrains himself from the usual over-the-top shredding and licks associated with his style. Still, the album features moments of signature Yngwie flying fingers of fury, such as on the track "Brothers." "Crying," from the Trilogy album, actually feels more mournful than the original. Speaking of which, the guitar virtuoso actually manages to outshine himself on "Prelude to April" from his Concerto Suite, with a simpler arrangement that is easier on the ears. Perhaps the softest offering is "Sorrow," which is layered with beautiful, rich choir-style vocal effects. The keyboards add a further ethereal effect to the music with a haunting flute-like synthesizer playing on "Like an Angel" and "Save Our Love," making this album the most unique in Yngwie's resume in quite some time.
Angels of Love is saturated with light and floaty layers of sound rather than the dark, heavy tones with which Yngwie made his name. Throughout the CD, one can conjure up visions of Malmsteen as an artist with his guitar like a master painter at his canvas, pouring out his soul and straining himself to the peak of perfection. The lush orchestrations and soft acoustic guitar playing might alienate some fans expecting a standard heavy metal shredfest, but many listeners should find Angels of Love a refreshing change of pace from the typical heavy metal sound.
Tracklist:
1. Forever One
2. Like an Angel
3. Crying
4. Brothers
5. Memories
6. Save Our Love
7. Ocean Sonata
8. Miracle of Life
9. Sorrow
10. Prelude to April
HRH Rating: 8.4/10