August 12, 2009 at the Uptown Theater in Kansas City, MO.
by John Kindred
Staff Writer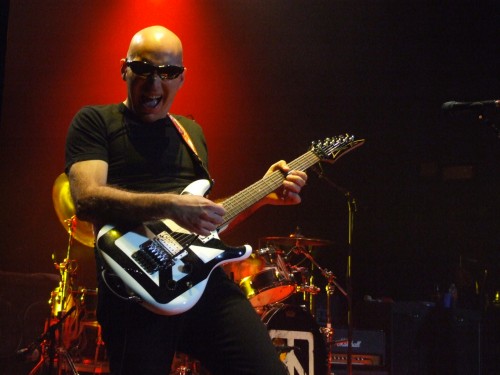 The latest super-group incarnate stop in Kansas City put the limelight on four veteran rockers. Chickenfoot features the legendary Sammy Hagar alongside former Van Halen bandmate Michael Anthony, guitar wizard Joe Satriani and Red Hot Chili Peppers drummer Chad Smith. Playing to a packed house, the band performed their new album in its entirety, added a song not on the studio release and closed the set with two monster classic rocks songs.
The band name certainly confounds. It leaves you scratching your head. It's certainly not forgettable once you tie it to this formidable foursome. The consummate frontman, Hagar directed the mayhem. With the potential for the clashing of egos, the musicians seemed focused, and all clearly were enjoying themselves.
The band treated the audience to music that pulled in elements from each band members' past efforts. Clearly the obvious pitfall was how Satriani's guitar style would gel with the overall sound of Chickenfoot. By no means does his instrumental style get lost within the context of the band.
Live, the band delivers an energetic show. They bring the showmanship and the musicianship to the table, and as a fan, you feel that they are there to provide rock-solid entertainment. Without a doubt they are in command of the stage. For the venue, though, they certainly overpowered the hall. The volume was extremely loud and could have been pulled down a bit.
Fans who expected a greatest-hits concert of Van Halen or Hagar-era songs were sorely disappointed. The new music had taken its grip on many of the concertgoers. They were familiar with the songs and sang along while hammering their fists in the air.
Highlights included "Oh, Ya," unreleased song "Bitten By The Wolf," "Down the Drain" and "Future In The Past" in which Hagar finally played along on guitar. The encore featured Hagar's slide work on Montrose's "Bad Motor Scooter." And the band brought down the house with their cover version of Deep Purple's "Highway Star."
In all, Chickenfoot performed a solid two-hour set. It will be interesting to see if the band delivers a sophomore release as the music of the band grows and evolves.
Chickenfoot: Sammy Hagar (vocals); Joe Satriani (guitar); Michael Anthony (bass guitar); Chad Smith (drums).
Set List:
1. Avenida Revolution
2. Soap On A Rope
3. Sexy Little Thing
4. Oh Yeah
5. Running Out
6. Give It Up
7. Down The Drain
8. Bitten By The Wolf
9. My Kinda Girl
10. Learning To Fall
11. Turning Left
12. Future In The Past
Encore:
13. Bad Motor Scooter (Montrose)
14. Highway Star (Deep Purple)
Chickenfoot 2009 Photo Gallery
Photos by John Kindred.
Chickenfoot 2009 Video Gallery
Photo Equipment provided by Gary Dean Ash.