August 29, 2009 at the Midland Theatre in Kansas City, MO.
by John Kindred
Staff Writer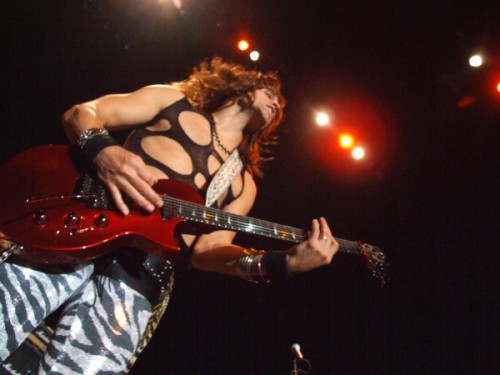 The parody metal band Steel Panther return to Kansas City was to a sold-out concert at the majestic Midland Theatre in the Power and Light District. Sponsored by the local radio station, 98.9 the Rock, Panther's return was in celebration of local DJ Johnny Dare's birthday.
Steel Panther has a history as L.A.'s Sunset Strip cover band and have gone by such band names as Danger Kitty, Metal Shop and Metal Skool. Soon to release their debut studio album Feel the Steel, the band has turned its local cult following into commercial, national success in the U.S. and Europe.
The band comprises of Michael Star (former vocalist for the L.A. Van Halen tribute band, Atomic Punks), guitarist Satchel (former member of Rob Halford's band Fight), bassist Lexxi Foxx and drummer Stix Zadinia (both of whom may or may not have any real claim to fame; it's unclear).
Taking the Spinal Tap approach to having a laugh at the excess of the '80s hair-glam-metal music scene, they literally turn the genre into a joke. The Spinal Tap band couldn't see the comedy in their act, whereas Panther fully embraces the fact that they are the joke.
In fact, the show should have been dubbed as a stand-up comedic act. More emphasis was spent on the jokes than the music. Covering a wide range of taboos; from sex with women; sex with men; sex in jail; hookers; blow, pot; drugs; etc., Steel Panther certainly made a huge play for juvenile outlandish behavior that worked well for Andrew Dice Clay (plug VH1's Where Are They Now here) but not so much for these musicians-turned-comics.
The audience was more than happy to take the abuse. From comments about Asian women to Panther vocalist Michael Star pointing out a lone black man in the audience as, "only coming to the show to pickup white women." The band took a rock 'n' roll show and turned it into a very long night.
So eager to parody the music of the '80s, Steel Panther took the stage with so much bravado and energy that they must have forgotten most of their equipment. In fact, the layout of the band's equipment looked quite tiny on the massive stage. There was no banner back drop, no walls of stacks or towering drum riser. It was more like a po' boy band on a budget. Nothing was more excessive in the '80s than the use of smoke machines. Let me tell you, the stage was quite clear. No smoke machines in sight. At least with smoke, the lack of "equipment" (pardon the pun) would have been less evident.
Although the band's set had moments of clarity, especially when performing Van Halen's "Panama" or Journey's "Don't Stop Believing," it was hard to move from the jokes and get back to the music. Satchel's guitar solo was entertaining as he performed a portion of Eddie Van Halen's "Eruption" and played a montage of metal classics, hammering the bass drum of Stix Zadinia drum kit with his foot. The encore "Death to all but Metal" is truly one of the band's best songs and a lot tamer lyrically than Panther's other original material.
Conceptually, Steel Panther and its label have hit on a golden concept as the music of the '80s has resurged in popularity again. The parody bit could be a true-to-life Spinal Tap moment if the comedy was real and not manufactured. Throw out the adolescent vulgarity and just play music! Give us the towering speakers, walls of sound, smoke, fire and blood! Give us those spontaneous comedic moments that always happen in our daily lives. Or maybe, we should save our money and go see KISS.
Set List:
1. Eyes Of A Panther
2. Band Intros
2. Asian Hooker
3. Fat Girl
4. Stripper Girl
5. Guitar Solo
6. Girl From Oklahoma
7. Party All Day
8. Sweet Child of Mine – Guns And Roses cover
9. Happy Birthday Johnny Dare
10. Don't Stop Believing – Journey cover
11. Community Property
12. Panama – Van Halen cover
Encore:
13. Death to all but Metal
Steel Panther 2009 Photo Gallery
Photos by John Kindred.