by Justin Gaines
Staff Writer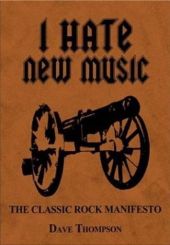 When you strip away the caustic observations and bitter humor of Dave Thompson's I Hate New Music: The Classic Rock Manifesto, what you're left with is a fierce, passionate love letter to the classic rock 'n' roll (never rock and roll) bands the veteran music journalist cut his teeth on. The fact that those caustic observations and bitter humor are what makes I Hate New Music so much fun is an added bonus. Its Fargo Rock City if you replaced Chuck Klosterman's wide-eyed farm boy with the bitter troll hunched over stacks of used vinyl at the local record show. Read more
September 28th, 2009 at The Beamont Club in Kansas City, MO.
by John Kindred
Staff Writer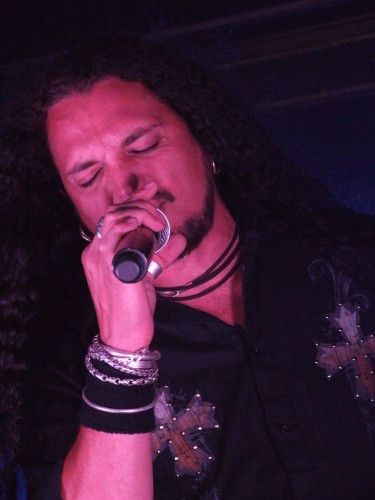 DragonForce headling tour in support of their latest studio release Ultra Beatdown made it's stop in Kansas City. The fall tour runs through October 11 and makes it's final stop in Philadelphia. This will probably be the band's final U.S. tour in support of their most recent album, Ultra Beatdown.
With Sonata Arctica, as well as DragonForce labelmates Taking Dawn, opening the show, metal fans are sure to enjoy several genres of metal. That being heavy, progressive and power metal. Dragonforce's latest power-riff fueled opus, Ultra Beatdown, was unleashed upon the world last August. With the support of Roadrunner Records the band continues to deliver it's music to the world.
Sonata Arctica's new CD, The Days Of Grays, was just released on Nuclear Blast Records.
Dragonforce/Sonata Arctica 2009 Photo Gallery
Photos by John Kindred
Tout dates:
9/29/2009 Cabooze On The West Bank Minneapolis, MN
9/30/2009 House of Blues Chicago, IL
10/2/2009 Sound Academy Toronto, ONT
10/3/2009 Le Medley Montreal, QUE
10/4/2009 Theatre Imperial Quebec City, QUE
10/6/2009 The Fillmore New York At Irving Plaza New York, NY
10/7/2009 Rams Head Live Baltimore, MD
10/9/2009 The Palladium Worcester, MA
10/10/2009 Chance Poughkeepsie, NY
10/11/2009 Theater of Living Arts Philadelphia, PA
by Justin Gaines
Staff Writer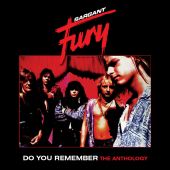 German melodic rock band Sargant Fury was one of those bands that seemed to exist just under the radar, going unnoticed by just about everyone (except the Japanese, who have proven time and again that they know a good thing when they hear it). The band, which featured English singer Andrew McDermott (who would go on to sing for the progressive metal band Threshold on their best albums), had a polished, melodic sound that was similar to bands like Giant, Bad English and Tyketto, but with a uniquely European feel.
Working with the top producers in the field, Sargant Fury issued a string of first rate melodic rock albums in the first half of the 1990s. Until now, these albums were only available as pricey, out of print Japanese imports. Fortunately, reissue label Divebomb Records (a branch of Tribunal Records) has made the complete Sargant Fury catalog available again with the box set Do You Remember – The Anthology. Here's what the limited run set has to offer: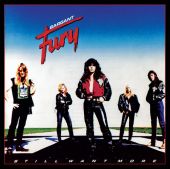 Disc 1 – Still Want More
Released at the height of the "arena rock" era, Sargant Fury's 1991 debut album probably would have been a huge hit in the US if it had received even a fraction of the attention it deserved. Victory mainman Tommy Newton produced this one, and supplied some backing vocals.
Lineup:
Andrew McDermott – Vocals
Kal Steffen – Guitars
Olaf Grosser – Guitars
Bauke de Groot – Bass
Helko Helke – Drums
Track Listing:
1. Still You Want More
2. No. 9
3. Mind Games
4. Love Me
5. Stand Up
6. Me
7. Do You Still Remember
8. Love on the Run
9. Slow 'n Easy
10. Just One Night
11. Losing Control
12. Don't You Know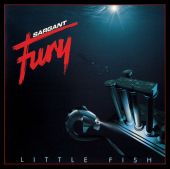 Disc 2 – Little Fish
Production duties on the band's 1993 album were handled by Charlie Baurfeind, whose work with Angra and Gamma Ray (and later Blind Guardian and Helloween) made him one of the top producers in the power metal genre. Victory's Fernando Garcia and Ralf Scheepers (then of Gamma Ray and now of Primal Fear) made guest appearances on this album, which included a memorable cover of Abba's "Eagle." Sargant Fury beat Rob Rock to the punch on that one!
Lineup:
Andrew McDermott – Vocals
Kal Steffen – Guitars
Olaf Grosser – Guitars
Bauke de Groot – Bass
Helko Helke – Drums
Track Listing:
1. Out
2. New Direction
3. No. 7
4. Little Fish
5. Eagle
6. T.T.A.
7. Goodbye
8. Change
9. Eternal Champion
10. Wrong Place – Wrong Time
11. Tomorrow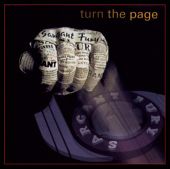 Disc 3 – Turn the Page
Released in 1995, this was the band's final album. For any other band, this probably would have been the album where they made a weak attempt at going grunge. Fortunately Sargant Fury stuck to their guns, the result of which may be the strongest of their three albums. Charlie Bauerfeind again produced this one, alongside noted power metal producer Sascha Paeth. Saxon guitarist Paul Quinn makes an appearance on Turn the Page, as do Bauerfeind and Paeth. The album includes a pair of cover songs – the Flashdance anthem "Maniac" (beating Firewind to that one by more than a decade) and Bad Company's "Can't Get Enough."
Lineup:
Andrew McDermott – Vocals
Kal Steffen – Guitars
Olaf Grosser – Guitars
Carsten Rebenstach – Bass
Helko Helke – Drums
Bauke de Groot – Additional Bass
Track Listing:
1. Turn the Page
2. Best I Can
3. Crack in the Mirror
4. Time
5. K.Y. Jelly (God Above)
6. No Other Way
7. Maniac
8. Without You
9. Main Attraction
10. Can't Get Enough
11. Lucky Day
12. From a Distance
There isn't any bonus material in this set, but the albums have all been digitally remastered, which is the real bonus. Just the fact that they're all available in one affordable package is reason for melodic rock collectors to celebrate. If you're a fan of bands like Tyketto, Giant, Harem Scarem and Threshold, and missed Sargant Fury the first time around, you'll definitely want to grab Do You Remember – The Anthology while it's still available. Divebomb only issued 1000 sets and it's only available in CD format – no MP3s.
HRH Rating: 8.5/10
Online: www.tribunalrecords.net
by Joe Mis
Staff Writer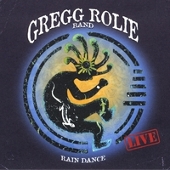 So retro that it is actually cool! Rain Dance Live is an amazing concert recording by a bunch of veteran blues rockers led by legendary keyboardist / vocalist / producer Gregg Rolie. Rolie was a long time member of Carlos Santana's band and a founding member of Journey (as well as founder of bands The Storm and Abraxas Pool). Gregg and band recorded this album while on tour in 2007. After giving this a listen it is obvious why Rolie was inducted into the Rock And Roll Hall Of Fame. Fans of Carlos Santana or Stevie Ray Vaughn won't want to miss this one.
Many of the tracks on this album are song Rolie originally recorded with Santana – "Black Magic Woman," "Evil Ways," "No One To Depend On," and "Oye Como Va."
Most, if not all should be familiar to any rock fan – and these are really great "covers" – although "re-recordings" would be a more appropriate term since Rolie helped write and perform the originals. Rolie's new original tracks keep the same vibe and groove, and make the album a cohesive one despite mixing old and new. All the songs are rich in percussion, organs, drums and guitar – and have a distinctly "Latin" flavor that goes beyond the occasional Spanish lyric.
The band is incredibly rich in talent and experience. Gregg Rolie sings lead, handles the keyboards and produces. Kurt Griffey's guitars come close to stealing the show many times. Internationally acclaimed bassist and Santana band member Alphonso Johnson lays down some incredible grooves. and keyboardist Wally Minko (of Jean Luc Ponty's band) provides another set of talented fingers. The amazing percussion is provided by the trio of founding Santana member Michael Carabello (congas), Adrian Areas (timbales), and drummer Ron Wikso (who co-produced the album).
The music is solid across the board, with the true standout tracks being "As The Years Go Passing By," "Going Home," "Across The Water" (awesome guitar solo) and "Black Magic Woman" (Rolie sang lead on the original with Santana all those years ago).
Gregg Rolie's work on the production and engineering are fantastic for a live album. The vocals are clear and crisp, the instruments all come through with good balance and warmth save for a bit of washout in the middle ranges. Refreshingly, Rolie and his team do not allow crowd noises to dominate the production – in fact they are so subdued you won't notice it except for the time between the tracks and during the band introductions.
All in all Rain Dance Live is a great recording for anyone who is into '70s or early '80s blues rock. Santana fans (or fans of good guitar rock in general) will love it. Highly recommended!
Label: Indie
Web: http://www.greggrolie.com/
http://www.cdbaby.com/cd/greggrolieband
Track Listing:
01. Jingo
02. Going Home
03. No One To Depend On
04. As The Years Go Passing By
05. Evil Ways
06. Across The Water
07. Give It To Me
08. Soul Sacrifice
09. Black Magic Woman
10. Gypsy Queen
11. Oye Como Va
12. Bailamos El Son
HRH Rating: 9/10
September 25th, 2009 at The Backyard Beamont Club in Kansas City, MO.
by John Kindred
Staff Writer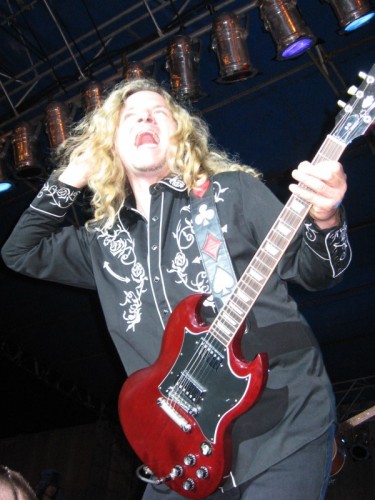 With autumn at our doorstep, Tesla stopped in Kansas City to play the Backyard at the Beaumont Club. The outdoor venue is an intimate setting that could probably hold a little more than 1,000 people. With a stage set up on a flat-bed, 18-wheel trailer, the venue truly is standing room only as there are no seats; just concrete, grass and dirt.
Battling the possible threat of a down pour of rain, Tesla took the stage to perform what felt like an accelerated set. Touring in support of their latest studio album Forever More, the band took the stage and opened with the self-titled song the also opens the new record.
Jeff Keith and company; drummer Troy Luccketta, bassist Brian Wheat and guitarists Frank Hannon and Dave Rude, brought their A-game and served up their signature roots-laden, '70s-inspired hard rock upon the crowd. Tesla performed for nearly and hour and half and beat the ominous, suspected down pour of rain. That really turned out to be a light rain shower beginning three songs before the end of their set.
The band played several songs from the new album "Forever More," "I Wanna Live," "Breaking Free" and "So What!" The music fit in amongst their hits and fan favorites; "Love Song," "Modern Day Cowboy," "Hang Tuff" and, of course, their cover of "Signs."
The showmanship and musicianship of Tesla is not lacking on any front. Guitarist Rave Rudd appears to not only fill the role left by Tommy Skoech, but now after recording and touring, he has become an integral part of the band. Together, Hannon and Rudd play off each others riffs and rhythms with ease and fluidity. They performed harmony solos to perfection. Also impressive was their acoustic guitar work that opens up "Love Song." With Rudd playing a bluesy lead and Hannon playing a classical arrangement underneath, they showcased the melodic softer side of the band.
Keith's voice may not be as sharp as it was in the '80s, but he still had enough edge to deliver the new and older material with purpose. Luccketta's drumming is loud and powerful, and he and Wheat provide the bottom end and pulse of the band.
Obvious crowd favorites included "Modern Day Cowboy," "Paradise" and "Love Song." The new material appeared to be known to the audience as they sang along in a spirited frenzy. The set never seemed to hit a lull as the band rocked whether doing their hard, faster songs or slower mid-tempo songs.
Fans probably wanted more music, but considering the venue and the weather, all in all, the fans got their money's worth.
Set List:
Forever More
I Wanna Live
Modern Day Cowboy
Breaking Free
Hang Tough
Heaven's Trail
So What!
Mama's Fool
Love Song
Edison's Medicine
Paradise
Signs
Into The Now
Comin' Atcha Live
Tesla 2009 Photo Gallery
Photos by Kathy Kindred
by Jonathan
Staff Writer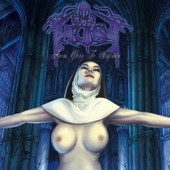 From Glory To Infinity by Faust is melodic death metal at it's finest. This CD is predominantly death metal, with some traditional metal and thrash along with progressive elements as well. For those of you who are reading this review simply because of the CD cover, you should know this is not music for the timid. If you're one of those people that listen to one-dimensional radio music, if you never buy CDs and only listen to what pop radio wants you to hear, then this is definitely not for you. This is brutal death metal that's not intended for the simple mind.
The song writing is dynamic; the execution of the songs is masterful; and the production is clear, leaving nothing to be desired. From Glory To Infinity is very much the perfect death metal CD on all levels. If you don't like death metal, this CD probably won't change your mind. What it does do is satisfy the need for extreme listening by those that truly love this genre of music. The lead vocals are in the low register, using the traditional guttural technique. Aleister's tone is perfect for this style of playing, unlike the new mutations of "wannabe" death metal that scream aimlessly using a higher tonality.
The lead and rhythm guitars show what death metal guitar playing is supposed to be. When you hear Ghiulz and Aleister solo with such precision, it makes you ask and wonder why. Why do so many other guitar players elect to not solo throughout their music? Maybe it's because other guitar players can't. Again, speaking of tonality, this duo nails it with a perfect guitar sound. Their solos are fluid, melodically phrased and dynamic.
For extreme listening like Faust, the rhythm section is perhaps even more important than in any other genre of music. The bass and drums on From Glory To Infinity are big in production, very rhythmic and quite audible. There is a clear distinction between the two; neither gets lost in the mix. The bass can be described as lead bass. Steve DiGiorgio is not one of those players who simply ride the root note. He's on top of the rhythm taking a foreground approach, incorporating quarter, eighth and sixteenth notes.
The drums are clearly the backbone of this recording. Combining metronomic blast beats, thunderous double bass and the occasional progressive odd time, Daray helps make From Glory To Infinity the melodic death metal masterpiece it is. He doesn't allow himself to be limited to one genre with his playing. Daray draws from many different genres of music with the diverse beats he chooses to use. Many drummers out there could definitely learn from his example of quality drum playing and precision time keeping.
With emphasis on song writing and execution, From Glory To Infinity is melodic brutality to the core and guaranteed to satisfy all listeners of extreme metal.
MySpace URL: www.myspace.com/faustband2
Lineup:
Aleister- Lead, Rhythm and acoustic guitars / vocals
Ghiulz- Lead guitar
Steve DiGiorgio- Bass
Daray- Drums (From Vesania)
Luca Princiotta- Rhythm and Acoustic Guitars (From Clairvoyants)
Track Listing:
1. Purple Children
2. Wet Veils
3. Sentimental Worship
4. Golden Wine Countess
5. Servants Of Morality
6. Carnal Beatitude
7. Pig god Dog
8. Holy Hole
9. A religion-Free World's Dream
Hardrock Haven rating: 9/10
by Derric Miller
Staff Writer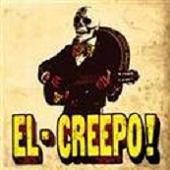 It's almost a poetic injustice that Todd Smith is named "Todd Smith," and it's also sneaky as hell. Now "Sasha Baron Cohen," that's the kind of name you'd expect someone criminally creative to be named. But "Todd Smith" … isn't that baptismal name of rapper LL Cool J, and the title of one of his albums? Nevertheless, Todd Smith (Dog Fashion Disco, The Altar Boys, Polkadot Cadaver, Knives Out!) has unleashed his first solo project, titled El Creepo!, and the term "criminally creative" certainly adheres itself to this release.
The one draw of everything Smith has involved himself with is the lyrical bedlam, from repeat lines like "Your eyes look just like bullet holes" he's used in both tracks "Chloroform Girl" (Polkadot Cadaver) and also "Barely Breathing" (Dog Fashion Disco), to writing a song about Satan as a tiny baby, with horns and a crooked spine. In a recent interview with Hardrock Haven, Smith spoke of the process of penning lyrics as "pulling them out of the ether." Now, with anyone else, you'd call it "artistic bullshit," but Smith isn't trying to impress anyone; it is what it is. The lyrics are clearly the highlight of El Creepo!, but the songs are nearly their equal.
"Lazy Tiger" is your first taste of Smith's solo sound. Acoustic plucking, vocals mostly in falsetto, no drums or bass, and of course, lyrics like "you put the 'fun' back in funerals." What is "Lazy Tiger" about? It doesn't really matter, but El Creepo! offers religious imagery throughout, and that brush strokes this composition as well. One thing you'll have to realize is that El Creepo! never ventures into Hardcore or Metal land. He's done it before, and El Creepo! is a whole new twisted animal.
The religious tones grow on "Witch Hunt," especially when you get to the chorus: "Let's start a witch hunt, scapegoat the pagan ghost. Cupid shoots poison arrows, at the virgins and the scarecrows. Let's pass the Koolaid; strychnine and strawberry. It's a Jonestown holiday, and all the children are in their graves." The eerie part is Smith's happy-go-lucky sing-song delivery here; you wouldn't know he's dissecting numerous themes at the same moment, sometimes, with the same words casting different meanings. While the song is "plucky," it's pretty existential and not at all meant to be fun … well, maybe in the funereal sense.
For some reason, Smith scribes perfect stalker songs. "Orange Peel Sunrise" is much the same, with lyrics describing the relational torment with sentiments like "I'll take you home, and skin you like an orange peel sunrise. Stripped to the bone, I think we could go all night … that's right!" If you are a fan of The Doors, well, Smith does his best Jim Morrison vocally here, and the song features Doors-like LSD-laced lyrics, porn-styled riffs and classic organ passages.
Johnny Cash is also an influence on Smith, and so is Will Ferrell, at least in his Talladega Nights: The Ballad of Ricky Bobby incarnation. The line "And I'm riding on a skeleton horse through the gates of hell" was a line in that movie, and it stuck with Smith to the extent he penned a song about it. With a dire acoustic opening and Ferrell inspired macho chants, there's a lot to dig here.
The title track, "El Creepo!," is reminiscent of the Red Hot Chili Peppers. While Smith snarl/whispers the opening lines, groovy bass lines and quirky as hell riffs surround his vocals. This is where the album speeds up, where the opening tracks were mellower and written in a more story-telling mode. This is about as close to DFD or Polkadot Cadaver you'll get on El Creepo! The next couple tracks, "Hitman" and "Hot Little Temper," continue the heavier route, and are just as impressive.
Still, it's all about being creepy, and for that, Smith's vocals and just acoustic guitar are all you need, like on "Space Needle." It begs clarity, and additional noise would water down the unhinged sincerity, which is naked when Smith sings, "You remind me of a snake, but only when you smile." It gets weirder, with the refrain, "When you're high, watching someone die." The way he sings, in a semi-falsetto and earnestly, should unsettle you to various degrees.
"Bloody Mary" closes the album, and it's a return to religious imagery, when he sings, "Bury me inside your garden. Under intelligent trees. Beneath the snake and tempting apples, let the roots grow into me." Want to deconstruct that phrase? OK … there's the Garden of Eden, the Tree of Life, Satan and man's fall from grace. And that's just the opening verse. The chorus, "Blood Mary say goodbye, to the all the hopeless souls, Christ left behind. Bloody Mary say goodnight, you've been a bleeding statue since the day that Jesus died," probably won't be the Religious Right's anthem. Whether Smith is an atheist or agnostic, he has used El Creepo! to both make fun of and cast doubt upon organized religion. Would you expect anything less?
El Creepo! can pretty much be what you want it to be. Weirdly melodic, intelligently flippant, cuttingly accessible, or a mixture of all three. Smith proved on El Creepo! that he's no one-trick dead pony (that gets beat to death, again). Words don't really do it justice; you are going to have to hear this creation yourself.
Label: Rotten Records
Track listing:
1. Lazy Tiger
2. Witch Hunt
3. Orange Peel Sunrise
4. Easy Killer
5. Skeleton Horse
6. The Art of Bullfighting
7. El-Creepo!
8. Hitman
9. Hot little Temper
10. Bachanian Desert Heathens
11. Pitchfork
12. Space Needle
13. Bloody Mary
HRH Rating: 8.7/10
by Alissa Ordabai
Staff Writer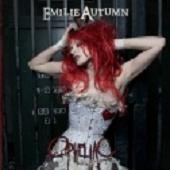 This double-disc deluxe edition of Emilie Autumn's third full-length album is generously augmented by a bonus disc and some video extras making it a genuine treat for fans and newcomers to this confounding act alike. For those who are still unfamiliar with this Chicago-based singer, songwriter, poet and multi-instrumentalist, Opheliac is a good album to start with. After all, this was Autumn's first record to enjoy widespread distribution and the first one to bring her international recognition.
Autumn's trademark musical kaleidoscope starts spinning with a harpsichord intro on the title track opener, creating pseudo-classical vibe which is later picked up and expanded on by a poignant violin riff. Surprisingly, the method works, floating her smoky voice over a haunting spare string section with transparent elegance. To add some further pizzazz, Autumn's voice is alternately sweetly pitch-perfect and ruggedly punky, mirroring perfectly the conflict between chaos and order that's at the centre of her act.
While Autumn's genre defies categorisation, embracing everything from pop and electronica to industrial metal and chanson, the album shows that for her this tension between the crafted and the controlled and the chaotic and unconscious is an endlessly fascinating theme she is prepared to explore no matter which sonic or emotional extremes it may lead her into. And she does so with such voracious zeal throughout, romping across pitch-perfect potential pop chart-toppers such as "Swallow" through to "Liar" where she succumbs to half-conscious hysterical chanting, that in the end all you want is for this record to continue playing to see what else she holds up her sleeve.
Autumn, of course, remains a pro no matter how far she goes and no matter which genre she engages in. This, as well as being able to keep focus on her main goal, holds this record and her act together, apart from her obvious talent. After all, under all of her grotesque buffoonery and a desire to shock hides a shrewd knack for writing a perfect pop song and vocal chops that can carry through and deliver any message she chooses – from deliberately neurotic to artfully vacuous.
Label: The End Records
Disc 1:
01. Opheliac
02. Swallow
03. Liar
04. The Art Of Suicide
05. I Want My Innocence Back
06. Misery Loves Company
07. God Help Me
08. Shalott
09. Gothic Lolita
10. Dead Is The New Alive
11. I Know Where You Sleep
12. Let The Record Show
13. Album Out Takes*
Video Extra:
A Day Out With EA*
Bonus Disc:
01. Thank God I'm Pretty
02. Dominant
03. 306
04. Gloomy Sunday*
05. Asleep (Acoustic Version, originally by The Smiths)*
06. Mad Girl (Acoustic Version)*
07. The Art Of Suicide (Acoustic Version)*
08. Thank God I'm Pretty (Shoegaze Version)*
09. Largo for Violin by J.S. Bach
10. Marry Me
11. Asylum Book Excerpt
12. Interview with EA
13. Poem: How To Break A Heart
14. Miss Lucy Had Some Leeches
Video Extra:
Live in Concert/Asylum Book Reading Footage*
Hardrock Haven rating: 7/10
by Franco Wissa
Staff Writer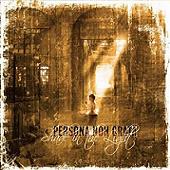 Persona Non Grata's debut, Shade in the Light, does a fine job of mixing keyboards with heavily distorted guitars, much as one would hear from Dream Theater or others of the same genre. The keyboard work of John Ioannidis is perfect here, and the guitars while dark and imposing seem to be more for effect than a means to carry the track forward. Time and again it is the sounds coming from the synthesizers, piano or organ that gives many of these tracks its tone. This is especially true on "Dual Unity," the gorgeous piano of "Fives," the electric piano of "Longing," the thoughtful "Empty Shadows," the synthesizer heavy title track, "Shade in the Light," and the multi-layering of several types of keyboards heard on the closing track "Stillness."
As prog/metal goes, there were certainly many facets of this album that will find its way into the collection of followers of this sort. The melodies and lyrics are well written and well played. The songwriting is complex, layered and the delightful keyboard arrangements intertwine wonderfully around guitars, heavy drums and bass. However, with all that having been said, there are a couple of points that must be made. All of which bring down this otherwise sturdy release. First are the vocals of Bill Axiotis. At various times they seem to be out of tune, and in the higher octaves this is truly evident. And this in and of itself can bring down even the highest quality of prog/metal. His voice is not as strong and masterful as one would hope to give these tracks lift. Progressive metal is a difficult type of music to conquer. Bands like Freedom Call, Heavenly, Dream Theater, Symphony X or Derdian will all instantly display this. They all have the powerful, energetic vocalists who can carry their bands, and give their tracks the attention they deserve. However, on Shade in the Light, that energy which is supposed to be coming from the lead vocalist is missing therefore the desire to want to stay committed to hearing this CD in its entirety is quickly lost. And giving this release repeated listens makes this more of a chore than a real desire. In prog/metal, this is certainly not a good thing.
Point two is that there is a certain missing element. Some may say vigor; others may say an obligation to the genre of prog/metal that right away gives these tracks its own style, flair and panache. It is difficult to describe but a listen to bands like Freedom Call or Derdian certainly brings to mind the type of music that this genre is known for. Almost combustible if you will – from the opening bars of track 1 to closing it is full of feeling, majesty and a splendor if you will. And on this release this was missing. In parts it was lackluster and the band members seemed to be along for "a ride," rather than a firm desire to give to us the listening audience, a knockout, thunderous, rich, theatrical CD that makes us want to do one thing – turn the volume as loud as it will possible go. And with the talents heard here, especially the talents of coming from the drums and keyboards this was a frustration.
But for the single reason to hear a band that shows promise in that they do have in their ranks a keyboardist who has certainly grasped the complexity of prog/metal, a guitarist who uses the sounds of distortion and other effects, and a songwriting team that has come up with some solid musicianship, give this one a listen. And let's hope future releases from Persona Non Grata show a more powerful vocal line, passion and energy that will make us reach for that volume knob. And give bands like Heavenly and others a true run for their money. But this one just didn't do quite that.
Label: Sensory Records
Track Listing
Before the Reason
Dual Unity
Single Unity
Collision Course
Fives
Shade in the Light
Longing
Empty Shadows
Personal Gratitude
Stillness
Band Members:
John Ionnadis – keyboards
Chris Vogiatzis – bass
Bill Axiots – vocals
Akis Gavales – drums
Chris Gatsos – guitars
HRH Rating: 7/10
by Franco Wissa
Staff Writer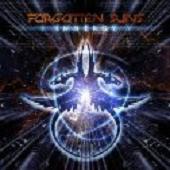 Portugal's Forgotten Suns, around since 1991 with a revamp in their lineup from their 2004 release Snooze, give their follow-up Innergy a much heavier direction. The tracks are long, but give this band plenty of time to showcase their musical chops. Deep, crunchy guitar chords, heavy use of the keyboards, hard hitting drums all give this metal quintet a punch that rocks hard. In higher octaves new front man Nio Nunes strains to stay in tune, but in his comfort zone he certainly can hold his own. But, when the octave pitch does change, it becomes a tilt of the head and one finds themselves quickly hoping that the range changes back to where he is comfortable. It might have been better for the songwriters to know of the range of their vocalist and avoid the ranges that do not fit in with the ability of their singer.
As has been said before, metal releases either have it or don't. They either will come trailblazing with guns cocked and loaded and explode from your speakers with sounds of thunder and killer licks, or instead comes across as uninspiring and lackluster. Even with the most technically advanced sounds coming from the keyboards, guitars and vocals it can still sound off kilter. But this can also be said for any release, whether it is pop, rock, blues, metal or hard rock. On Innergy, Forgotten Suns comes across in parts of Vanden Plas and in certain moments hints of Alice in Chains came through. The sound was loud, bottomless and unscripted to just one genre. The boys of Forgotten Suns used their instruments to bring out what is good about progressive, metal and power bands like Edguy or Firewind. Certainly no easy task, but the boys do it all and they, for the most part do it all well. But mixing so many styles of songwriting and playing, just when one gets used to the prog/metal sounds of "Flashback," and expects that this is the style of Innergy the direction changes to the fusion/nu-metal of "Doppelganger," to old school metal of "Outside In," the funk/grunge (with its hint of the progressive) of "Mind over Matter," to the thrash metal of "Racing the Hours" and the Rush sounding "An Outer Body Experience," this is confusing, and leaves the listener having to change their thought process.
The keyboard work is stunning (especially true on the 10 minute monster, "News,") the guitar work as well heard on "News," is lingering, with long solos, evil riffs and guitarist Ricardo Falcoa can hold his own giving his work credence. Drummer J.C. Samora uses his drum set to its fullest advantage giving a true workout to all sounds in his arsenal. While the 10 minute "News," and "Outside In," and the almost 13 minute "Nanoworld," was a bit much and it seemed to meander on, the talents of the band members must be pointed out.
Overall, Forgotten Suns gives us all of what it is the rock and metal world have to offer. But with a singer not as strong as he should have been and a release that changes in its vibe often, it is difficult to understand what it is that the boys were trying to bring across. And even with the talent and songwriting prowess that was heard, it makes it a complicated CD to listen to in one take.
Label: SPV
Track Listing
Flashback
Racing the Hours
News
Doppelganger
An Outer Body Experience
Outside In
Nanoworld
Mind over Matter
Band Members
Ricardo Falcoa – guitars
Miguel Valadares – keyboards
J.C. Samora – drums
Nuno Correia – bass
Nio Nunes – vocals
HRH Rating: 7/10
by Franco Wissa
Staff Writer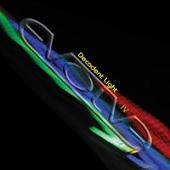 Progressive rockers Decadent Light release this hollow mishmash of hard to discern lyrics and muddy vocals, (especially on "War," "Baby Come Back," and "Write.") and if one is unable to understand the lyrics the feeling behind the music becomes lost, and it becomes downright boring at times. The songwriting and vocals are hidden behind lots of reverb and it takes all one can do to understand (or care) what is being sung about. In points the songwriting does show promise, but all in all it quickly becomes a cause of futility to want to hear any of this CD again. The guitar work was well done. Soothing, lush and well played, but on a CD where the songwriters are trying to tell a story, all the great guitar work isn't going to matter if the vocals and storyline can not be understood.
Track 1, "Number 16," opens with a jazzy/synth feel that does have some merit with the desire that the band members wanted to write a strong opener, but as the vocals start, it becomes hard to sit though. The harmonies heard are indistinguishable, the songwriting plods along, almost numb like and a press of the "next" button comes soon into the opening bars to get some relief from this ridiculous number. "Track 3, "Listen Up," fares somewhat better with soothing keyboards, but again the vocals are muddled in points and why it is that Michael Eager will not enunciate his words quickly becomes the question of the moment.
Track 5, "Rolling Along," with the strong guitar intro almost becomes a strong suit in this compilation but then again those damn vocals, and this time it is a rise and fall of a jazzy style of vocals that aren't really words but just an accompaniment of oohs and aahs. Whatever…
It has been said that Decadent Light's Evolve IV sound can be compared to Radiohead, but another listen also shows the stylings of the Thom Yorke and in parts Coldplay. So it comes down to this – as one opens the CD of this new release and sees pictures of the band members immersed in their instruments with soft colors around them and the CD cover giving the telltale signs of lasers and fusion the hope arises that this will be a release that will give lovers of progressive rock a new band to latch on to. But then the music starts and just the opposite happens. This one was truly disappointing.
Let's really hope that future releases of this band give emphasis to the vocals – if nothing else, the vocals. For if one can not understand the lyrics, the storyline and what the band is trying to convey in their tracks, little else is important. It can not be emphasized enough; it is the vocalist who brings the story to life with his use of intelligent singing and with clear, concise and discernable words. But time and again, heard on Evolve IV, this just was not the case.
Label: SPV
Track Listing
Number 16
War
Listen Up
Judgement Day
Rolling Along
Saturday's Gone
Must Have Been the Future
Baby Come Back
Voyager
Write
Goodbye
Band Members
Michael Eager – vocals,rhythm guitar
Peter Matuchniak – lead guitars, keyboards
Jim DeBaun – bass
Paul Sheriff – drums
HRH Rating: 5.5/10
by Derric Miller
Staff Writer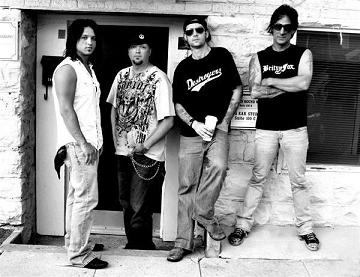 Charlie Wayne (Bulletboys, Hawk, Keel & Wayne, IronHorse, etc.), lead singer/guitarist for the new band Platinum Rose, checked in with Hardrock Haven to talk about his new band; their upcoming release House of Pain; TV appearances; how his past musical experience influence Platinum Rose; his new book, Enchanted Life; and a whole lot more.
Charlie Wayne, besides being a great singer and guitarist, is first and foremost a stellar songwriter. Whether penning classic Heavy Metal burners or contemporary acoustic ballads, he doesn't miss. Tune in now to get to know Wayne and Platinum Rose, and get ready to pick up their new CD in October.
(If the embedded player doesn't populate, click here to stream the interview in a stand alone player.)
by Derric Miller
Staff Writer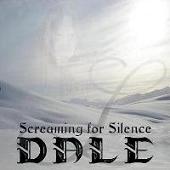 It's not often that you find a new guitar hero release a debut album that is as focused on the songwriting, the vocals, and the lyrics as he is on amazing listeners with his frenetic riffing, blazing tapping or intricate solos. Lasse Dale somehow reigns himself in—somewhat—on his debut Screaming for Silence, and offers up a thought provoking release in Screaming for Silence that is more about the sum of its parts than just his guitar prowess, which is immense.
One of the reasons for this oddity may be the fact that one of the best voices in all of Rock and Metal, Tony Mills, was brought on board to sing Dale's compositions. Knowing you have such a flexible vocalist who can sing anything you write, well, wouldn't you want to stretch those boundaries as much as your own guitar playing? Dale certainly did; Mills hits notes you've probably never heard him nail before, and as usual, he astounds.
Screaming for Silence's first track, "A Conflict of Interest," will remind you of the pageantry of Yngwie Malmsteen. With Classic keys (played by Karl Birkely) opening the song, it turns into a near Neo-Classical guitar riff that Malmsteen certainly influenced. The fact is, though, that Dale rarely gets consumed with bottlenecking the song around his guitar, as Malmsteen is historically (and accurately) accused of. At times, "A Conflict of Interest" weaves between Power and Progressive Metal, more so the latter because of the intricate manner the song is conveyed. Mills vocals soar, especially on the end where he wails, "To the end of extinction!" Wicked way to begin the album.
"Psychosynchronicity," while perhaps a bit pompous on the title, is one of the better tracks here. The odd time signatures, chaotic keys and utter darkness from Mills vocals make this one you'll keep going back to. Mills will remind you of Geoff Tate, probably around 1986, as he goes from talking to nearly screaming his vocal lines. The only time the song stops its pummeling rhythm is during the chorus, where it smoothes out before going bombastic into the next verse. While Dale's talent is palpable, it is drummer Kristoffer Øyen's overwhelming power and precision that stands out here. Once Dale tears into his solo, you'll completely understand why so many consider him an underground Guitar Hero.
While the heavier songs draw you in, Dale's ability to wield an acoustic guitar with the same dexterity on "The Silent Guns of Love" will probably remind you of Malmsteen again. Mills can croon with the best of them, one of the rare singers who sounds as strong singing Heavy Metal anthems as he does ballads, proven by what you'll hear here. The harmonies are off the charts, as Mills vocals are layered as he accompanies himself. Haunting, and beautiful, "The Silent Guns of Love" is another highlight.
The album gets political on "Macheaveillian Perspective." The newscaster's voice talks about America, and Russia, and the creation of the Palestine state. "Stalin was sure that a Jewish state would be socialist," says the narrator, before launching into the song. This may be one of the reasons why Dale will be labeled Progressive Metal; he's not singing about swords or unicorns or hammers or knights. This is too heady for Power Metal. Although you have to pay attention to get the full story, musically, it's still an excellent composition.
It all closes with "The End of All Days," a gloomy, somewhat foreboding track, with guitars that sound like a buzz saw at the onset. While the keys are sometimes in the background, here they stand out front, adding a more musical vibe to the sometimes droning song. "Theatrical" is a good way to describe Mills' vocals, maybe along the lines of Tate on Operation: Mindcrime again. This is also one of the songs where Mills is using the full extent of his range, something it seems he isn't allowed to do in TNT, wherever that unit may be now. Regardless, "The End of Days" is a strong ending to a CD that is a brave debut.
Lasse Dale did it right. Instead of trying to "wow" you with his ability to solo, he has written a complete album with songs that make sense, are interesting to digest, and he never pulls the compulsory masturbatory guitar solo. It all makes sense in the narrative of the song, which for a newcomer, had to be one of the most difficult things to accomplish. Screaming for Silence certainly has its blemishes, but with Mills delivering another masterful vocal project and Dale seeming mature behind his years, this should go far in pushing Dale's name out into the mainstream … wherever that is.
Label: Wintersongs Records
Track listing:
1. A Conflict of Interest
2. The Judgment
3. Psychosynchronicity
4. My Horizon
5. The Silent Guns of Love
6. A Shadow of Doubt
7. 1968 Disease
8. Macheaveillian Perspective
9. Faith on Fire
10. The End of All Days
HRH Rating: 7.8/10
by Joe Mis
Staff Writer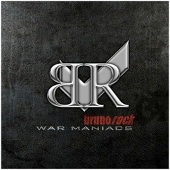 Brunorock's War Maniacs is extremely competent modern Euro-rock. It is the fourth studio release from the veteran group fronted by vocalist/guitarist Bruno Kraler, and is a release that deserves much praise and a lot of airplay (but unfortunately won't get it in the US). While definitely not "heavy metal", it is cutting edge modern rock – perhaps "stainless steel" rock…
Rising from the remains of European rockers Dark Sky and Nightpride, frontman Bruno Kraler has assembled an able group of veteran musicians for the latest album, which Kraler also produces and mixes. Kraler is a solid guitarist with a decent singing voice in a relatively high range, reminiscent of Ian Gillan and Gary Moore. Kicking in on keyboards and backing vocals is the talented Alessandro Del Vecchio (Edge Of Forever, Moonstone Project, Axe, Eden's Curse) – who comes close at times to stealing the spotlight with his well crafted keyboard riffs. Veteran Bobby Altvater (Affair, Bonfire) plays an excellent and crisp guitar. John Billings (Lancia) lays down some fine bass, playing the ballads as well as he play the galloping heavy stuff. Dominik Hülshorst (Bonfire, Cacumen, Darxon) contributes some truly incredible drumming, doing everything and anything to drive the rhythm section forward.
The tracks on War Maniacs run the gamut from ballads and commercial sounding soft rock through some heavy, bluesy rock and high energy metal – with an AC/DC cover mixed in for good measure.
"Breakthrough" opens the CD with style – it is a kicky, upbeat rock tune with some great keys, lyrics, drums and guitars, and it sets the tone for the rest of the album. "Liar" is a great commercial rock song with a fabulous driving bass line and catchy chorus. The band shifts gears a bit and puts out a bouncy, almost pop-rock piece in "Julia" – not the band's true strength. "Last Ride" slows a bit, and is a moody track with lots of thick and rich guitar solos. "In Search Of Faith" is a moody ballad with great keys, and thought provoking lyrics. Del Vecchio's short keyboard solo ("Forever Free") changes the tone again and leads into the two strongest tracks on the disc, the high energy "Time To Run" and the double-bass driven "War Maniacs". The band then does an able but not groundbreaking cover of AC/DC's "Touch Too Much." "Temptations" is another almost pop-metal piece, but this leads into the band's excellent power-ballad closing – "Painless Skies."
The production and engineering on War Maniacs are outstanding, almost as crisp and clear as you'd expect from a power metal band. Unfortunately that level of engineering tends to occasionally give the music a bit of a cold and sterile feel. Musically, everything is balanced nicely with all instruments and vocals in perfect order. No one aspect of the recording dominates which makes for an overall pleasant listening experience.
All in all, War Maniacs is a great listen. The music is soft and quiet then heavy and high energy, never pounding and always melodic. It's a great disc to pop into the car's CD player and enjoy on the open road (or in traffic…). There isn't anything truly groundbreaking or unique here, but it is a solid album and one that is performed with great enthusiasm. Highly recommended!
Label: 7Hard Records
Web: www.brunorock.com
www.7hard.com
Track Listing:
01. Breakthrough
02. Liar
03. Julia
04. Last Ride
05. In Search Of Faith
06. Forever Free (Instrumental)
07. Time To Run
08. War Maniacs
09. Touch Too Much
10. Temptations
11. Painless Skies
HRH Rating: 8.5/10
by Alissa Ordabai
Staff Writer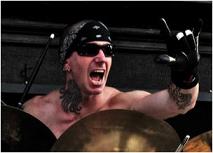 In our age of mass obsession with celebrity, status and fame, it is always rare and uplifting to speak to musicians who place their craft and their art above any current superficial fixations. Trivium's drummer Travis Smith turns out to be exactly one of those people, as he and I sit down to talk backstage at Graspop Metal Meeting – an annual heavy music festival taking place every year in the Belgian town of Dessel. Smith, more or less ignoring the mayhem and the hoopla that go with being on a world tour and playing one of Europe's biggest summer festivals, tells me about things that really take priority in his life – his instrument, his craft, his love for making music and for performing live.
If anything goes to backup Smith's earnest stance, it is Trivium's space-rocking scorcher of a set on the main stage of GMM which took place just a couple of hours before our chat. The band has proven to be the most energetic of all acts who played that day, poignantly precise and clear in their message – that metal today is more alive than ever, thriving on integrating new influences, now methods, and new genres into its formula.
The amount of sheer physical energy that Trivium put into their shows is staggering, but it all serves a bigger purpose than just brilliant showmanship and visual panache. Live, Trivium are able not only to perfectly reproduce the brilliant chops that shines on their records, but also to add that special magic quality to their material which makes it all stand out so prominently, so, if you like, three-dimensionally – the crystal-clear harmonies, the gripping melodies, and the sheer drama of their songs which are able to go from gigantic riffs set over the wall-of-fire rhythm section to sprawling, instantly memorable melodies. And with so many influences gathered from different eras, sources and styles, all this makes Trivium an incredibly exciting, multi-layered band to explore and to get into.
As it is with any growing and developing band, Trivium are perhaps fun to talk to about rockstar lifestyle and delights that go with it, but it turns out that while being a perfect gentleman and an open, approachable person, Smith is still happiest when talking about his craft and his instrument as opposed to the exterior aspects of fame.
And toward the end of our interview, Travis Smith of Trivium proves once again the fact that he belongs to the rare breed of musicians who make you wish you too could do what they do – not because of the supposed lifestyle that goes with being a rock star, but because of the sheer joy they get out of their instrument. The sheer thrill of a creative act, the joy of making music, of being in love with what you do – all this Smith makes sound so fresh and so genuine that for a split second I envy him, fascinated by this ability to deeply enjoy what he does and being able to do it for a living.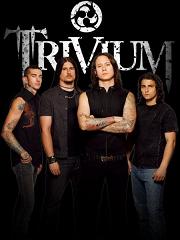 Alissa Ordabai: How are you enjoying Graspop so far?
Travis Smith: I'm having a great time. We had a great set. I got to watch a little bit of Chickenfoot. That's why, actually, I'm a little late because I wanted to see a little bit of Chickenfoot.
AO: I managed to catch the first two songs. One and a half.
TS: That's what I saw too, one and a half, yeah!
AO: What did you think?
TS: Chad is a great, great drummer. He's a heavy hitter and I love heavy hitters. His style is that really cool unique rock style that hard to… There's something to be said about "less is more" and sometimes it's hard to do less. I think that's a talent, a very good talent because sometimes in my world I have a tendency of doing a little too much. But you gotta pull yourself back. He is one of those great, really good rock groove drummers, and I love that kind of style.
AO: I watched your set, which was amazing, and thought that you and Lamb of God were the best acts of the day…
TS: Oh, thank you!
AO: Forgive my ignorance, but I've noticed that one cymbal on your drum kit had those round holes in it. Could you tell me a bit more about it?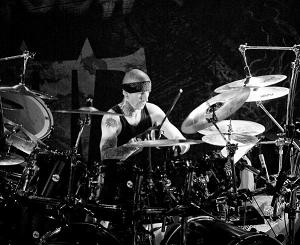 TS: It's called an "Ozone". Sabian makes it. It's a really unique cymbal. It's in between the sound of a China, like a really thin China and a really thin Crash. If they had a baby, that's what they would have. It looks cool, it's got a unique sound and I like using it on my downbeats, coming down on accents, stuff like that. It's a cool accent cymbal.
AO: You haven't invented it, have you?
TS: No-no-no!
AO: I've seen you having spikes in your drum shells one time too, is this something that you came up with yourself?
TS: Yeah, that was an idea I had when I was first going with DDrum. They brought me into their factory because they are in Tampa, FL, and we are just an hour and a half in Orlando, FL, so they invited me down to come check out the factory, that kind of stuff. So I was walking through the factory looking at all the drums and all that stuff, and I told them about the idea that I had about a drum kit, that I wanted all those spikes and everything to be crazy and warrior-looking. About a month later I got a phone call saying, "Hey, we have the kit that you were dreaming of", and I said, "Really?!" and they said, "Yeah, come on down and check it out!" So I went down and I was like, "Holy shit, it came to life, here it is!" It was a really cool kit, that kit is definitely the most talked-about kit I ever played and I still rehearse on it to this day, I still play on it.
AO: What elements, do you think, need to coincide for a good live show to happen?
TS: You know, it's just being in the right headspace. Getting into the right headspace and just relaxing and having a good time. Because music is about having fun. Before you have a career you just go out and play music to have a good time. And you gotta remember that and keep that, even though you have to get up there and perform, you still personally have to have a good time. It's keeping that, having fun playing. You play a song five million times but it's still having fun with that song and not going, "I've played it five million times, I really don't want to play it again." You just get up there and you see the crowd reaction, and you know that you're making an impact and you know that your song has affected people, and that makes it all worthwhile, and that alone makes it a good time right there.
AO: When you were growing up, were you ever dreaming of or contemplating ever becoming famous?
TS: It was, basically, my second dream in life as a little kid. I, basically, wanted to play drums since I was five years old. That's all I wanted to do – play drums. The dream before that was to be a truck driver! And I'm kind of glad I didn't go down the truck driver route because now we are touring on busses all the time, it's a hard job! (Laughs). It's long hours. So I'm glad I went the drummer route. It's easier. (Laughs).
AO: When you did become a rock star was there anything you never thought went with it all? Any big surprises, any moments when you thought, "Wow, I never thought it would be like this!"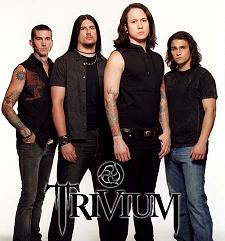 TS: Probably just meeting my heroes is by far the coolest thing about it all. Meeting the guys that I grew up listening to and that I'm a superfan of even today. Like Nicko McBrain, Lars Ulrich, Chad Smith, the list just goes on. People that we have done our share of touring with and befriending… It's really cool. That part of it, I think, is the most rewarding, to get to hang out with those people.
AO: Are they nice to you when you tour with them?
TS: Oh yeah, yeah! Everyone is being really supportive of our band and everyone's really cool. It's the most rewarding part – to get to go out with your heroes. There's no amount of money that you could pay for that. That's special to me and you can't put a price on that kind of stuff.
AO: Especially being on an equal footing with them as opposed of being just a fan.
TS: Well, I don't know, I'm a really humble guy. I don't really consider myself a rock star now, so I'm a guy who gets out there and plays drums.
AO: Do you get anything in terms of musical knowledge from touring with big acts like Iron Maiden or Metallica?
TS: Oh yeah, yeah, you pick up things from watching their live shows, the different techniques that they use for playing, you pick up little things like that. You go out and watch them every day, so… Sometimes you get production ideas or whatever. You look at it in its entirety, the whole show. You always learn something from every band you tour with.
AO: Do you write on the road?
TS: Yeah, we all kind of… I have my pads set up in my dressing room and I play on them every day. We come up with different ideas that we can apply to different records and stuff like that.
AO: Are you currently working on material for the next album?
TS: Yeah, we are already thinking about that. We got a tour coming up in the States, we are flying over tomorrow, and then a couple of days later we are starting a tour up in the States, and then after that we have a little bit of time when we are going to get into rehearsals and actually start working on it. But we are really on the road for "Shogun" for another year, so we just gonna work in the little bit of downtime that we have between touring. We are going to work on some new songs and by the time it comes to actually going and really working on the new record, we will probably have a headstart.
AO: Do you guys work on things separately and then bring your stuff to the table?
TS: Yeah, basically, everyone has their own ideas individually and when we show up in the rehearsal room, we all throw ideas around, see what happens. Sometimes it's good, sometimes it's bad. (Laughs).
AO: From the time when you were growing up, do you think being a musician has changed in any significant way? Not in terms of technology or distribution, but more in the sense of craft that goes with musicianship, with being a rock drummer? Do you think things have changed? Do you think there are more expectations now?
TS: There are a lot more expectations now. And the reason is that things have advanced so much from the Sixties, the Seventies, the Eighties and the Nineties, and now the Two Thousands… People are getting faster, people are learning new tricks on how to do things… You know, I think from the drummer's perspective you have to be on the top of your game at all times because everyone's always looking out to seeing if you can actually do it. Everyone wants to know if you can actually play what's on that record. Because there are so many tricks you can pull in the studio. But if you can do it live, that's where it's at. I think as a drummer… I mean, you have your guitar players to do solos and stuff, and it's a complete art. I can't play the guitar worth of shit, so I completely respect it, but there's always two normally, and they can cover up each other's mistakes because there are two guitars going on at the same time. With drums you are pretty much there on your own. If you fuck up, the fans are going to know that you've fucked up! So you gotta be on top of your game and you gotta stay focussed and stay with it.
AO: How do you maintain your technique? Do you still have to practice every day?
TS: Yeah, I practice every day before a show. Every day I start about an hour before actually going up on the stage. I practice my feet, get my feet warmed up, and my hands, and just get my mind ready for what I'm about to do, and just get focussed. Before a show I ignore everything else around me, tunnel vision, I just want to go and play. That's my thing, that's just what I do, I get my little tunnel vision, get ready for the show, get up there and do it.
AO: Did you train yourself to do that? Steve Vai, for example, talks about a specific practice to achieve that, a kind of meditation. Have you used any of that or does it come naturally to you?
TS: I just kind of always have done that from being young up until now. When it's time to play, I'm in my play mode. I'm just very focussed. When you ask me something I'd probably won't even hear because I'm in my own little world. And it's just always kind of been that way, I've never really trained myself to do anything, it's just what I do, it's part of my click or whatever, the thing that makes me turn. It's just my routine, I guess. I do it every day before we go on, every time. I do my stretches, and then I get on my pads and that's it, I tune everything else out.
AO: Let me ask you a silly question. Do you ever play for yourself? Not for practice, not for anybody else, but purely for yourself, for your own enjoyment?
TS: You know, I haven't got to do it in a really long time, and sometimes I feel bad about it because some of the most rewarding times is the time when I… Say, the intro to "Pull Harder" was just me in the jam room by myself just playing and then I was like, "Wow, that sounds really cool!" and I was, "Hey, guys, what do you think about this?" and then the next thing you know, there's a song. I kind of miss those times. I miss the times when I could do that. I'm gonna have an opportunity to do that coming up here when we have some downtime. I'm really looking forward to it because those were the innocent times when I could just go into a room and, like you said, play for myself and not really have to feel like I have to prove anything. Those were good old days, I can't wait to do it again.
AO: Does your own music ever surprise you? Do you ever listen back to a track you've done and go, "I didn't know I've had this in me!"
TS: Oh, yeah! I did that a lot on the most recent record "Shogun".
AO: Really?
TS: Yeah, I'm really, really happy with my drumming on that record. Actually, personally, I think it's the best stuff I've written on drums. For me. I'm really happy with the tones, I'm really happy with my performances. I think some of the coolest fills I've come up with yet are on that record. On that record I'd go in and I would do a couple of takes, and then I'd go into the control room and hear them played back, and I would get chills just listening to myself. I was just like, "Wow, man! I can't believe that came out!" It's kind of like your mind just lets go and your body takes over. You just start playing to the music. You don't even realise what you did until you listen to it. You just go, "Oh, wow! I'm keeping that!" You know? It happened quite a few times on that record. I think that's why it stands out so much to me as some of my best performances because of that.
AO: What do you make of the changes that are happening in the music industry right now – the way the fans are recruited, the way in which the bands communicate with their fans, things like MySpace, and the other side of the coin which is free downloading?
TS: The music industry is changing shit-loads as we speak and the only problem is that a lot of industry people aren't set up for this change. They are just not. I'm talking about record labels. Record labels are still in the old-school way of doing things and you have to use technology to your advantage. I don't feel that… I feel that record labels are catching on to it, but I don't feel that they've got it completely down. Not even close yet. You gotta get the grasp of the electronic downloads and all that, and the way to make it benefit the bands. I think that maybe in the next ten years it's gonna be there, but as for now, the way the technology changes so quickly it's unfortunate that labels could be a lot more efficient. I think the records labels really need to knock the dust off themselves and get on with the new times and the way things are going.
AO: Do you sometimes wish that labels recruited staff from other areas, for example, from information technology field, as opposed to perpetually attracting the same kind of person who is usually a frustrated musician?
TS: Sometimes. This happened to me recently. I'm not going to name any names or anything like that, I'm not even going to say where it happened, but we walk into a room and I meet a new staff member who tells me straight up, "Hey, man, it's not what you know in this business, it's who you know." He just got out of school and has no idea about what his actual job is supposed to be, and that's a little disturbing in a way, considering he's working for a band and he doesn't know what the hell he is doing. I didn't say anything, because I didn't want to be rude about it or anything, but, you know, it rings to my head. It really makes you second-guess things sometimes, it makes you second-guess people who are working for you. We have some really great people who work for us and we stick by them, and they've done really, really great things for us. On all the negatives that have happened with our band and within the industry, there's been so much positive that has happened that you can forgive the negatives because there's always been way more positive that has come out of the people that we deal with on a daily basis and people in this field who work for us. You know, it's a bummer that you have to go through negative things in life, but that's part of life no matter where you're at. You just have to concentrate on the positive.
AO: I have one last question. It's a bit goofy and you'll probably find it pretentious, but I'll give it a go. What do you think is the future of metal? You, of course, are one band that has transformed the genre pretty much completely by bringing into it so many new elements, including pop. Where do you think the whole thing goes?
TS: I don't know. At the moment it seems like there's been a lot of lost melody in newer bands. And that's fine. We love melody, I love groove, we all do, and you can hear it in our music. We love to be brutal, but we also love to bring groove and melody into the music as well. And I feel that that's kind of disappearing at the moment. And I feel that everyone is just concentration on being the most heavy thing out there. And it's losing the feel of emotion behind it. And, you know, in ten years, twenty-year time I can't predict where it's gonna go, but as everything with fashion, music and everything like that, it's a big circle and everything always comes back around. Everyone's into really brutal shit and the moment and that's what they are getting – brutal shit.
AO: But you also get pop-metal, like Black Stone Cherry, don't you? Bands that use musical forms of metal but in essence are mainstream radio-friendly acts?
TS: To me they are a really great Southern rock band and I'm really into Southern rock. I like Black Stone Cherry a lot. To me they are not in a category of what I would consider the more metal stuff that's coming out. To me they are a really great Southern rock band. A band like Job For A Cowboy, that's what I consider the new stuff that's coming out, the new metal which is really extreme, really fast, really heavy, and it is what it is – it's really fast, extreme and heavy. But I like some melody. So to each his own. Everyone likes their own thing and there are great musicians coming out, great bands who do well at what they do, and who knows where it's gonna go from there. It's at a really extreme point right now and who knows where it's gonna be in five, ten, fifteen years. We'll just have to wait and see.
September 15th, 2009 at U.S. Bank Arena in Cincinnati, Ohio.
by Chris A.
Staff Writer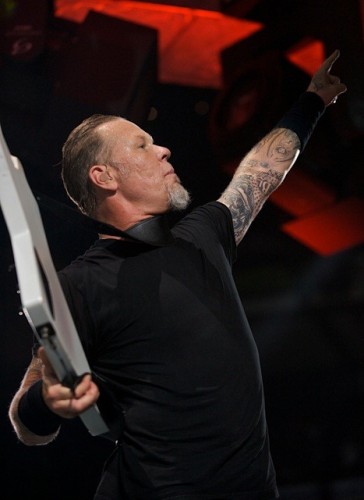 They are arguably the most important and influential heavy metal band of all time. In the 25-plus years they have existed, Metallica have achieved unimaginable success and have experienced the ultimate depths of despair. From death of original bassis Cliff Burton in a tragic vehicle accident in 1986 and most recently rebounding from the tumultuous "St Anger/Some Kind of Monster" period of touchy-feely introspection and "quasi-experimental" music, the classic heavy metal Metallica fans remember and worship seems to be back.
The 2008 release of the bands highly regarded new disc Death Magnetic has Metallica focused on making quality metal and getting back to basics. On tour for the past year, the band recently returned from massively successful overseas junket. They are ow back in North America on the "World Magnetic Tour 2009" which runs through Dec. 12 with 30-plus dates in the US and Canada.
On Sept. 15, the monolithic band was in the "Queen City" of Ohio, Cincinnati, at U.S. Bank Arena. Supported by French rockers Gojira and well established rockers Lamb Of God, these bands made certain the crowd would be fired up for their performance. The stage configuration was very fan friendly, especially for a large arena performance. While somewhat of a misnomer, performing "in the round" is typically the term used to describe the stage configuration. At approximately 100 x 50 feet in size, the rectangular stage was positioned in the center of the arena floor providing the audience a 360 degree view of the performance. Stage gear and amps were also kept to a minimum to reduce viewing obstructions. Hanging above the stage was the custom lighting and sound rig featuring silver caskets fitted with lasers and assorted illumination devices. The PA system was entirely elevated, again, affording fans in every seat an unobstructed view of the band.
Opening with "That Was Just Your Life", the stage remained dark but for a single upward spotlight on vocalist/guitarist James Hetfield projecting an evil, menacing appearance. Backlit by green lasers firing from all points of the stage it was a great start to what was certain to be an incredible performance. Over the remainder of the concert they performed new cuts from the Death Magnetic album plus mandatory classic tunes like "One" and "For Whom The Bell Tolls." As expected, the sound quality was exceptional and the band was animated and very attentive to the audience.
What more can one say? It's Metallica, they are back and sounding better than ever. For more information on Metallica visit www.metallica.com you'll find news, information, Metallica gear and much more.
Metallica 2009 Photo Gallery
Photos by Chris A.
Metallica – 2009 Tour Dates

September 14 Nashville, TN Sommet Center
September 15 Cincinnati, OH US Bank Arena 
September 17 Indianapolis, IN Conseco Fieldhouse 
September 19 Montreal, QC Bell Centre 

September 28 San Antonio, TX AT&T Center 

September 29 Dallas, TX American Airlines Center 

October 1 Ft. Lauderdale, FL Bank Atlantic Center 

October 3 Tampa, FL St. Pete Times Forum 

October 4 Atlanta, GA Phillips Arena 

October 12 Winnipeg, MB MTS Centre 

October 13 Minneapolis, MN Target Center 

October 15 Cleveland, OH Quicken Loans Arena

October 17 Charlottesville, VA JPJ Arena

October 18 Charlotte, NC Charlotte Bobcats Arena 

October 26 Toronto, ON Air Canada Centre 

October 29 Ottawa, ON Scotiabank Place 

October 31 Quebec City, QC Colisee Pepsi 

November 9 Grand Rapids, MI Van Andel Arena 

November 10 Buffalo, NY HSBC Arena 

November 12 Albany, NY Times Union Center * 
November 14 New York, NY Madison Square Garden 
December 5 Las Vegas, NV Mandalay Bay
December 7 Boise, ID Idaho Center

December 8 Sacramento, CA ARCO Arena
December 10 Anaheim, CA Honda Center
December 12 San Jose, CA HP Pavillion
by Leyla Hamedi
Guest Writer
HRH: With Beg For It, you're adding to a pretty sizeable catalogue of releases, though this one seems to be getting more worldwide recognition. Is Beg For It the record you'd choose to introduce Hardcore Superstar to the rest of the world? Why or why not? What's YOUR favorite HCSS record?
AddE: I like the self-titled album very much because that´s the first album we produced and released on our own. Since that album we kind of found our own sound and way of writing. I like to think that Beg For It is the bastard son of ST album and Dreamin'. Mine is tied between Dreamin' in a Casket and Thank You (For Letting Us Be Ourselves) because they have an equal number of songs I like. Though, "Not Dancing Wanna Know Why?" is my favorite song. So is, "Sensitive to the Light." And, "Shame." And, "We Don't Celebrate Sundays." Oh and, "Silence for the Peacefully." Yeah I have more too.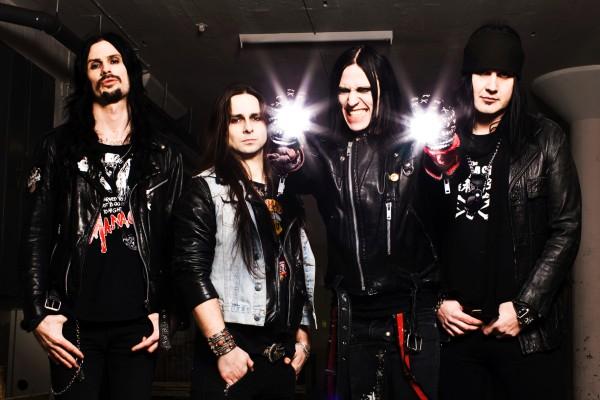 HRH: You had plans to come to the USA earlier in the year but they got cancelled, right? Do you have any future plans to tour outside of Scandinavia as that seems to be where you usually stick to? Do you want to eventually have the means to a world tour? Specifically one that includes Boston and/or Istanbul the two places I live?
AddE: Haha… We would love to kick ass in both Boston and Istanbul, you know our motto is -If there´s a stage we´ll play it. We´re preparing for our European tour which starts of in October and we´re heading for Brazil in November to do some dates. We think it´s about time for us to come over to US. You´ve been waiting long enough for that to happen. You know we did a couple of dates in America like 5 years ago. And while we were there we got invited to the Swedish Embassy to have dinner and got in a fight with some reporter…Hahaha. After the party was over they told us that it was the first fist-fight there in a long time. 57 years to be precise.
HRH: Outside of Sweden, is there any place you have a huge following? Maybe Japan? As that's where I found most of your older releases by chance when I was there in March (your fellow Scandinavians Hanoi Rocks were performing there right before they broke up and I flew to see them because they too have the annoying habit of not coming near where I am.)
AddE: We love Japan and i guess they love us. In Italy we´re as big there as in Sweden. Finland likes our debauchery to. France is starting to happen and also Germany.
HRH: Another Sweden/Scandinavia question. Why is it that you people have the best sleaze metal? Is there something in the water? Can I drink some?
AddE: Haha!!! Our water is fine..Yes but i think it all started with Hanoi Rocks really. They proved that a Finnish band can make it so I guess people got inspired to do the same thing.
HRH: Tell me a good story. It can be about whatever you want. I assume most people want to hear tour stories or about recording the album but I give you the freedom for whatever you want.
AddE: I can tell you one with Michael Monroe in it. We were in Japan some years ago when somebody suggested we meet with Michael since he was there to. We had lunch and he turned out to be the coolest/nicest guy on earth. We both agreed that Alice Cooper is God and that we should record one of his songs together. He came to Sweden a couple of weeks later just to record "Long Way To Go" and when he arrived at the train station his came out of the train blowing soap bubbles from this toy he purchased. He´d also been to the public library in Åbo (Finland) and copied a 100 page book about Alice that he wanted to give to me as a present. Haha… he told me that he had to drop a quarter in the zerox-machine for every new page. He was such a pro. He played sax, he sang and told a lot of jokes. He´s the best.
HRH: Speaking of touring, what bands would you most like to tour with? They can be anyone, even dead. Personally, if you toured with Bloodlights and Backyard Babies and Hellacopters, that would be my dream tour. Oh and David Bowie. Okay, the Scorpions can come too.
AddE: I already fulfilled my dream when we opened up for AC/DC in our hometown. They played at our Arena and it was packed. 56,000 screaming maniacs!! We´ve done a couple of shows with bloodlights and Glucifer. Good bands, nice guys.
HRH: How do you feel about the Internet and music sharing via sites like Myspace? Do you think it helps with getting your music heard or is it just an outlet for every shitty band and their mother to make noise, making it harder for dedicated and talented artists to get recognition?
AddE: It´s all good. I discover so much good music on Myspace.
HRH: How is the band's general record-making process? Who writes mostly? Is it one person or group effort? Does it get done quickly and with no clashes of personality or have their been heated moments?
AddE: Me (AddE) and Martin always start with the writing and do some demos. Then we get the rest of the guys in and work it out together. Recording the album is good times for me but I´m the only one really doing that. Sometimes we argue and fight but somehow we end up with a good result.
HRH: How come so many of your songs are about ladies? Are we that terrible/slutty/awesome?
AddE: Because you´re are the only thing god created that is a mystery to me. I adore women and I feel good writing lyrics about you all. Sometimes you´re slutty, sometimes you´re angels. A lot of stuff to write about.
HRH: What or where is the worst food you've ever eaten? I assume you're on the road a fair amount of time so any places or meals you'd definitely advise against?
AddE: We went to this restaurant in France once and saw that they had something called "Shitling" in the menu. We just had to order it and believe me, it smelled and tasted like SHIT!
HRH: Why is the merchandise section of your site only in Swedish? It took me, Google translate, and an entire afternoon to decipher it enough to order something and then I got a shirt in size large instead of small which I cut but over-estimated and now I can't wear it without something underneath.
AddE: I´ll look into it. Did not know. Time to fire someone!
HRH: Also, is there going to be any variation to your band shirts besides album covers? Maybe go the Iron Maiden way and have a mascot with different settings? As much as I enjoy people staring at my chest trying to read the band logo, I do appreciate artwork too. More stuff to look at.
AddE: Funny you should ask that. We´ve been working with this awesome guy lately. It´s coming!
HRH: You had a competition recently on your Web site to find extras for a music video. How did that turn out? Do you enjoy shooting music videos and coming up with concepts (like zombies, or the lounge-type scene you had for, "Shame.") or would you rather just play the music and not fuss with all that?
AddE: I like to play music and do not like making videos so much but Jocke is a natural actor. He´s great.
HRH: Did you know that the automatic signature on the Nuclear Blast representative's emails names you as Hardcore Superstars? Yes with an, "s" at the end of superstar.
AddE: That´s no good. You´re giving me a lot of work here … hehe.
HRH: If I included my number, would you call it when/if you're in any of my towns so I could buy you guys a drink?
AddE: AbsoFXXKIN´lutely! We want you to show us you´re city. It will be like a guided tour thru Boston or Istanbul. Bring it on!!
HRH: That's pretty much all I have unless you have something you'd like to add. Personally, I love the new record. "Nervous Breakdown," was originally my favorite song on it but it's changed to, "Spit It Out." I love a good, hard drum beat.
AddE: I really hope to come to a club near you a play those songs for you. I really do!
by Jay Villain
Staff Writer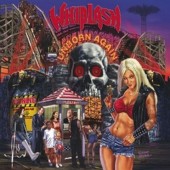 The latest release from Whiplash called Unborn Again exemplifies all that was great about the early days of thrash metal; no filler, no ballads, all metal. With a full clear-sounding production and songs written with a classic approach, the thrash metal onslaught begins with "Swallow The Slaughter." This song explodes with a double bass drum beat intro. The drums sound big, natural and organic; nothing artificial here. Pure thrash with an unexpected midsection that slows down to a stop, then quickly picks back up for an energetic finish.
"Snuff" sustains the energy level with lots of rhythm and a catchy chorus. "Firewater" slows down just a bit to a heavy groove that begins with a tribal drum beat and chant. Again, the organic sound of the drums adds to the tribal feel. The fullness of "Firewater" comes from the bass being up in the mix. This song is uniquely written and quite memorable; definitely a high point.
The warm full tone on the bass enhances the intro to "Float Face Down." This song quickly picks up pace, delivering impressive scale work from both the bass and guitar simultaneously. The bass takes on a more predominant role in the power thrash "Fight Or Flight." This song brings you back to the early days of power metal. The thrash continues with the mosh-pit-worthy "Pitbulls In The Playground." This one's guaranteed to wreak havoc in the pit. Among the many strengths on Unborn Again is the only instrumental on the CD called "Parade Of Two Legs." This is the kind of song that's great on the CD but sounds even better live.
"Hook In Mouth" is a sing-along, grooving thrash song with an unexpected acoustic break toward the end. The acoustic guitar enhances this song and makes it even more dynamic. It's a fun song; also with impressive drum work. Next,is the Montrose remake "I've Got The Fire." With all their thrash metal might, Whiplash succeeds in making an already great song even better. "Feeding Frenzy" completes Unborn Again with a combination of thrash and power metal. The song starts off with a fast rhythm and evolves into a heavy groove. Just when you think the song is going to end like that, it regains its driving velocity and shreds to the end.
While still sounding current, Unborn Again makes you reflect on the metal past. Anyone with a hunger for high-caliber thrash metal will be satisfied to the fullest.
Band:
Tony Portaro (g)(v)
Joe Cangelosi (d)
Rich Day (b)
Track Listing:
1. Swallow The Slaughter
2. Snuff
3. Firewater
4. Floating Face Down
5. Fight Or Flight
6. Pitbulls In The Playground
7. Parade Of Two Legs
8. Hook In Mouth
9. I've Got The Fire
10. Feeding Frenzy
Hardrock Haven rating: 8/10
by Leyla Hamedi
Guest Writer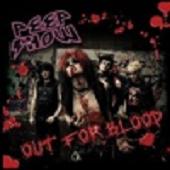 PeepShow is what you get when you cross Pretty Boy Floyd with a band that prefers not to use extraneous Zs in their spelling (Leather boyz? Electric toyz?). They look like glam hair metal gone hardcore. They mean business. They mean blood. They're Out For Blood. Hah. Oh come on, it had to be said. The lead singer has blood all over his face, he's asking for a dumb pun. And that's the best you get on short notice.
It's actually harder to classify them than one might think though. They use movie samples like they're in competition with Iron Maiden, they have insipid choruses with liberal uses of the word "baby," but then they also have harder songs, bordering on punk, that show how capable they are of putting a serious song together … but they also have a song called, "Cat Boy." Cat Boy.
"The Stand," is a shrieking, rocking, sloppily fun song that pairs Black Halo-like verses with choruses that make Poison look tacky. Fine, tackier. "Turn It Up," is a catchy, rather calmer song that has simple rhymes but a lyrics that bode well for audience participation. The machine-gun guitars and vocals of "Out For Blood," distinguish it from the previous two songs and the, "whoaaaa," chorus suits the pounding beat so well that one might feel bad about making puns about it.
Though the entire record hints at the Halloween-glam the Murderdolls were so good at, "Teenage Nightmare," and, "Nice Night to Die," are the songs that really call attention to it. They're fun songs that are anything but threatening. You'll never be happier about ending someone's life as you sing along. "I Want You," seems like it would be a sweet song but the delightful moans of satisfied women interspersed with tongue-in-cheek declarations of their desire makes it just ridiculously sleazy. But in an adorable, oh-you-silly-things way.
And of course, we can't finish this without talking about, "Cat Boy." Which, as it turns out, is the best song. Its Faster Pussycat –esque (HAHA) solos more than resemble the fun and dirty joy that was, "Bathroom Wall," and is a rollicking good tune to go out on. At first glance, it's like, "Who're you kidding?" Eventually, though maybe grudgingly, you can't help but enjoy PeepShow.
Label: Street Symphonies Records
Band Members:
Johnny Gunn – Vocals
Rusty Gill – Guitar
Kennii Black – Bass
Charlie Deville – Drums
Track Listing:
The Stand
Turn It Up
Out For Blood
Teenage Nightmare
Nice Night To Die
Take the Fall
I Want You
Until Its Gone
Cat Boy
Web site: www.peepshowonline.co.uk
Hardrock Haven Rating: 7.5/10
by Leyla Hamedi
Guest Writer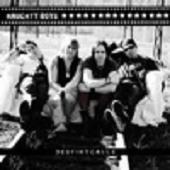 There seems to be a divide in bands of the sleaze metal variety in Scandinavia. There are the top tier bands like Hellacopters and Bloodlights, and then there are the bands that are just a level below. Don't get me wrong, the second level bands are usually worth writing home about too (because Sweden et al are apparently incapable of sucking), but they seem to lack that extra oomph. At first, Naughty Boys seems like they belong in the second category; their title track is relatively catchy and you know, it's okay. It's above average but not stupendous. However, with the rest of the album, they prove that though they might not be at the top, they're definitely straddling the line.
"Walk Away," gets your attention the way the first song doesn't quite. Hard guitars and raspy but melodic vocals make it one of the best songs on the album. It has that Babylon Bombs, "We're sleazy but we'll be nice when we meet your parents," vibe to it. Yeah well, that illusion is completely destroyed by, "Endless Pain," with its '80s stripper metal intro and screeching wails. Then they do another 180 with "Don't Turn Around," with its piano intro. Paired with the same hard guitars, it feels like it would be a good melodic death metal song too, if they were willing to go that direction.
With, "Light of Day," you get this anthem-like intro that builds into an epic chorus. It sounds so familiar that you can't help but like it. It's similar to early Scorpions, in fact that's it! The song is the Swedish twin of, "Alien Nation." The bass gets to have its moment in the spotlight with, "Broken," but the song quickly evolves into another, "meh," song. Good but again, not going to have you screaming in ecstasy. Not that music ever makes anyone do that. Nope.
"Runaway Train," has a back and forth rhythm that catches the attention but the final track, "Fly with the Angels," has a meandering aspect to it that doesn't really suit as the last song. It does pick up and like the other songs, falls into a stable, if not totally inspiring, melody. Overall, it's a good record that deserves a place in any sleaze rock collection, but you can't help wishing there was a little more to it.
Label: Artist Service / N-Records / MBM
Band Members:
Mikael Sandvik – Vocals
Morgan Valentin – Keyboard
Hans Olsson – Guitar
Jonas Ludvigsson – Drums
Vacant – Bass
Track Listing:
Destiny Calls
Walk Away
Endless Pain
Don't Turn Around
Light of Day
Eternity
Broken
Time
Head Held High
Runaway Train
Fly With the Angels
Web site: www.naughtyboys.se
Hardrock Haven Rating: 8/10
by John Kindred
Staff Writer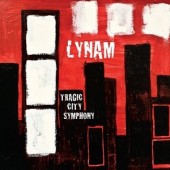 Lynam, which was formed in '01, have released three CDs without the support of a label and one CD with DRI/Universal. The band has released their first album on Mascot Records, Tragic City Symphony. Comprised of Jacob, David and Mark Lynam (are they brothers?), the trio has a mainstream pop-rock sound heavy with melodic overtones and crunchy guitars.
Tragic City Symphony features 13 songs. Opening the CD with "Is This A Heartbreak or a Loaded Gun," the band bursts out of the gate with plenty of energy. Like the band Hinder, the '80s metal influence runs rampant throughout Lynam songs. Mark Lynam has a pleasant voice that has a touch of grit with mostly a clean vocal deliver. "Is This a Heartbreak or a Loaded Gun?" has a huge hook-filled chorus, a guitar solo using a talk box effect and plenty of attitude. When "Enemy" starts, you kind of think of Green Day's recent hit song "Sleeping with the Enemy." But this song is way better as the band doesn't repeat the fucking chorus through the whole song like Green Day does. Again, a prominent and feisty solo gets embedded in this fun song.
"Lindsay Says" opens with a heavy guitar rhythm, counter balanced by an arpeggiated clean guitar melody. Again, the band plays it up with huge vocals that make the song full, arena rock-style. Everything slows down when the piano ballad "Just Anything" starts. It is a quiet song until the band punches in for the chorus. From there, the musical accompaniment embellishes on the piano melody. The band gets back to heavier riffs on "Save My Soul." Mixing in a bit of industrial influence during the verse the song continues to highlight the lavish vocal structures. The song has a sing-along chorus.
"Porn Star" finds the band pushing lyrical debauchery. It's a catchy two-minute excursion. "Can't Do Anything" gets back harder edge riffs. "If You Leave" slows the tempo down again with another emotional number. The song follows the typical power ballad formula. Nothing new here, but it is a good song just the same. "Make It Alright" features the guitar riff up front and in your face. This is a grooving song and is a bit punchier than previous harder-edged songs. "White Trash Superstar" opens with banjo plucking before the guitars enter the fray. Lyrically poking fun at somebody, the song features a blazing guitar solo along with banjo fills here and there.
"A Million Ways" slows the pace down yet again with Mark Lynam singing over an acoustic guitar rhythm. About a minute into the song, the rest of the band joins him for the chorus. This is another typical rock ballad. "Suffer" features an emotional vocal melody, with very cool background harmonies. "Get Me Off," the final song and bonus track on this release, closes the CD. It's another energetic song. With a fast-paced tempo and catchy vocals, the band finishes the way they started; albeit with a rude lyrical chorus.
Lynam deliver a very polished release, which lyrically isn't overly serious. They play it smart by keeping the songs short and not losing the listener's interest. Obviously, they are not reinventing the wheel, but they certainly know the rules when writing catchy rock songs.
Label: Mascot Records
Band:
Jacob Lynam (vocals, guitar, banjo, mandolin, violin, piano, keyboards)
David Lynam (vocals, drums)
Mark Lynam (vocals)
Track Listing:
1. Is This a Heartbreak or a Loaded Gun?
2. Enemy
3. Lindsay Says
4. Just Say Anything
5. Save My Soul
6. Porn Star
7. Cant Do Anything
8. If You Leave
9. Make It Alright
10. White Trash Superstar
11. A Million Ways
12. Suffer
13. Get Me Off
Hardrock Haven rating: 8/10
by John Kindred
Staff Writer
While fans of Paris Keeling are probably looking for a new studio album, the duo instead rehash their debut album. Shuffling the track listing, the duo delivers remixed songs, as well as bonus tracks, making the new album title End of Ride Revisited.
End of Ride Revisited features special guest musicians, including Don Dokken and George Lynch, writing separately and not together. Other guests include the legendary Carmine Appice, Al Pitrelli, Shane Gaalaas, Erik Norlander, Nate Howell and The Aevia Trio featuring Diane Cox, Maud Kelley, and Juli Roach.
Together, Marty Paris and Kelly Keeling create an eclectic mix of songs that range from the pop-rock/country vibe of the Eagles to the edgier extremes of hard rock. Opening the CD with "Tears of Heaven," guest Don Dokken and Keeling take on the concept of war and question the necessity of such evil. The song is heavy with its weighted lyrics and guitars. Keeling handles the lead vocal as Dokken fattens the vocal melodies, singing in the background. "Life" is built on the backbone of an acoustic guitar melody. Keeling takes center stage with his emotional vocal delivery. The song builds up to a powerful crescendo of guitars and harmony vocals.
"Free" has a '70s rock ballad feel. Opening with a piano melody and Keeling's emotional vocals, the lyrics long for returning home. The orchestration of the song supports the vocal melody and certainly touches your emotional being. "I Learned From the Inside" is an instrumental song that pushes the tempo to a furious pace. This is an exciting "jam" track, highlighting the bands musical skills. "These Days" was written by George Lynch and Keeling. Lynch's exotic guitar riffs open up the song with Keeling's singing over the top. On this song, the attempt to make the vocals full sounding, overpowers the guitars rhythms; when the verses get busy, its dificult to hear the underlying instruments. The song closes with a very Lynch-inspired solo, slithering to a fade out.
The CD seems to follow a pattern of fast song, slow song, which throws the continuity off. Just when you're pumped and ready to rock, you find yourself sitting back and chilling. Dokken and Keeling are at again on "I've Found," giving us a Beatle-inspired song. Dokken sings the main vocal melody, and Keeling is right there providing the elegant harmony. This is another mellow pop-rock song, driven by acoustic guitars and a cello.
The bonus tracks kick in with a song taken from Carmine Appice's Guitar Zeus sessions. "Don't Disturb the Occupants" is a high-energy rocker, with plenty of harmony vocals. And the drums are right up front in the mix. Keeling handles the lead vocals, and the song gets a bit Zep-ish with Keeling imitating the lead guitar. As the song ends, Doug Pinnick, of King's X fame, joins the foray as the song finally draws to a close. "Feel" takes the turn back into the mellow stratosphere. The song is another acoustically-driven song and, until now, was unreleased. Obviously, this kind of song is the bread and butter of Paris Keeling. They are keen on lavish productions with lush vocals, pleasant musical arrangements and gut-wrenching emotional lyrics.
The band recreates Electric Light Orchestra's "Telephone Line." This song is right up the band's alley, and, although it doesn't sound much different than the original, it works. "Alive" closes End of Ride Revisited, with guess what … another acoustic-driven song with Paris singing lead vocals. The song keeps the underlying acoustic rhythms, but a distorted guitar is introduced and helps fill the sound, making the song sound huge. Al Pitrelli handles the guitar solo and delivers a bluesy-hard rock lead break. The song has a Southern rock vibe.
Paris Keeling certainly has talent. Yet, they almost need to pick specific genre and stay with it. With a majority of the songs following the more traditional '70s rock vibe, the continuity of this CD would be better served sticking to that genre. Also, even though the CD features bonus tracks, the overall length of the album is long.
Label: Surgeland Records
Band:
Rick Van Benschoten (b)
Matt Goeke (cello)
Gintas Janusonis (d)
Marty Paris (g)(v)
Kelly Keeling (v)(g)(b)
Track Listing:
1. Tears of Heaven (featuring Don Dokken)
2. Life
3. Head Straight (featuring Carmine Appice)
4. Free
5. She Was
6. End of Ride (SUITE)
7. I Learned from the Inside
8. Morning Song
9. These Days (featuring George Lynch)
10. Color Blind
11. I've Found (featuring Don Dokken)
Bonus Tracks
12. Don't Disturb the Occupants (featuring Carmine Appice – originally released on Carmine Appice's Guitar Zeus – Japan)
13. Feel (featuring Shane Gaalaas)
14. Head Straight (Original Studio Version featuring Carmine Appice)
15. Telephone Line (Electric Light Orchestra)
16. Alive (featuring Erik Norlander and Al Pitrelli)
Hardrock Haven rating: 7/10
by Derric Miller
Staff Writer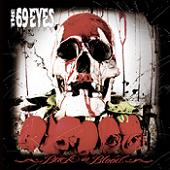 Blood is the new black, bitches … just ask The 69 Eyes. Finland's hellions are back with a much less Glam/Pop driven outing this time around, heavier than their last killer release, Angels. You still get the glowering lower range vocals, the snarls and smirks, but musically, Back in Blood is grittier and throws more gravel than what you've heard before from The 69 Eyes.
The refrain you are going to keep echoing is from the opening song, "Back in Blood," where the band reiterates "Back in blood, blood is the new black!" The riffs are more jagged than what you've come to expect; it's almost like they are going the opposite direction of country mates H.I.M. Lead singer Jyrki 69 hits some shredding screams along with his usual guttural yet melodic delivery. They sound rejuvenated, and hungry …
Up next is "We Own the Night," another song influenced by vampires. If you like The Cult, you are going to hear a ton of that band's vibe in the opening musical passage. (Someday, someone is going to have to study why bands from Finland are so damn good.) Anyway … "We Own the Night" tones down the edgier vocals yet sonically, it's still heavy and throbbing, definitely the kind of song that belongs in a rabid sex scene on True Blood.
"The Good, the Bad and the Undead" is their stadium anthem composition, like Megadeth's "Crush 'em." Instead of getting artistic with tempo changes, The 69 Eyes have seemingly dialed it back to more of an AC/DC approach, just straight-ahead Hard Rock. You either like it, or you can eat dirt.
If you are looking for radio hits, "Kiss Me Undead" is one of those songs that could gain the band some momentum. Jyrki69 gets back to his smoother and sultry lower delivery, and the harmonies are richer, friendlier and accessible. Of course, yeah, more vampire songs, because how else can you get kissed "undead?"
Their first single and video (directed by Bam Margera) is "Dead Girls are Easy." They go out of their way to explain the "easy dead girls" are merely "sleazy pin-ups," but don't think for a second that double entendre isn't at work here. It wouldn't be The 69 Eyes if they didn't offend someone. The quirky porn-styled riffs really carry this song along, and the huge backing vocals during the chorus add a massive element as well. Bazie's solo is one of the longest on the release, sort of sleazy and all metal. This is as high quality as "Back in Blood."
When you listen to "Night Watch," try not to hear Blue Oyster Cult's "Burning for You." It's quite the homage …
"Hunger" is one of the slowest songs, something you could find on Angels. You don't hear as many keys as you did on their prior release, but they flow here, playing a subtle partner to the emotional vocals. Just when you start embracing their harder-edged sound, they remind you why you were addicted to them in the first place.
Like a fairy tale Disney cartoon opening, Back in Blood ends with "Eternal." After the opening organs, the song goes acoustic, just Jyrki69 and the guitar, and the keys slide into the narrative slowly as the song continues. While the first three-quarters of the album were all about getting their rage on, the ending certainly gives listeners a breather. "Out of the graves, only love will survive. Thicker than wine, deeper than time. We dance, to the dark delight …" Poetic, majestic, funereal and hypnotic, "Eternal" is the perfect way to close out this journey.
The 69 Eyes have taken a major step forward on Back in Blood. The mainstream needs to stop thinking of The 69 Eyes as an underground band and accept that this is about as good as Hard Rock gets today. Blood IS the new black, there is no doubt about it …
Label: The End Records
Track listing:
01. Back In Blood
02. We Own The Night
03. Dead N´ Gone
04. The Good , The Bad and The Undead
05. Kiss Me Undead
06. Lips Of Blood
07. Dead Girls Are Easy
08. Night Watch
09. Some Kind Of Magick
10. Hunger
11. Suspiria Snow White
12. Eternal
HRH Rating: 8.2/10
by Joe Mis
Staff Writer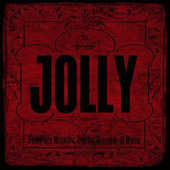 Moody, mellow progressive rock with a touch of ambient elements – that seems to be a fit description of Forty-Six Minutes, Twelve Seconds of Music from New York based rockers Jolly. While the entire album is roughly 46:12 long, not all of it is really music – some of that time is taken up by a gimmick: experimental electronic noises and binaural tones.
The music is interesting, quite often moody and dark but always melodic. It seems to blur the boundaries between progressive rock, alternative rock and electronica. At times it is quite laid-back and mellow, and other times thick and crunchy. Some tracks are almost fully keyboard driven, while the drums or guitars carry others. The lineup: Anadale (guitar, vocals), Mike Rudin (bass), Joe Reilly (keyboards), and Louis Abramson (drums).
The CD opens with "Escape From DS-3," a soft intro passage leads to some very heavy and chuggy guitars, fading into solid vocals and a hooky rhythm line. This one song is the epitome of Jolly's musicality – typical progressive rock tempo changes, good vocals, ambient and atmospheric keyboards, driving guitars and catchy rhythms. "Renfaire" is a showpiece for Anadale's powerful and smooth voice and the driving rhythm section of Rudin and Abramson. "Peril" and "Red Sky Locomotive" drop into a lower energy bluesy bass driven state and are very well executed.
"We Had An Agreement" is a gentle instrumental short that leads into "Downstream" – easily the best track on the disc. "Carousel Of Whale" pounds at you with a booming bass line and big bottom end, but the heavy distortion added to most of the vocals keep it from being a real killer track. "Solstice" is an almost modern jazz track, and "Inside The Womb" has excellent keyboard lines that seem to provide a strong ending to a very good album until it fades into a long and relatively unwelcome electronic noise conclusion.
The production and engineering is excellent – crisp and clear vocals, nicely balanced instruments. The band's talent is obvious – each performer is very good at what he does, and they play off of each other's strengths without allowing any single person or instrument to dominate the music.
The only negative aspect of the disc is their "binaural tone" gimmick. To quote the ProgRock press release: "Embedded throughout the album are various forms of brain wave stimulation known as Binaural Tones. These tones are scientifically proven to enrich feelings of happiness, focus, creativity, and relaxation through inaudible changes in audio frequencies." Perhaps they have an effect only when one listens with headphones in a quite place or maybe they get lost in the ripping process when they get loaded into an iPod, but they tend to come across as occasional odd electronic noises that sometimes disrupt the smooth flow of the music.
All in all 46:12 is an interesting listen for any fan of progressive rock and a fine effort overall. The music is innovative, unique and always melodic. If a band can be said to be able paint a picture with sound, then Jolly is definitely holding a palette and brush. As 46:12 is Jolly's debut, we can expect big things in the future from this New York based quartet.
Label: ProgRock Records
Web: http://www.myspace.com/jollyband
http://www.progrockrecords.com/artists/view.php?id=117.
Track Listing:
01. Escape From DS-3
02. Renfaire
03. Peril
04. Red Sky Locomotive
05. We Had An Agreement
06. Downstream
07. Carousel Of Whale
08. Solstice
09. Inside The Womb
HRH Rating: 9/10