Dave Thompson
I Hate New Music: The Classic Rock Manifesto Backbeat
by Justin Gaines
Staff Writer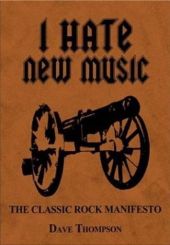 When you strip away the caustic observations and bitter humor of Dave Thompson's I Hate New Music: The Classic Rock Manifesto, what you're left with is a fierce, passionate love letter to the classic rock 'n' roll (never rock and roll) bands the veteran music journalist cut his teeth on. The fact that those caustic observations and bitter humor are what makes I Hate New Music so much fun is an added bonus. Its Fargo Rock City if you replaced Chuck Klosterman's wide-eyed farm boy with the bitter troll hunched over stacks of used vinyl at the local record show.
Thompson makes his case for the superiority of classic rock with razor sharp wit and the crushing, casual dismissal of contemporary sacred cows like R.E.M, U2 and Radiohead. The fact that he's (almost) completely wrong shouldn't deter anyone from enjoying this book for what it is. There's a reason they call music from that era "classic" rock, and Thomson's obvious passion for the music is extremely contagious. Whether he's holding forth on concept albums, double-live albums, benefit shows, whether or not Clapton is actually God, or the innate superiority of the 8-track (seriously), even when you disagree with the man you can't help but grin at his observations.
At just over 200 pages, I Hate New Music: The Classic Rock Manifesto is a quick read, but it's also a wickedly funny one that pays tribute (in its own cynical way) to the greatest music ever made. If your radio is perpetually stuck on the classic rock station and you still spin Uriah Heep, Budgie and Mountain on a regular basis (even better if they're on vinyl), you have to check out I Hate New Music: The Classic Rock Manifesto. Turn it up.