September 15th, 2009 at U.S. Bank Arena in Cincinnati, Ohio.
by Chris A.
Staff Writer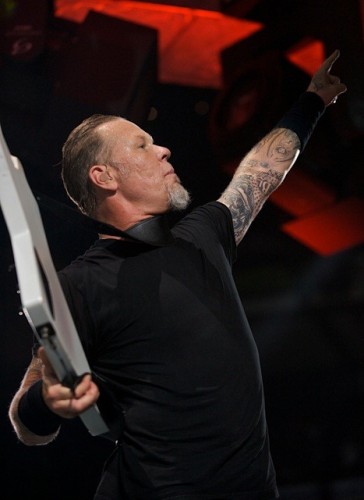 They are arguably the most important and influential heavy metal band of all time. In the 25-plus years they have existed, Metallica have achieved unimaginable success and have experienced the ultimate depths of despair. From death of original bassis Cliff Burton in a tragic vehicle accident in 1986 and most recently rebounding from the tumultuous "St Anger/Some Kind of Monster" period of touchy-feely introspection and "quasi-experimental" music, the classic heavy metal Metallica fans remember and worship seems to be back.
The 2008 release of the bands highly regarded new disc Death Magnetic has Metallica focused on making quality metal and getting back to basics. On tour for the past year, the band recently returned from massively successful overseas junket. They are ow back in North America on the "World Magnetic Tour 2009" which runs through Dec. 12 with 30-plus dates in the US and Canada.
On Sept. 15, the monolithic band was in the "Queen City" of Ohio, Cincinnati, at U.S. Bank Arena. Supported by French rockers Gojira and well established rockers Lamb Of God, these bands made certain the crowd would be fired up for their performance. The stage configuration was very fan friendly, especially for a large arena performance. While somewhat of a misnomer, performing "in the round" is typically the term used to describe the stage configuration. At approximately 100 x 50 feet in size, the rectangular stage was positioned in the center of the arena floor providing the audience a 360 degree view of the performance. Stage gear and amps were also kept to a minimum to reduce viewing obstructions. Hanging above the stage was the custom lighting and sound rig featuring silver caskets fitted with lasers and assorted illumination devices. The PA system was entirely elevated, again, affording fans in every seat an unobstructed view of the band.
Opening with "That Was Just Your Life", the stage remained dark but for a single upward spotlight on vocalist/guitarist James Hetfield projecting an evil, menacing appearance. Backlit by green lasers firing from all points of the stage it was a great start to what was certain to be an incredible performance. Over the remainder of the concert they performed new cuts from the Death Magnetic album plus mandatory classic tunes like "One" and "For Whom The Bell Tolls." As expected, the sound quality was exceptional and the band was animated and very attentive to the audience.
What more can one say? It's Metallica, they are back and sounding better than ever. For more information on Metallica visit www.metallica.com you'll find news, information, Metallica gear and much more.
Metallica 2009 Photo Gallery
Photos by Chris A.
Metallica – 2009 Tour Dates

September 14 Nashville, TN Sommet Center
September 15 Cincinnati, OH US Bank Arena 
September 17 Indianapolis, IN Conseco Fieldhouse 
September 19 Montreal, QC Bell Centre 

September 28 San Antonio, TX AT&T Center 

September 29 Dallas, TX American Airlines Center 

October 1 Ft. Lauderdale, FL Bank Atlantic Center 

October 3 Tampa, FL St. Pete Times Forum 

October 4 Atlanta, GA Phillips Arena 

October 12 Winnipeg, MB MTS Centre 

October 13 Minneapolis, MN Target Center 

October 15 Cleveland, OH Quicken Loans Arena

October 17 Charlottesville, VA JPJ Arena

October 18 Charlotte, NC Charlotte Bobcats Arena 

October 26 Toronto, ON Air Canada Centre 

October 29 Ottawa, ON Scotiabank Place 

October 31 Quebec City, QC Colisee Pepsi 

November 9 Grand Rapids, MI Van Andel Arena 

November 10 Buffalo, NY HSBC Arena 

November 12 Albany, NY Times Union Center * 
November 14 New York, NY Madison Square Garden 
December 5 Las Vegas, NV Mandalay Bay
December 7 Boise, ID Idaho Center

December 8 Sacramento, CA ARCO Arena
December 10 Anaheim, CA Honda Center
December 12 San Jose, CA HP Pavillion