September 25th, 2009 at The Backyard Beamont Club in Kansas City, MO.
by John Kindred
Staff Writer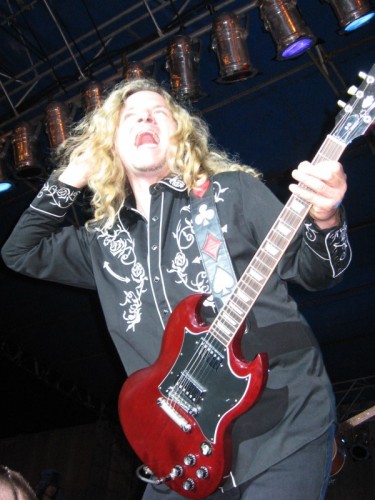 With autumn at our doorstep, Tesla stopped in Kansas City to play the Backyard at the Beaumont Club. The outdoor venue is an intimate setting that could probably hold a little more than 1,000 people. With a stage set up on a flat-bed, 18-wheel trailer, the venue truly is standing room only as there are no seats; just concrete, grass and dirt.
Battling the possible threat of a down pour of rain, Tesla took the stage to perform what felt like an accelerated set. Touring in support of their latest studio album Forever More, the band took the stage and opened with the self-titled song the also opens the new record.
Jeff Keith and company; drummer Troy Luccketta, bassist Brian Wheat and guitarists Frank Hannon and Dave Rude, brought their A-game and served up their signature roots-laden, '70s-inspired hard rock upon the crowd. Tesla performed for nearly and hour and half and beat the ominous, suspected down pour of rain. That really turned out to be a light rain shower beginning three songs before the end of their set.
The band played several songs from the new album "Forever More," "I Wanna Live," "Breaking Free" and "So What!" The music fit in amongst their hits and fan favorites; "Love Song," "Modern Day Cowboy," "Hang Tuff" and, of course, their cover of "Signs."
The showmanship and musicianship of Tesla is not lacking on any front. Guitarist Rave Rudd appears to not only fill the role left by Tommy Skoech, but now after recording and touring, he has become an integral part of the band. Together, Hannon and Rudd play off each others riffs and rhythms with ease and fluidity. They performed harmony solos to perfection. Also impressive was their acoustic guitar work that opens up "Love Song." With Rudd playing a bluesy lead and Hannon playing a classical arrangement underneath, they showcased the melodic softer side of the band.
Keith's voice may not be as sharp as it was in the '80s, but he still had enough edge to deliver the new and older material with purpose. Luccketta's drumming is loud and powerful, and he and Wheat provide the bottom end and pulse of the band.
Obvious crowd favorites included "Modern Day Cowboy," "Paradise" and "Love Song." The new material appeared to be known to the audience as they sang along in a spirited frenzy. The set never seemed to hit a lull as the band rocked whether doing their hard, faster songs or slower mid-tempo songs.
Fans probably wanted more music, but considering the venue and the weather, all in all, the fans got their money's worth.
Set List:
Forever More
I Wanna Live
Modern Day Cowboy
Breaking Free
Hang Tough
Heaven's Trail
So What!
Mama's Fool
Love Song
Edison's Medicine
Paradise
Signs
Into The Now
Comin' Atcha Live
Tesla 2009 Photo Gallery
Photos by Kathy Kindred