by Alissa Ordabai
Staff Writer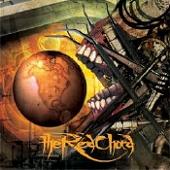 Having lost a band member to the continuing global recession, The Red Chord are emerging out of this predicament revitalised, with a record which perfectly mixes fury and cunning, instrumental virtuosity and abstraction, tradition and innovation. You could, of course, apply the old grindcore label to the band's new opus Fed Through the Teeth Machine, but this gem of an album proves to be much more than any attempt at its classification can tell you about.
One way to describe it is to call these perfectly conceived and flawlessly executed tracks "mini-symphonies", if you could only disassociate the word "symphony" from hedonistic self-indulgence this musical form often gets bad rap for. Yes, these brutal tracks are symphonies, but distilled to the bare-boned minimum – few of them run over 3 minutes. There are high concepts and a great deal of sophistication behind them, but be warned – they are by no means a throwback to earlier forms. On the contrary – this is the cutting edge of metal which is as vigorous as it is complex.
And complexity on this record is not only in the composition, but in sounds and textures it continually juxtaposes against each other. Throughout the album the cool-headed fury of the rhythm section gallops through a variety of tempos and time signatures with stunning ease, supporting each element the proceedings perfectly: singer Guy Kozowyk's heavily processed growling, slow ostinato death-meets-doom passages, and airy slow-mo breathers where guitarist Mike McKenzie dives head-on into sprawling solos some of which wouldn't sound out of place on a Guns'n'Roses record.
Given that those tracks rarely go over 3 minutes, the end result is at times nothing else but schematic blueprints for endless possibilities this band could really explore but chooses not to, leaving it up to the listeners' imagination to unravel the code and imagine for themselves what it could all be like. Standout "Mouthful of Precious Stones" could be anything if only the band chose to follow up on the possibilities it sketches – an orgy of quick deathcore thrills, an experiment in prog-metal, a pop-metal chart-topper, or a death metal slow-burner. Not to mention a trip down the sonic avant-garde route they briefly denote and then abruptly abandon.
Each track on this album is different, but what coheres them into one whole is the unity of the band's vision, their intelligence, ingenuity, and a great deal of humour which gives an extra layer of meaning to their amazing chops. Here we see The Red Chord opening up to their full potential, which goes to show how well true creative independence can serve an artist. Even if you are not a metal fan and even if you are going to buy just one record this year, make it this one because after 9 years The Red Chord are now going places. Not to the mainstream charts or the mainstream radio, or the cover of Rolling Stone, but places within oneself where all original talent sooner or later finds itself at. This is the place where you get a sense of having let yourself grow and having communicated something which is makes your listener think.
Label: Metal Blade
Track Listing:
1. Demoralizer
2. Hour of Rats
3. Hymns and Crippled Anthems
4. Embarrassment Legacy
5. Tales of Martyrs and Disappearing Acts
6. Floating through the Vien
7. Ingest the Ash
8. Mouthful of Precious Stones
9. The Ugliest Truth
10. Face Area Solution
11. Sleepless Nights in the Compound
Hardrock Haven rating: 9/10
by Alissa Ordabai
Staff Writer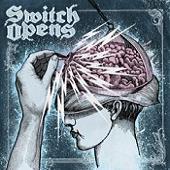 Having abandoned their barely pronounceable former name, this Swedish quartet has now released their third album under the new name Switch Opens. An intense, earnest and highly experimental affair it makes a bold stab at conceptualism from the very first track. Putting you off kilter with a deceptively simplistic dance-tingled electronica set over a propulsive punk groove, the opener "Express Death" discards the clever disguise after the first few minutes to reveal what this release is really about. This is where we get the first whiff of the band's trademark heavy stoner riffs, neurotic minimalist guitar and a propensity towards prog-rock avant-garde.
It all continues from then on: more stoner-inspired grooves, more dirty and deliberately crude guitar leads, plus oscillations of singer Jasper Skarin's voice between crisp and airy indie rock tone and borderline growling. The latter, however, he has enough intelligence not to overdo or to engage in too often.
Cutting through fleeting obsessions with Eastern modalities, punk riffs and brief nods to Black Sabbath, the magnum opus of the record, "Terra Incognita", finally reveals the band's real ambition. While knowing how to amuse, Switch Opens also want to reach beyond the servile function of pure entertainment and even beyond experimentation, and on this track they dig deeper into the realm of pure conceptualism.
Technique makes a sizable step back to make way for sound and rhythm striving toward a purpose beyond genres, styles and purposes they serve. The concept is to create an inimitable atmosphere while discarding any allegiance to history or tradition. Amazingly, here the band succeeds, and their stabs in different stylistic directions and experiments with creating their own environment, work.
In the end, this release proves a fascinating record to get into – unexpected, well-thought-through and with an element of surprise lurking around ever corner. The band's eclectic choices which drive them to go from doom metal to folk and from contemporary phsychedelia to industrial music and beyond is what keeps you on your toes. Once they learn who to consistently cohere these at times conflicting urges into one whole, we will be able to call this band a revelation. So far they remain a tantalisingly intriguing band and definitely the one you would want to catch up on live – just to see how the motley tapestry of their eclectic style would survive outside of the studio.
Label: GMR Music Group
Track Listing:
1. Express Death
2. Pyramids
3. Paper Walls
4. He Dives Down
5. Terra Incognita
6. Lucky Me, Lucky You
7. Super Globe of Pain
8. The Electric Hour
Hardrock Haven rating: 7/10
by Curt Hauff
Staff Writer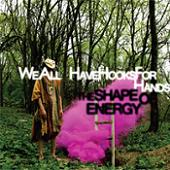 The production values and performances on The Shape of Energy are reminiscent of an album from the '70s. The album has a hint of the Allman Brothers throughout. Both stylistically and sonically, The Shape of Energy resembles an album from the aforementioned blues band, delivered with a jam-band approach. Lyrically, the band takes after such greats as R.E.M. or U2.
The album opens with a spritely track called "Howling and Bellowing". It introduces the band with a raw energy that has you intrigued and ready for more.
While the mood slows a little in the next two songs, the tempo and energy from the opening track remain strong. The band delivers the goods with tracks like "Records a Stone" and "California".
"Lessons Burned" is an excellent change up. It's an up tempo song with a Brian Setzer feel. The song would be a perfect song to two step through. Musically, this song has at least as much energy as the rest of the album, but the tempo is faster and it has a true swing.
We All Have Hooks for Hands writes accessible music and should see their following grow with the release of The Shape of Energy. If you like a good jam band mixed with a heavy dose of Southern blues, you'll like this album. If you're a fan of either style, this will be a pleasant departure from the norm.
TRACK LISTING
1. Howling and Bellowing
2. Be Love, Be Wild
3. Made Up of Tiny Lights
4. California
5. Records a Stone
6. Better to Live Than to Die
7. Sea that Holds You
8. Bring Me Home
9. Lessons Burned
10. Something to Live For
HRH RATING: 6.8/10
by Joe Mis
Staff Writer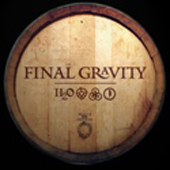 Final Gravity's self-titled first release is nothing but straight-up unpretentious rock and roll. This quartet from California has done a fine job in putting together 14 decent tracks of solid blue-collar rock. Always energetic and melodic, these guys let their enthusiasm for music drown out any and all technical weaknesses and put out a great debut.
Obviously big beer fans, Final Gravity brews up 14 songs in varying rock styles ranging from solid blues rock to commercial rock. The name Final Gravity is a brewing term and is one of the measures used to determine the alcohol content of beer, and the CD itself is dedicated to the world's brewmasters. It is a diverse collection of sounds and styles and makes for good listening.
Final Gravity's lineup features vocalist Bill Moore, guitarist Mike Clark, bassist Charles Mumford and drummer John Chominsky. Moore is a versatile singer, able to handle the diverse musical styles of Final Gravity well. He seems to be most at home singing the bluesy tracks, and his voice doesn't let anyone down. His vocal range is not the widest and he sometimes seems to struggle a bit at the very top end, but his voice is always clear and understandable – and enthusiastic. Clark's guitars are smooth when they need to be, rough when called for, and well balanced without dominating the music. Mumford is a very good bass player and works well with drummer Chominsky to provide a solid driving rhythm line for all the songs. Both Mumford and Chominsky handle the many styles and tempo changes with aplomb and style.
"Parallel Lives" opens the CD on a hard rock note and features some solid guitar riffs, good bass and a bouncy drum line with some prog rock tempo changes. "Line 'Em Up" is an up tempo political themed track with some nice crunchy guitars. "The Darkness," probably the high point of the album, is a mellow, almost power-ballad with great lyrics, musicianship and a nice guitar line. Reminiscent of some Iron Maiden story songs, "The Flying Dutchman" tells the tale of the famed ghost ship in rocking style. "Shadow Of The Wolf" picks up a bit of Native American flavor with a driving tom-tom-like drumline. The energy fades nicely in to the dark and smoky "Lightning And Rainbows", and picks up again with "Lab Rats" – a song that would have seemed at home on an album by The Tragically Hip. "Phoenix" is a fast paced prog rock piece with a great kicky rhythm line, which contrasts nicely with the slow bluesy "Go On Home" and crunchy "Bottle Of Love." "Room 19" and "Be Not Afraid" feature some great bass work and timely lyrics.
"Been Wasted" is a pop rock tune that could have easily been done by Warrant or Poison.
To wrap the disc with a laugh, Final Gravity pays sly tribute to Japanese hair-metallers Loudness (and more than likely their favorite brew) with the goofy "I.P.A."
The production and engineering is very good considering that this is an independent self-produced disc. The music and vocals are clean and crisp, almost pilsner-like. A careful listener will be able to identify influences of many bands from Yes and Rush through Metallica, Dream Theater and Maiden.
Like a good beer, Final Gravity's Final Gravity is a complex brew with many subtle notes and flavors combining to make for a truly enjoyable rock CD. A bit progressive and a bit old school, the diverse elements go well together like lime and Corona. This is a highly recommended debut release that will hopefully lead into bigger and better things. Final Gravity is as refreshing as an ice cold Foster's on a hot summer day! Cheers!
Label: Indie
Web: http://www.finalgravityband.com/ , http://www.myspace.com/finalgravity
Track Listing:
01 – Parallel Lives
02 – Line 'Em Up
03 – The Darkness
04 – The Flying Dutchman
05 – Shadow Of The Wolf
06 – Lightning And Rainbows
07 – Lab Rats
08 – Phoenix
09 – Go On Home
10 – Bottle Of Love
11 – Room 19
12 – Be Not Afraid
13 – Been Wasted
14 – I.P.A.
HRH Rating: 8/10
by Derric Miller
Staff Writer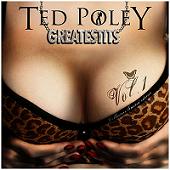 Ted Poley, the singer/songwriter best known for being the voice of Danger Danger, must be having a hell of a good year. Not only did his genre-defining band Danger Danger make a comeback studio release that actually met and exceeded fan and critical expectations, but he somehow managed to cull together and release a greatest hits package, a two-CD set lustily titled Greatestits. Poley has never slowed down, and once you hear these songs from prior bands, solo efforts and projects like Bonemachine, Melodica, Poley/Pichler, Pleasuredome, Poley/Rivera, etc., you'll damn near demand he keep up this frenetic pace. 
CD 1 features some of his newer and better known solo work, with songs taken from Collateral Damage and Smile. Therefore, it might be more fun to dive into a Poley/Pichler song, like "You're the One." If you thought Poley used a smooth delivery in Danger Danger, whatever playful or sexual innuendo he used in that incarnation is out the window. This is pure, cotton-candy Pop Rock. With mellow acoustic guitars, faint keys and drums you can barely notice, it's mellower and more mainstream than nearly anything you've heard from Poley before, which speaks volumes considering his overall history. "Let Me Out" is a bit more upbeat, yet still is about as heavy as the theme song to "Friends." This isn't a knock or criticism; it's merely a side to Poley many may not have been aware of.
The band Bonemachine received a bit more fanfare, and when you hear "Missing You," it's clear why. Taken from Bonemachine's Disappearing Inc., "Missing You" is along the lines of a John Waite hit song, but not THAT one. Poley's effortless delivery should make other singers envious, if they attempt to carry a tune and always sing pitch-perfect, that is. "Shellshocked," from the same Bonemachine release, is a stranger, grittier composition, with odd pounding rhythms and guitar licks and bass lines that really push that tempo.
The second Bonemachine release, Dogs, closes out disk 1. "Simple Life" is the one that takes the most chances, a funkified rocker with Poley stretching out of his comfort zone, singing with a bluesy and more wailing style. The last song, "Phone Sex," just proves that boys will be boys, probably on a Saturday night, especially when they get naughty naughty. (Had enough yet?) Anyway, it's a goofy composition, but still worth cranking a few times.
Disk 2 features the bands Melodica and Pleasuredome, and Melodica's "Lovemetal" is the second song. Out of all the tracks here that scream "hit song," this is probably the loudest screamer. How this wasn't a Top 10 hit just goes to show radio hates music, but with the soaring yet subtle keyboards, flowing melodies and a diabetes-inducing sugary chorus, you'll be singing along over and over.
"One and Only" from Pleasuredome carries a bit more updated Rock tone. It will remind you of a Danger Danger hit, but in a lot of ways, everything he sings on will remind you of Danger Danger, and that's the way it should always be.
"If I Were James Taylor," a song from his project with JK Northrup, is an acoustic ballad, an atmosphere Poley always shines in, when his voice is out front and uncovered from overproduction or other sonic barriers. "I'd write how much I miss you, but I'd take way too long. If I were James Taylor, I could finish this song." This is one you'll go back to again and again.
The heaviest song you'll ever hear Poley sing on, thus far in his career, is "Wastin' Your Luv," a song he recorded with guitarist Jack Frost. It's obvious Frost influenced Poley to maybe channel some of his inner Rob Halford, because the machine-gun pacing on the vocals and meaner, almost shouting manner during the verses is atypical for Poley. Can Poley sing this type of track with honesty? Hell yeah; it makes one wonder why he doesn't go the heavier direction more often, because it's impressive.
As you get to the end of Disk 2, you hit the unreleased demos. "You Won't See Me Cryin'" is more of the safe Poley, a bass-driven mid-tempo Rock anthem right in his vocal comfort zone. When you compare the 2009 Poley to his much younger version, the only real difference is that he is a bit smokier on the lower notes; he just sounds more manly than he used to. Otherwise, the range is still there, and he's only gained in overall ability through the years.
Greatestits closes with the parody of the KISS song "Unholy," called "Ted Poley," written by C.C. Banana and recorded with guitarist Chris Caffery. "Ted Poley, I'm so much more than a man! I'm Ted Poley!" The lyrics are funny, but it's actually the vocals and mocking, umm, emulation of Gene Simmons that brings forth the chortles.
The best singers are the ones you can identify the moment you hear them, the ones that flaunt their own inimitable style. It doesn't matter what kind of song, how heavy or soft the track may be, you know it's Poley the moment he hits note one. Lucky for you, he hits a lot more than one note on the 33 songs from his past on Greatestits.
Disc 1.
1. Yeah You Want It
2. What If She Knew
3. Waiting Line
4. Maybe
5. Deep Inside
6. Going Blind
7. I Love You
8. You're The One
9. Let Me Out
10. Missing You
11. Anisha
12. Shellshocked
13. Mrs Frankenstein
14. The Song
15. Life And Times
16. Simple Life
17. Phone Sex
Disc 2.
1. Luv On Me
2. Lovemetal
3. One And Only
4. Praying For A Miracle
5. Only Human
6. Crossing This Ocean
7. Perfect Imperfection
8. If I Were James Taylor
9. Takoyaki Rock
10. Wastin Your Luv
11. Listen To Ya
12. Smile
13. You Wont See Me Cryin
14. Tokyo Nites
15. A Letter To Santa
16.Ted Poley (Parody of the KISS Song "Unholy" by C.C Banana w/ Chris Caffery)
HRH Rating: 8.1/10
October 12th, 2009 at Wachovia Center in Philadelphia, PA.
by Steve Trager
Staff Writer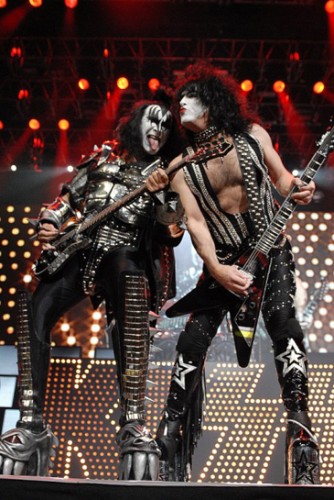 Perhaps KISS is one of those bands that can send a chill down your spine with all their pyrotechnics and eye-popping stage productions that has outshined more then 35 consecutive years as a band. There is that unmistakable introduction to each and every show, "You wanted the best … You've got the best!" KISS is the hottest band in the world.
KISS always has been about their live shows. It doesn't matter how many albums have been recorded, how many singles they have collected or how many line-up changes they have undergone, it still is and always is KISS. It seems like just yesterday KISS entered the rock world in the late '70s and has acquired fan after fan with their unique style of creativity as a unit. You never can grow out of a legendary band like KISS, no matter who comes along in the music world these days. With a new CD, Sonic Boom, in the stores the band continues to prove their relevancy.
The Alive/35 Tour celebrates the release of the bands first live album Alive!. The tour is about one of the most celebrated live albums of all-time. Alive! is an album that set the standard for all other live records released by other artists and bands to be compared to. This tour features more "bang for your buck" as Paul Stanley puts it … dozens of pyrotechnics throughout the entire show, along with furious decibels of sound and a great lighting production that only KISS can deliver live. Kiss performs a majority of the songs that appeared on Alive! as well as the new song "Modern Day Delilah" and the classic "Love Gun," "Cold Gin," "Lick It Up," "Shout It Out Loud" and "Detroit Rock City."
It was a great show as fans were treated to the antics of fire-breathing and blood-spitting stage theatrics along with a nice drum solo from Eric Singer. It is always a nice treat to hear those great classics that included '80s epic classic "Lick It Up." Just under two solid hours, KISS delivered yet another stellar performance in Philadelphia on the Alive/35 Tour. Each performance is like none other; louder, brighter and more explosive then before. Even with a pricy ticket to this show, it's still a great, in depth treat to reminisce of the older KISS gems that span almost four decades worth of material.
KISS Set List:
01. Strutter
02. Deuce
03. Modern Day Delilah
04. Hotter Than Hell
05. Come On And Love Me
06. Watchin' You
07. Got To Choose
08. I Love It Loud
09. She
10. Parasite
11. 100,000 Years
12. Black Diamond
13. Rock And Roll All Nite
14. Shout It Out Loud
15. Lick It Up
16. Love Gun
17. Cold Gin
18. Detroit Rock City
Kiss with Buckcherry 2009 Photo Gallery
Photos by Steve Trager
Tout dates:
Thu 10/22/09 Sunrise, FL BankAtlantic Center
Sat 10/24/09 Birmingham, AL BJCC Arena
Mon 10/26/09 Atlanta, GA Philips Arena
Wed 10/28/09 Nashville, TN Sommet Center
Thu 10/29/09 North Little Rock, AR Verizon Arena
Sat 10/31/09 New Orleans, LA New Orleans City Park
Fri 11/06/09 Chicago, IL United Center
Sat 11/07/09 Minneapolis, MN Target Center
Mon 11/09/09 Winnipeg, MB MTS Centre
Tue 11/10/09 Saskatoon, SK Credit Union Centre
Thu 11/12/09 Calgary, AB Pengrowth Saddledome
Sat 11/14/09 Vancouver, BC General Motors Place
Sun 11/15/09 Seattle, WA KeyArena At Seattle Center
Tue 11/17/09 Portland, OR Rose Garden Arena
Thu 11/19/09 Sacramento, CA ARCO Arena
Sat 11/21/09 Fresno, CA Save Mart Center
Sun 11/22/09 Oakland, CA Oracle Arena
Tue 11/24/09 Anaheim, CA Honda Center
Wed 11/25/09 Los Angeles, CA Staples Center
Fri 11/27/09 San Diego, CA San Diego Sports Arena
Sat 11/28/09 Las Vegas, NV Pearl Concert Theater
Tue 12/01/09 Glendale, AZ Jobing.com Arena
Wed 12/02/09 El Paso, TX University Of Texas
Fri 12/04/09 Austin, TX Frank Erwin Center
Sat 12/05/09 Houston, TX Toyota Center
Sun 12/06/09 Dallas, TX American Airlines Center
Tue 12/08/09 Tulsa, OK BOK Center
Thu 12/10/09 Kansas City, MO Sprint Center
Fri 12/11/09 Council Bluffs, IA Mid-America Center
Sun 12/13/09 Pittsburgh, PA Mellon Arena
Tue 12/15/09 Sault Ste. Marie, ON Essar Centre
October 9, 2009 at Highbury Garage, London, UK
by Alissa Ordabai
Staff Writer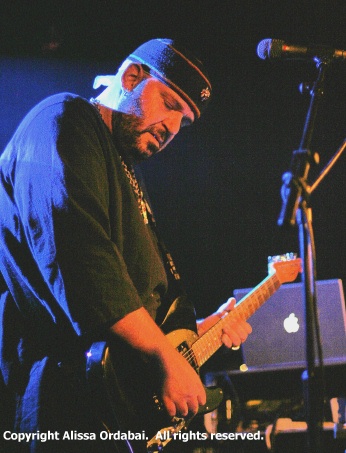 Continuing to road-test their new album Pine / Cross Dover released earlier this year, the godfathers of desert rock Masters of Reality have played this current tour's London show on October 9 at the Highbury Garage. The 700-capacity venue was full on the night with the crowd giving as enthusiastic a response as a UK crowd can ever give on a murky English autumn night.
Despite the 5-year break which separates the new record from MOR's previous release, the 2004's Give Us Barabbas, the show has proven that this band's approach to making music hasn't changed. The new album presents the same trademark mix of blues, indie rock, '80s pop, '60s surf guitars, minimalist synth-driven prog-rock, trippy psychedelic and the same penchant for stoner blues riffs repeated ad infinitum. Plus Chris Goss' voice hasn't changed one bit. To this day it sounds remarkably fresh and young, which in a live setting provides for an extraordinary contrast between Goss's craggy stance of a weathered bluesman and the bright, unsullied, at times deceptively amiable sound of his voice.
MOR's message remains the same too – sombre and with a tendency to obsess over simple harmonic ideas, it still unifies the band's disparate influences into one distinct whole through sheer determination and single-mindedness of their focus – a remarkable achievement for a band whose inspiration sources have always been more diverse than the crowd that came out to see them on the night.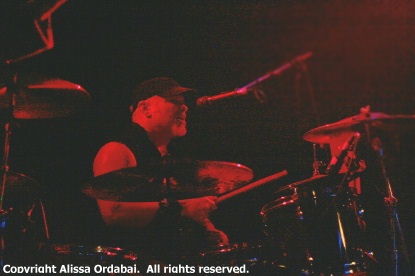 The Garage on the night was heaving with punters ranging from pony-tailed beer-gut biker types to svelte indie kids of both genders, all giving an equally enthusiastic reception both to the new material and the old hits which included "Lover's Sky," "100 Years," "Deep in the Hole," "Third Man on the Moon," "She Got Me" and the epic road-trip that is "V.H.V".
It takes a special kind of musician to hold the crowd's attention for long with an expansive blues jam workout, but Gross is exactly that kind of performer – someone who is able to create his own environment without putting on airs and to take his listeners on a journey which is at once phantasmic but at the same time utterly compelling.
"V.H.V" is, of course, one of those songs and on the night this multi-layered, infectious slowburner was performed perfectly. Its familiar propulsive blues groove – at once ominous and hypnotic, became the perfect platform for Goss to tap into the well of Morrison-esque shamanism – weary, dark and frayed, before building the piece up to a crescendo and going into a climatic guitar solo. And this was a perfect opportunity for him to show what he is capable of as an instrumentalist and what lies at the heart of his musicianship.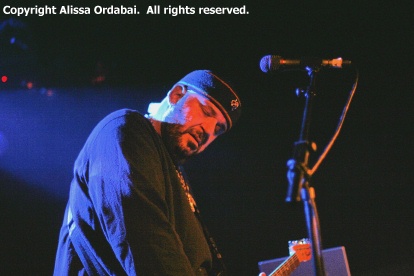 Goss's guitar parts are arguably the best and the most unique feature of him as an artist, at privileged moments providing the direct immediate connection to his personal musical vision like nothing else does. This time it was all about muscular, unvarnished, at times deliberately grisly and sludgy and at times sublime guitar craft. Almost a revelatory moment, it made you realise that beyond all of MOR's received musical forms and Goss's gift for to turning them into a personal form of expression, it is still his guitar solos where he is at his most authentic self and where he is most compelling.
Despite the band's conflicting urges which take them from guitar pop to blues and from there to moody avant-garde electronica, no matter how wild or how contradictory things get, they always manage to find focus amid the maelstrom while at the same time entertaining their audience. A lot of it is down to the band's laconic, uncluttered powerhouse of a rhythm section propelled by John Leamy's hard-hitting, full-bodied drumming. This is what makes those extrapolations possible, and what floats Goss confidence, which becomes evident live.
To sum up, if anyone is left wondering if after 23 years we should still care about Masters of Reality or if this band is still relevant, the answer is a resounding yes. For as long as people are not afraid of surrendering to music which is capable of taking them to weird, unexpected and mystical places, there will be a place for bands like Masters of Reality. And as long as they carry on making music authentically and sincerely, this is all they are going to need to remain in demand.
by Derric Miller
Staff Writer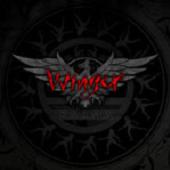 The Melodic Rock industry experienced a welcome shock to the system when Winger reformed and released IV back in 2006. For many who hoped for "Madalaine" and "Heading for a Heartbreak," though, they instead were jolted by "Right Up Ahead" or "M16," technically adept but more thought-provoking and heavier music than Hair Metal typically conveys. The new studio release, Karma, intertwines the best of what Winger does best, and stands up to Pull, the band's internal measuring stick.
Always more musically talented than the industry would credit them for, Karma begins with a bluesy yet gritty riff-fest on "Deal With the Devil." Bassist/singer Kip Winger's vocals used to be thinner, but his vocal chords have grown his trademark stubble, because his singing is more mature, grittier, meaner, yet the range and melody is omnipresent. Simply put, the guy can wail. Guitarist Reb Beach needs little background, because he's been an innovative and sought after guitarist since their first release; he is still amazing. All in all, "Deal With the Devil" is a look back on where they came from, selling your soul to "make it," and it rocks.
"Big World Away" probably best defines Winger's current musical makeup. The opening verse is supported by down-tuned riffs, near shouting vocals from Kip, and very little perceptible melody. Then the chorus smacks you upside your head, Kip's vocals soaring on the refrain, "We're like night and day, one big world away." The jarring vocal rhythms make this possibly Kip's angriest vocals ever, reminding you sometimes need to expect the unexpected.
"Pull Me Under" is a classic Heavy Metal track, with nearly NWOBHM riffs at times, but then it slides into more mainstream Hard Rock once the vocals start. In a live setting, this is one of those energized songs that the crowd would gnaw off of.
Never fear, though, because there are some mid-tempo songs. The first is "Always Within Me," a dreamy, keyboard driven composition, with Kip taking the edge off his voice and allowing it to flow naked above the music. Like "In the Day We'll Never See," it's got a bit of that timelessness to it. Drummer Rod Morgenstein shines strongest on mid-tempo tracks; it's easy to stand out when just blasting away, but you can feel his deft touch on these types of tracks.
You wouldn't probably expect a bluesy ballad, but you get that on "After All This Time." It could be an ode to Kip's fallen wife, but not ONLY for her, as Kip pours pure emotion into his delivery, perhaps singing more expertly than he's ever done before. It's chilling, hearing, "I still need you, still believe in you, after all this time …" The sorrowful guitar leads attack from a different direction, a one-two punch to the heart and head in conjunction with Kip's funereal and emotional melodies. "I still need you, I still believe, after all this time, your love still feels right …" (Note: After reading this review, Kip checked in with Hardrock Haven and explained this song is about his current wife of 9 years.)
Unless you have the bonus track, Karma's last track is "Witness." The longest song on Karma, "Witness" begins with more moody keys and is another tale of relationships. "You see the sun go down, the emptiness surrounds you; you only know the war inside your head." While it doesn't seem like it, "Witness" is uplifting, a call to action, of not letting life keep you down. While most of the choruses on Karma carve a spot into your memory instantly, this one should make the more Hair Metal fans giddy. Beach's solo at the end is furious and more Metal than you would expect from 20 years ago.
Winger may be misunderstood, and Kip will probably always have a chip on his shoulder, but when that happens, you get Karma. The solos, the drum fills, the guitar leads, even Kip's bass playing … it's a cumulative level of musicianship bands like Warrant or Poison could never pull off. So why is Winger lumped in with them? That's an argument for another day, and if Winger keeps making top-shelf music like this, it's an argument they'll never lose.
Label: Frontiers Records
Track listing:
1. Deal With The Devil
2. Stone Cold Killer
3. Big World Away
4. Come A Little Closer
5. Pull Me Under
6. Supernova
7. Always Within Me
8. Feeding Frenzy
9. After All This Time
10. Witness
11. First Ending (Bonus Track)
HRH Rating: 8.2/10
by Derric Miller
Staff Writer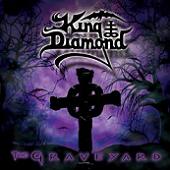 Screw the theme song to "Friday the 13th," any single song by King Diamond is in fact the default Halloween song. In honor of this most pagan holiday, Metal Blade has re-released two landmark heavy metal albums, King Diamond's The Graveyard and The Spider's Lullaby, both out now. The rereleases come equipped with downloadable bonus material and bootlegs versions of the songs "The Spider's Lullaby," "Trick or Treat" and "Up from the Grave." Bonus treats aside, The Graveyard needs absolutely no tricks or add-ons to stand its ground against Heavy Metal history.
The Graveyard is a concept album, originally released on Massacre Records in 1996. To summarize, the protagonist (King) works for a letch of a mayor, a man who molests his own daughter. After being sent to a sanitarium for being accused of that mayor's crime, King escapes, lives in a graveyard, kills passersbye, kidnaps the mayor's daughter (Lucy), and the denouement completes in the graveyard with the three of them, and it's not a happy ending. Custom made for Halloween …
A rainstorm opens the release, with eerie keys and King Diamond bemoaning his fate and his new home in the graveyard, hiding from those who are looking for this deranged escapee. "I like it out here, it's nice, and nice, and nice … I like it out here … oh my head, it hurts!" After this guttural yell, it slides into track two, "Black Hill Sanitarium." King Diamond has clearly influenced dozens if not hundreds of bands, and when you hear this track, you'll understand why Cage names King Diamond as an influence. It's the ability to tell a tale, the pageantry, and the sheer METALNESS of the guitars and vocals. When King Diamond sings lines like, "And as I walk the halls at night, I see the other inmates hiding from mine eyes!" You understand: he is crazier than the craziest. The shrill falsetto squeals and angry screams add to the overall insane aura.
Guitarist Andy LaRoque remastered both the re-issues, and he has always been an underrated yet influential talent. When you get to "Heads on the Wall," one of the slowest songs, you'll hear both sides to his guitar playing: acoustic and soft passages followed by electric yet smartly-paced emotional leads. "You should know, if you die in a graveyard, the soul can escape if you lose your head." That is the fairy tale that drives King throughout the story, of decapitated heads holding the soul, and why he kills people like Jeremiah, a grave digger, who had one foot in the grave and just needed a little help with the other.
"Whispers" is where King decides he must kidnap Lucy, to seek revenge on the mayor. So, on "I'm Not a Stranger," King stalks her, learns her schedule, and then you hear this evil lyric: "Oh Lucy, take my hand. How can I make you understand? I'm not a stranger, I am a friend. I'm going to take you home to daddy … later!" The reason King was in the sanitarium was for hurting Lucy, but it's clear that he did nothing wrong to her before. But, that was before …
Thus, King takes the girl to the graveyard. Doom-laden riffs open the song "The Graveyard," and King, who used to be her friend, explains that he's no longer who he used to be, that he's lost half his brain and is fighting insanity at every step. King speaks softly and then shouts at her, asking if it's true that "Little girls don't cry." It's uncomfortable at best, and then launches into an odd galloping rhythm, with King saying "Into the night I go, and you can't follow me!" His plan is to dig seven graves and put her in one, but of course, says "But I wish you well, in Hell!"
"Meet Me at Midnight" is the message given the mayor, as King calls him in the middle of the night. King explains, "He's such a sick little man, so much sicker than me … and I am!" You find out that he is Lucy's dad, and, King will kill her if the mayor doesn't meet in the graveyard. If you ever wondered why King employed such hysterical vocal styles, it's all clear now: he's telling a story, and selling it with every molecule in his vocal arsenal. King caught the mayor molesting his own child, Lucy, but no one believed King, and thus, the impetus for the tale comes full-circle. The shriek "Can't wait to see your face again," is rabid and sheer fury.
"Lucy, it's time for bed now, and you need your rest. So lie down in your coffin dear, and sleep tight. I'll wake you when daddy's here, alright?" That's the opening line from "Sleep Tight Little Baby." Trying to figure out the sickest and most twisted character in this story makes it that much more fun. Lucy cries more when she hears the word "daddy" than any other time, which will tell you something. A mid-paced rocker, without a real chorus but mostly aural theater, the plot thickens.
Keys greet you on "Daddy," as the mayor arrives to the graveyard. The voice, done by King Diamond, is Lucy's voice, "Daddy, don't look at me like that. I didn't do it, it was him. I couldn't never, I wasn't even there, oh nooooo …" LaRoque blasts into one of his most prominent solos on the release, majestic and mournful. Then the song changes the environment, with King screaming at the mayor, "You're going down, you're going down! Sit down you creep! What am I to do with you?" Raging and like a Poe story on LSD, it somehow gets better.
Probably the most straight ahead rocker is "Trick or Treat," as the album races towards the end. King explains the game, basically hide and seek, playing in the graveyard. Lucy is sleeping in one of seven graves, and the mayor has to decide which grave to dig and find her in. The "trick" is the mayor gets three strikes; if he fails the third time, then King will kill them both. It's also a race against time, since Lucy is running out of oxygen. Couple this craziness with flying guitar solos, tapping, heated riffs, and drum cacophony from Darrin Anthony, it's musically the most intricate. King enjoys the game, throwing out one-liners like, "I'm beginning to think you're digging your own grave, hahahah." Silly, yet perfect.
"Up from the Grave" is when King knocks out the mayor after he find Lucy on the third try. Not yet done playing with the mayor, King digs her up while losing whatever sanity he has left, and gets her out of the grave, "so you can breathe again."
After all the horror, the tide turns against King on "I Am." King realizes the sun has risen, and that the night is somehow, over. The mayor is on the floor, knocked out but starting to wake, while King is just guarding the escape door. The song gets '70s groovy 2:10 in, and then, King holds court, accusing the mayor of child abuse. Making himself the judge and jury, and the lawyer for some reason, King asks, "Are you guilty, or are you guilty?" LaRoque's blistering guitar solo again reinforces why so many bands were influenced by King Diamond—no band has ever had the level of storytelling, vocal flexibility and musical ability that this band wields. "I find you guilty of stealing the innocence of a child, and therefore, we sentence you to die … slowly, die, die die," in a hiccupping falsetto scream of repeated "dies!"
The story wraps up on "Lucy Forever," and King is ready to decapitate the mayor at the first light of dawn. He asks Lucy when to strike, and he'll make daddy disappear. Lucy, for some reason, loosens glass from a broken window above, and the falling glass, at the first light of dawn, decapitates King instead, and kills him. But his soul can't leave … it's trapped in his brain. "I guess I would be scared, if I wasn't already dead." King keeps talking to her, just a talking head, begging her not to free her father. Fevered riffs carry the track along, frenetic, adept and something Dream Theater would salivate to play. King asks Lucy to bring him home with her, but "not a word to daddy." She complies, picking up King's head, stuffing it in her backpack, as King sings, "Lucy forever, I'll be with Lucy forever."
The best concept albums can stand alone track by track, and certainly, songs like "Trick or Treat" or "Black Hills Sanitarium" can do so. But the entire creation is infinitely more entertaining if you play it the whole way through. When you compare the quality of this 1996 release to what is being tagged as "shock metal" or "concept album" today, it's almost embarrassing how King Diamond reigns over them all.
Label: Metal Blade
Track listing:
1. The Graveyard
2. Black Hill Sanitarium
3. Waiting
4. Heads On The Wall
5. Whispers
6. I'm Not A Stranger
7. Digging Graves
8. Meet Me At Midnight
9. Sleep Tight Little Baby
10. Daddy
11. Trick Or Treat
12. Up From The Grave
13. I Am
14. Lucy Forever
HRH Rating: 8.5/10
by Derric Miller
Staff Writer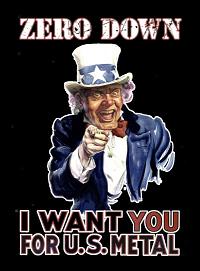 If you want to experience some good times at the gates of hell, you'd best be driving a '76 Firebird, drinking insatiably and cranking Zero Down. In the studio, this Seattle-based band has released two blackout-inducing efforts that begged the question: could they pull off this manic energy live? If you were at the Oct. 16 show at the El Corazon in Seattle, Wash., your answers were flung back at your melon with a resounding "hell yeah!" and then some …
Opening for Faster Pussycat and playing before a few other bands, Zero Down warmed up briefly (as opening acts are cursed to do) and with little ado, and rammed "Loud, Proud & Evil" down your throat. Speaking of throats, frontman Mark "Hawk" Hawkinson is almost King Diamond-like in the flexibility of his vocal delivery. It's typically a heavy yet melodic lower yelling style, like a more melodic and talented Billy Milano, or this insane falsetto that certainly couldn't be screeching from this big dude's maw. But it was … and it was awesome.
Being a local act, they were a little more attended than the opening acts, but Zero Down took the braver route and played four new tracks instead of relying on their past draw. So, while the crowd cheered and guzzled along, it wasn't until they hit "Good Times at the Gates of Hell" that crowd participation reached its peak.
"Good Times at the Gates of Hell" is taken from their '04 release, the title track. Maniacal, infectious, hilarious yet 100 percent Metal, the band shredded the stage and new guitarist Matt Fox (since February) showed exactly why he was in Zero Down. While bassist Ron Banner, guitarist Lenny Burnett and Hawk mugged for the crowd with honest and playful metal glee, Fox tore into frenetic and expert leads while drummer Tyler Lyndsey somehow rose above the characters and the guitar-hero to steal the spotlight. One thing you are going to stumble away thinking after seeing a Zero Down live show — Tyler is one powerful drummer.
"Firebird '76″ is probably their biggest hit song, even if it's not a "radio" hit. It's really a clinic in Metal 101 songwriting, with fierce and memorable vocals and melodies, wicked guitar leads and thrummingly sexy bass line, and of course, the bludgeoning and precise drum blasts. If you haven't heard Zero Down yet, at least check out this song on their MySpace page.
 They closed their set as professionals, thanking Faster Pussycat numerous times, thanking the crowd, and launching into their one cover, Van Halen's "Everybody Wants Some." For the most part, they followed the song perfectly, with Hawk shrieking out those rabid Roth squeals and Fox nailing the complicated guitar solo.
The El Corazon, although a smaller venue, is a renowned Seattle rock club, and those attending could appreciate seeing a real metal band play. No gimmicks or false bravado, just kick ass and fun heavy metal, that's what Zero Down delivers, live and in the studio. If and when they play around your parts, you'd best check them out.
Set list:
Loud, Proud & Evil
Fistful of Dynamite
Year of the Rat
The Vulture
Sweet Revenge
Knock Out Brigade
Good Times at the Gates of Hell
Firebird 76'
Everybody Wants Some (Van Halen cover)
(Note: To whoever stole my half-drunk beer from my table as I was taking pictures, I always backwash everything I drink, and I had trenchmouth at the time. So enjoy …)
by Joe Mis
Staff Writer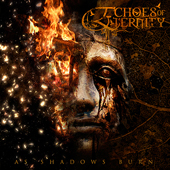 As Shadows Burn is the second release from LA-based prog rockers Echoes Of Eternity, and a fine release it is. Echoes Of Eternity continue on with their unique sound – mostly progressive metal, with a nice mix of symphonic rock, melodic death metal and a bit of thrash thorn in for good measure. It is a fine follow up to their 2007 debut of The Forgotten Goddess.
Echoes of Eternity was founded by drummer Kirk Carrison and guitarist Brandon Patton. Canadian born vocalist Francine Boucher, bassist Duane Cowan and second guitarist Bryan Eagle join them. Boucher's fine vocals and Carrison's energetic drumming dominate the music of Echoes Of Eternity. The others in the band are not slouches by any means, but the tracks are definitely built around Boucher and Carrison. Influences of bands ranging from Iron Maiden to Metallica can be heard at various points on As Shadows Burn, but EoE remains its own band.
Francine Boucher has an almost silky smooth voice, not at all what one would expect to find in a power metal influenced band. She does not have the raw power of Doro or Amy Lee, and shows little growl or bite. Her range is good, but her voice has a tendency to thin out a bit when she pushes the top end. Boucher is a real singer, more suited to pop or ballads than metal in the same way Tarja Turunen of Nightwish was suited for opera. On first listen one may wonder about the band's choice of vocalists, but after listening to the album it is easy to realize that it all just works. Her vocal lines sound effortless and they flow smoothly and clearly, almost sounding relaxed – not a scream or shriek anywhere. This is in total contrast to the always energetic and occasionally manic double bass drums of Kirk Carrison. Duane Cowan's bass somehow manages to keep up with the drums, and shows him to be a very capable musician. Brandon Patton and Bryan Eagle lay down some incredibly aggressive and choppy guitar lines. They work well together and somehow seem to play unbelievably fast even during the slower tracks. They can shred, no doubt about it.
The nine tracks on As Shadows Burn hold together lyrically and stylistically making for a truly mature and cohesive album – somewhat surprising for such a young band, and there isn't a "stinker" in the bunch.
The musical highlight is undoubtedly "Descent Of A Blackened Soul." Each band member seems to shine on this track – Boucher's vocals and lyrics are amazing and the band outdoes itself with complex tempo changes and excellent musicianship. "Funeral In The Sky" is an instrumental piece that proves that EoE is not just a gimmick band built around a singer – these guys rock, and can play well.
The production and engineering of As Shadows Burn is very good – crisp and clean as prog metal should be, but the ultra-clean mix is unusual for the "thrash" elements making for some interesting listening. The music itself is slanted a bit heavily towards the rhythm line, emphasizing the drums, bass and rhythm guitar – but that seems to work as a production choice and suits the music well. The only thing lacking is backing vocals. Boucher does double up for the choruses, but having an additional contrasting voice singing backup would make the album seem truly complete.
All in all, As Shadows Burn is a solid record, avoiding the dreaded "sophomore jinx." The music is dark and moody but always melodic. The amazing contrast between the soft and sweet vocals and the aggressive music make for a fascinating and unique sound. Fans of progressive metal or strong female singers will enjoy this one. Highly recommended!
Label: Nuclear Blast
Web: http://www.myspace.com/echoesofeternity
http://store.nuclearblastusa.com/Artist/Echoes_Of_Eternity/89048
Track Listing:
01 – Ten Of Swords
02 – Veiled Horizon
03 – Memories Of Blood And Gold
04 – The Scarlet Embrace
05 – Descent Of A Blackened Soul
06 – Twilight Fires
07 – Buried Beneath A Thousand Dreams
08 – Letalis Deus
09 – Funeral In The Sky
HRH Rating: 9/10
by Justin Gaines
Staff Writer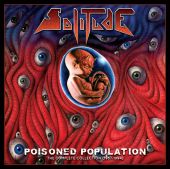 During the first couple of years in the 1990s, thrash metal was king, and as a result of the success enjoyed by Metallica, Slayer and the like, what seemed like hundreds of thrash bands popped up out of nowhere to claim a piece of the prize. With few exceptions, most of these bands soon fell by the wayside as the '90s became the grunge decade. Some of these bands, if we're being honest, deserved their fate. However, others were unfairly overlooked and should have gone on to experience real success. One of those bands was Delaware thrashers Solitude.
Solitude had been active in the Delaware metal scene since 1983 (active in this case translates to "they were the Delaware metal scene"). The band's thrash metal sound solidified not long after they experienced Metallica's Kill 'Em All, which pushed Solitude (and plenty of other bands) in a harder, faster direction. As the band progressed, their sound took on a definite Bay Area-influence. In particular, you hear a lot of Testament in Solitude's sound, starting especially with the Sickness demo release. Solitude had a great mix of speed, technical ability, intelligent socially-conscious lyrics and an unrelenting sense of heaviness throughout. This was a band that had a lot more to offer than your average thrash metal act, but they never managed to break out to a larger audience. Their demos were well-received in tape trading circles, and they managed to score a song ("Typhoid Mary") on Metal Blade's Metal Massacre X compilation. This led to a record contract with Red Light Records and the release of their debut full-length, 1994's From Within. Unfortunately, the album's release coincided with the rise of grunge as well as the demise of their label, so From Within never saw U.S. distribution, and the band soon called it a day.
Solitude may not have lasted, but they obviously weren't forgotten. Reissue label Divebomb Records has just released Poisoned Population – The Complete Collection (1987-1994). As you might gather from the title, Poisoned Population collects every available Solitude recording in one impressive two-disc anthology. The first disc is the full From Within album, and the second disc includes the demos Focus of Terror (1987), Sickness (1988) and Fall of Creation (1990). All songs have been digitally remastered and, given the source material, sound pretty damned good. In addition to the remastered audio, Poisoned Population features enhanced video content (an eight-song live performance and a slideshow of original show flyers), and the liner notes include an interview with vocalist/guitarist Keith Saulsbury conducted by Kevin Stewart-Panko of Decibel Magazine. Poisoned Population is limited to 1,000 copies, and will not be available digitally. Even if you have the original CD release of From Within, the improved sound quality and additional material make Poisoned Population a must-buy. If you've yet to experience Solitude and have an appreciation for vintage thrash metal, Poisoned Population is a true lost treasure from the metal vault.
Label: Divebomb Records
Online: www.myspace.com/solitude302
Lineup:
Keith Saulsbury – Vocals/Guitar
Mike Hostler – Drums
Dan Martinez – Guitar
Chris "Soup" Campbell – Bass
Track Listing:
Disc 1
1. Twisted
2. No Future
3. Tipping the Balance
4. Alter the Red
5. Mind Pollution
6. From Within
7. The Afterlife
8. A Loss of Blood
9. The Empty
10. Poisoned Population
11. In This Life
12. Side Winder
Disc 2
1. Shroud of Silence
2. Fall of Creation
3. Degenerate
4. Alter the Red
5. Instrumental
6. The After Life
7. Side Winder
8. Typhoid Mary
9. Bats in the Belfry
10. The Elegy
11. The End
12. You Die
13. Dead Or Alive
14. Buried Alive
Hardrock Haven rating: 8/10
by Justin Gaines
Staff Writer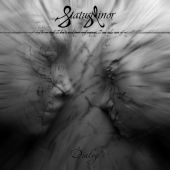 Between new albums by Amorphis, Thunderstone and Sonata Arctica, a comeback album by Stratovarius and a powerful debut from Free Spirit, 2009 is shaping up to be a very good year for Finnish heavy metal. Now you can add another name to that list – Status Minor, who make their Lion Music debut this year with Dialog, a late contender for progressive metal album of the year.
Like many (all?) progressive metal bands, Status Minor starts with a foundation based on Dream Theater's genre-defining sound, particularly early albums like Images and Words and Awake. But where Dream Theater has focused on sheer technicality and over-the-top progressive indulgence lately, Status Minor went with a more melodic and accessible approach. Guitar heroics and proggy time signatures are offset by some absolutely gorgeous and lush keyboards, melodies that often outweigh solos, and the vocals complete the picture. Markku Kuikka has an incredible mid-range voice that soars when it needs to soar, conveys real emotion and totally draws the listener into each song. Progressive metal is typically "brain music," but Kuikka's vocal delivery on songs like "Something More" and "Fade Away" make them resonate on an emotional level as well.
With just seven songs totaling 46 minutes, Dialog is a relatively brief album (by progressive metal standards, at least), but there's plenty here for prog enthusiasts to sink their teeth into, not the least of which is the nearly 16-minute title track. The first six songs on Dialog average about five minutes in length and rely more on melodies than prog metal indulgence. "Dialog," however, is Status Minor going all out in an epic, technical fashion. It still has the same heart and soul as the rest of the album, but this is the song that's most likely to seal the deal with progressive metal fans.
Dialog really is one of the better progressive metal albums released this year. If you're a fan of melodic, accessible progressive metal along the lines of Vanden Plas, Circus Maximus and Vanishing Point, you'll definitely want to look into this strong debut album. You might as well get in on Status Minor now. Chances are, you'll be hearing a lot more about this band in progressive metal circles in the years to come.
Label: Lion Music
Online: www.myspace.com/statusminor
Lineup:
Eero Pakkanen – Bass
Sami Saarinen – Guitars
Jukka Karinen – Keyboards
Rolf Pilve – Drums
Markku Kuikka – Vocals
Track Listing:
1. Something More
2. Out of These Streets
3. Stand and Think
4. Masquerade
5. Fade Away
6. Machine
7. Dialog
Hardrock Haven rating: 8/10
by Jonathan
Staff Writer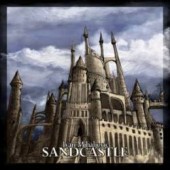 Following in the footsteps of previous guitar playing virtuosos, Ivan Mihaljevic releases a CD called Sandcastle. This CD is a guitar player's dream. Ivan Mihaljevic uses just about every soloing technique, from tapping to arpeggios and everything in between. His credits on the CD are as follows: guitar, keyboards, percussion, programming, lead vocals, and he also produced Sandcastle. With all that being said, he also couldn't have done this CD without such a skilled rhythm section. As with the guitar, Bass player Majkl Jagunic and drummer Craig Devine flawlessly execute their parts .
Sandcastle has an eclectic list of songs. It breaks down like this. Out of the 14 songs, eight are instrumental, and six have vocals. The style of music is hard rock, a bit metal and a couple of progressive songs in there as well. Sandcastle also contains two power ballads called "Questions In My Mind (part 2)" and "Friend."
The strengths on Sandcastle are the instrumentals. During the instrumentals, the musicians come together on a more complex level, like in the songs "Bulldozer" and "Macedonian War Song." These two instrumentals are the highlights of Sandcastle. Both are a bit progressive at times and again, the bass and drums show the value of a great rhythm section. It's amazing work by all.
Although Sandcastle is a great CD, it could have been even better if all the vocal songs were on a separate CD and all the instrumentals had their own disc. Some people might enjoy eight instrumentals along with six vocal songs, but the majority grab an instrumental CD when they want to listen to instrumentals, a blues disc when they desire the blues, etc. When people want to listen to a specific genre of music, they usually find a CD in their collection containing primarily the genre they had in mind.
Ivan Mihaljevic intentionally covers many different styles of music on this CD and does so on a superior level. Sandcastle tries to please too many people at the same time. There's even a programmed, techno-style instrumental called "Hi-Tech Orient." It can be said; you can't please everyone, and Sandcastle falls a bit short by trying to do just that.

www.myspace.com/ivanmihaljevic
Lineup:
Ivan Mihaljevic – Guitars, keyboards, percussion, programming, lead vocals and producer.
Majkl Jagunic – Bass
Craig Devine – Drums
Track Listing:
01. Sandcastle
02. Cascading Mirrors
03. Distant World
04. Bulldozer
05. Questions In My Mind (part1)
06. Hi-Tech Orient
07. Questions In My Mind (part 2)
08. Spring
09. Empathy
10. Macedonian War Song
11. Friend
12. Shimmering Karma
13. The Road To Nowhere
14. Raindrops
Hardrock Haven rating: 7/10
October 10th, 2009 at the Sprint Center in Kansas City, MO.
by Mike Allen
Guest Writer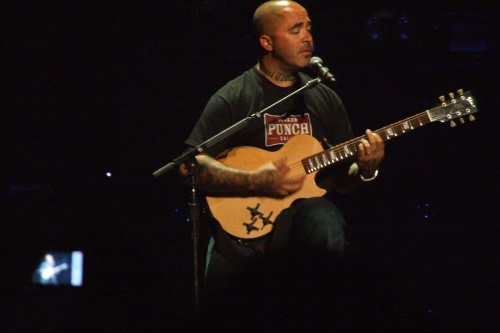 Staind put on a great show at the Sprint Center in Kansas City, Mo., on Oct. 10, 2009. Aaron Lewis and his band were on fire throughout their set, bringing the crowd of about 7,000 people to their feet. The opening song, "Spleen," while sounding a bit "Death Metalish," certainly set the tone for the band. Lewis, while not big on posing, certainly holds his own vocally. A no-nonsense rocker, Lewis always keeps a very serious look on his face, doesn't talk much between songs and communicates more through attitude and lyrics. It was a pretty "dark" and raw set, which was very much the opposite of the band they were supporting. Highlights of the Staind show were, "Right Here," "So Far Away," "It's Been Awhile" and the show closer, "Mudshovel," which is a very grungy and heavy rocker.
This writer's favorite part of the show was when Lewis took center stage. He sat down on a chair with a spotlight on him and his guitar while leading the crowd through a very melodramatic version of "Outside" as the crowd swayed in back and forth, singing aloud. It was something Lewis definitely appreciated.
Set List: Spleen, Falling, Fade, Right Here, This Is It, So Far Away, For You, Outside, All I Want, It's Been Awhile, Mudshovel.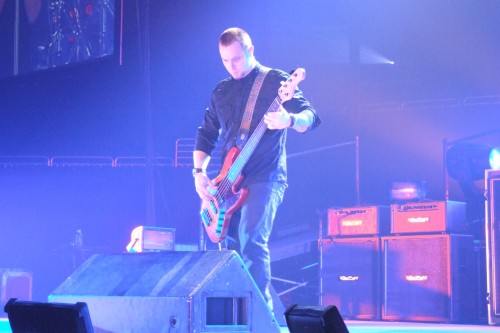 As headliners, Creed took the stage, the tone of the evening changed dramatically. Fire lit up the back of the stage and the cutting, balls-to-the-wall shredding of guitar virtuoso, Mark Tremonti let loose. The crowd went completely ballistic as Stapp jumped on stage. "We're Back!" Stapp yelled out, which was followed by an eruption of fire, explosions and pyrotechnics that lit up the entire Sprint Center. Creed was tight and on fire as they blazed through "Bullet," the show's opener.
The band sounded extremely tight and polished. The mix was perfect; everyone could be heard very distinctly. That's a great thing, until you notice that there is Stapp had a tendency to fall out of tune pretty consistently throughout the night. He sounded very strained.While this writer likes Stapp's voice, it seems as though Stapp may have had a problem with his in-ear monitors. If the band was tuned to 440, then Stapp was tuned to 439! He was falling flat throughout the night. When he sang quietly, he was right on, but more often than not, throughout the entire show, Stapp was straining and singing too loud to fit the songs.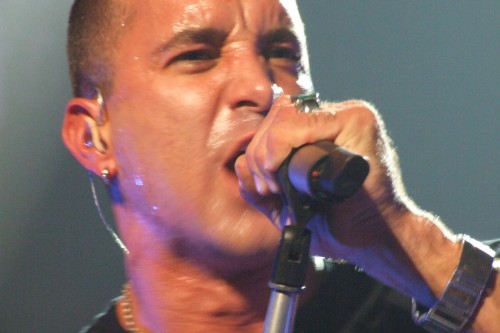 Stapp fits the role of a rock star, as he is very buff and has outstanding stage presence. The camaraderie Creed shows on stage gives the impression that the band has moved beyond their past and is having fun.
All that said, Creed still delivered a very energetic and uplifting show. Lyrically, vocals, arrangements, light show, effects, you name it, were uplifting. This had all the makings of an incredible rock and roll concert. Even with being distracted at times with Stapp's inability to stay in key, his distinct style and delivery more than made up for his weakness.
"What If" was probably the best-performed song of the night. This song allowed Tremonti to ad-lib with Stapp and do a little shredding, something that he did more of in his other band, Alter Bridge. Creed had a second guitarist who played mostly rhythm during the set, and even he had a chance to shine and play off Tremonti during their little jam.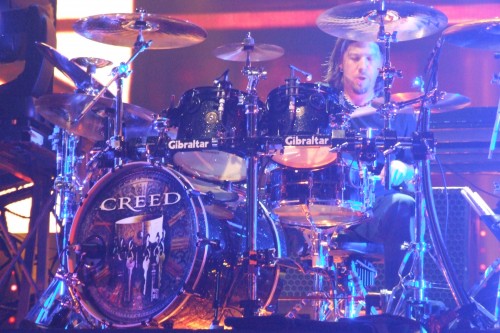 An electric mandolin was a nice surprise at the beginning of "Are You Ready." The song sounded very sonic, and the crowd was pumping their fists throughout the number.
Hits like "My Sacrifice," "One," "One Last Breath" and "What's This Life For" went over nicely.
They played three new songs, "Overcome" (which again, Tremonti is finally allowed to FLEX his playing ability!), "Faceless Man" and "Rain." Rain had a very cool backdrop with sparks falling down over Stapp and Tremonti while they played, standing over the drum riser. Creed has one of the best light shows. The show is a must-see for fans of hi-tech pyrotechnics.
Set List:
Bullets
Overcome
My Prison
Say I
Torn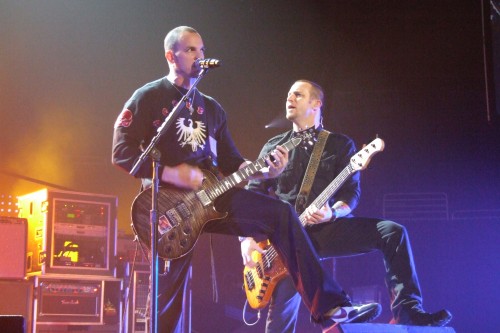 A Thousand Faces
Are You Ready?
What If
One
What's This Life For?
Faceless Man
With Arms Wide Open
My Sacrifice
Encore:
Rain
One Last Breath
Higher
Photos by Gary Dean Ash and Mike Allen
October 8th, 2009 at The Underworld Plub in London, England.
by Alissa Ordabai
Staff Writer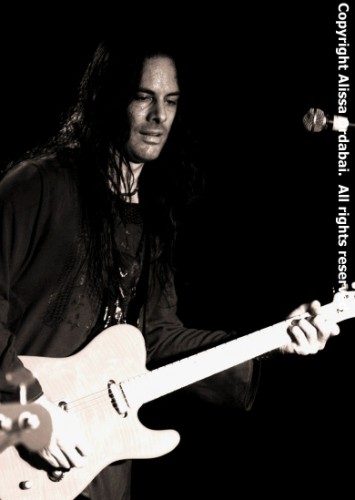 London's Underworld club to this day remains the epicentre of London's rock scene, throughout its 20-year history having hosted a plethora of rock'n'roll luminaries – from Smashing Pumpkins to Sepultura – and still continuing to showcase the best of established as well as newcoming talent. Given the recession, however, full house at the Underworld these days is a rare occasion. But Richie Kotzen has still managed to sell out the first date of his current UK tour last week with fans desperately walking up and down the street even after the show has already started, begging scalpers for tickets – a strange and at the same time exciting sight which confirms that Kotzen to this day remains not only one of the most respected of the guitar heroes of his generation, but also an international phenomenon with as varied a following as you could imagine.
The audience on the night showcased almost the entire spectrum of London's rock community: young aspiring musicians, guitar geeks, blues fans, metalheads, teenage music fans, and women in their 30s clad in animal print who to this day count themselves in as fans of glam metal. Having played in London five years ago, Kotzen could, perhaps, not quite predict who would turn up to see him this time around, and maybe the audience equally didn't know what to expect. What the show in the end became, turned out to be illuminating in more ways than one.
Promoting his new studio album Peace Sign on this tour, Kotzen presented himself, first of all, as a composer whose songwriting style continues to develop as he delves deeper into explorations of funk, blues and rock. On the other hand, his guitar playing on the night put through messages that went beyond any premeditated songwriting form, beyond verbal lyricism, and even beyond his highly commendable singing. The way Kotzen is able to channel the purely intuitive magic while he plays his improvised solos remains the pivotal and the most important aspect of him as a musician, the golden nugget at the centre of his well-balanced act.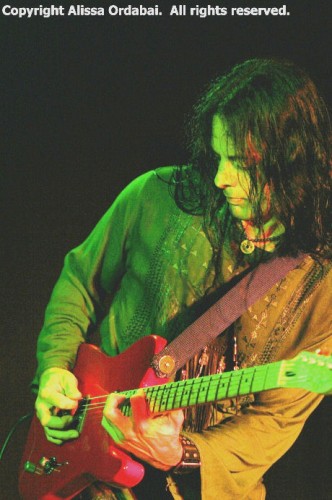 Throughout the show Kotzen put a lot of feel, weight, and thought into the guitar leads of practically each composition he played, but his most expansive, most richly articulated guitar messages emerged on "Fooled Again" and "I'm Losing You". Those were the moments of a pure force of nature taking over, that primary impulse, that intuitive magic which is at the heart of all improvised music. You can't put a price on these flashes of artistic insight, especially these days when they are becoming increasingly rare in live situations, in rock music especially, so the audience – some on an intuitive level, some very consciously – instantly recognised those spontaneous gems and responded fabulously, welcoming Kotzen with the best response an English crowd can give.
In terms of sheer all-around virtuosity the highlights of the show have been many, including the perfectly crafted, instantly memorable songs from the new album ("Paying Dues" and the title track "Peace Sign") which received as much applause as did his all-time crowd favourites "You Can't Save Me" and "Remember".
The set list has been eclectic, based mostly on the material Kotzen released this decade but also including covers of his 1960s heroes including Dylan's (or should we say Hendrix's?) "All Along the Watchtower," the Yardbirds' "Shapes of Things" and the Four Tops' "Reach Out I'll be There."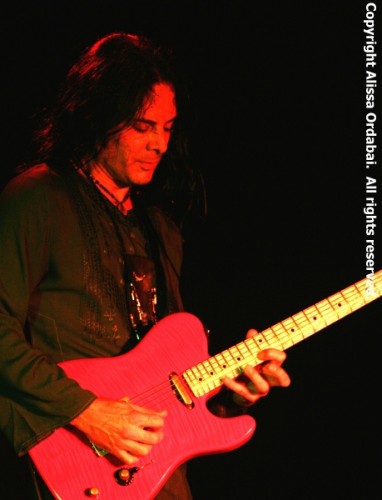 "All Along the Watchtower" initially sounded like a disappointment, stalling for the first few verses, but when time to came for the solo, Kotzen really let it rip with fretboard fireworks that lit up faces all across the room – a completely unexpected, raw-edged interpretation of the classic that showed that when used with real artistic purpose, lightning-fast chops to this day remain as indelible a requisite in an arsenal of a certain type of guitar player as being able to strum chords.
Kotzen often says that to him his guitar playing and his singing are equally important components of his art, but while they are both, certainly, essential to the presentation of his act as a unified whole, what Kotzen is able to achieve through his guitar playing in terms of spontaneous gestures of the spirit, bears an altogether deeper message than his perfectly honed vocal chops.
At the same time, the appeal of Kotzen's music is so wide-ranging that those in London who would never have come out to watch just a guitar shredder did come out on the night to hear the tunes, to hear Kotzen sing and, last, but not least – watch him perform, because despite the small stage allowing little space for manoeuvre, Kotzen came through as an elegant, graceful visual performer, adding a subtle but still indispensable visual element to his act which to this day remains as entertaining and as authentic as ever.
Photos by Alissa Ordabai
by Alissa Ordabai
Staff Writer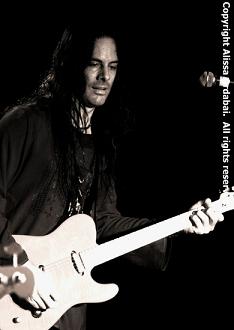 Currently touring England with his brand new album Peace Sign, Richie Kotzen played his first UK show at London's Underworld club last Thursday. This is where Hardrock Haven caught up with him for comments on the new record as well as some illuminating observations on the nature of his craft and musicianship in general.
Backstage where Kotzen and I sit down for a chat, the atmosphere is austere. The Underworld's dressing room looks stark and workman-like, for once devoid of its usual clutter of snacks, drinks, make-up and spare wardrobe. This rigour of purpose is perfectly mirrored by the sharply astute stance Kotzen assumes as an interviewee, his conversation style at times resembling the way he approaches guitar playing. Being able to sum up any idea in just a few succinct phrases, he can also expand on any offered theme further, spurred on by both intuition and logic, in the end presenting a unique insight into what being a real musician is all about.
"To me, the difference between being a solo artist and being in a band is like between being at home and staying in a hotel," Kotzen states before developing the idea some more. "Sometimes the hotel is nice, they have a swimming pool there, but you know what, I have the swimming pool at home too and there is nothing like home. The normal situation for me is what I am doing here. Writing my songs, singing and playing. That's what I'm happy with. The notion of the band thing has been fun, in my experience, for a period of time. But then it became where I went, 'OK, I gotta go home now.' And then I'd go back to making my own records. That's what I like doing, that's what I am."
The new album, of course, supports this view perfectly. A finely wrought, nuanced record, it is all about Kotzen's well-honed tunecraft, at the same time managing to make space for serious guitar extrapolations as well as to delve deeper for some true emotional depth. It continues in the vein of Kotzen's trademark melting pot of the late 60s – early 70s styles ranging from blues-rock to funk: on the one hand – deeply routed in the tradition, and on the other – shaping those genres through the prism of his own vision.
This vision, in fact, is responsible for the album's well-defined distinct atmosphere that only Kotzen is able to create. Peering through the perfectly conceived musical forms and the well-oiled, sleek manipulations of traditional compositional elements, on Peace Sign there is still that distinct sense of longing, at once poetic and disquieting, that deeply emotional undercurrent which has always been responsible for Kotzen's finest moments – both in his guitar work and his singing.
Kotzen's trademark combination of virtuosic guitar leads and a voice which can go from trebly quaver to earthy rasp makes tracks like "My Messiah" hit the jackpot, apart, of course, from the fact that they are all hooked to great melodies. After all, how can you have great guitar solos without great songs?
In regards to style and genre, Peace Sign does not trail too off far from the albums Kotzen began making ever since the Mother Heads Family Reunion which he to this day calls his first real record on which he finally found his voice. But in contrast to his previous 2007 studio album, Go Faster, the new album digs deeper. On standouts "Paying Dues" and "Your Entertainer" the effortless floatation of his guitar parts almost touches the ground he covered on Stanley Clarke's 1999 album Vertu and shows that there has always been way more to Kotzen than perfect chops and polished tunecraft.
Wondering how he himself sees his most recent opus, I start by asking him about the record and the way in which he sees it now when it has finally gone on sale.
Hardrock Haven: Do you think enough time has passed since you have finished working on your new record for you to step back and take an objective view on it, or are you still very much attached to it?
Richie Kotzen: I think that it's still fresh in my head and unfamiliar in some ways. It's unfamiliar in that it's so new. And I'm not the one to listen to stuff over and over. In having to learn the songs – going back and remembering what I did and stuff – it's still very fresh that way.
HRH: Are you happy with the way the record has turned out?
RK: Yeah, I am. It's interesting because I'm one of these people who always thinks that the latest thing I did is the most exciting and the best. Which I think is a good sign because it means that I'm current. I don't really sit back and reminisce on old records. I'm always excited about the latest thing. When I did "Into the Black" I thought, "That's the best record I've ever made," and now with "Peace Sign" I'm thinking, "It's the best record I ever did", so I think as long as I feel excited like that, then I know I'm doing the right thing.
HRH: It seems to me there was also a Woodstock vibe to that record…
RK: Which one?
HRH: The first one, the 1969 one. Seems to me tracks like "Long Way from Home" have that vibe that is seeped in that atmosphere. Is that your way of commemorating the 40th anniversary of the event or is that vibe with you more or less permanently?
RK: I understand the connection you are making and I like that, I agree, it makes sense. But even in 1994 I did a record called "Mother Heads Family Reunion"…
HRH: Your fourth album, yes.
RK: And that was really in a lot of ways, even though, like you say, it was my fourth release, it was my first record in a lot of ways because I finally got comfortable with myself. My first record was an instrumental record, I was 18, on the next one I started singing… By the time I did that, I was 24, I've been living on my own for several years, had a lot of different experiences happening, and I think that record was the beginning for me. And there is a common thread between that record and every other record I've done which has that sound you are talking about. It comes from the fact that I grew up listening to those kinds of artists, the kind of Woodstock-era artists like Hendrix and Janis Joplin, and the Rolling Stones. My mother had all those records, saw those bands when then all came to America when they were young, when they were fresh and exciting. So growing up, there were all those records playing in the house. And on the flipside, my dad was into soul music, so he had the Ottis Redding and those kinds of records would be played. So in my influences there was a balance between that era of rock'n'roll and also that soul music that I still love to this day.
HRH: And of course you went on the road with the Rolling Stones, didn't you? Was there any particular musical experience while being on the road with them that stood out, something you perhaps did not expect?
RK: It was very interesting. I didn't tell anybody I was doing it until after I played the first show. I was so nervous something would happen that I wouldn't do it. Even when I was flying to Japan I thought that anything could go wrong, so I'd better keep my mouth shut. After I played the first show, then I wrote in my internet blog – I just opened for the Rolling Stones in Japan. I did the whole Japanese tour. We did three weeks, five shows. It was the easiest set of gigs I ever did in the sense that sound-check and everything else was perfect. It was like a machine. I walk in – everything is there, they treated me wonderful, their crew… There were a lot of guys in the crew that I was introduced to years earlier, so I had some familiar faces that immediately made me feel comfortable and at ease. And, of course, when the Stones played, there was nothing like it. And the last show I sat behind the guitar amp of Keith Richards and it was like the sound of the universe for me – hearing his guitar played and literally the amp was right there – I could touch it. Open-back Fender cabinet, sounded incredible. And it was a great experience. I got to meet the guys afterwards and they are all really warm guys, it was a great time.
HRH: Did you challenge yourself technically on this record? Were there any guitar parts that you had to practice several times or perhaps go over again and again before you actually went into the studio to record them?
RK: Well, I'll tell you what happens to me in my style of playing. Usually the practising comes afterwards. In other words, when I'm in the studio, I go for stuff, right? So I might go for a lick – I know what I'm hearing in my head and play it. If I don't execute it perfectly, in the studio you have an option to go back and try it again. So I do that, just like everybody else does it. But where I'm a little different is that I don't work out stuff ahead of time – I create it on the spot. Because I like the idea of spontaneity and reacting on the spot, and being inspired, that's the part of being inspired. Once I do that, then I gotta go back and listen, and go, "What the hell did I play there?" And oftentimes I find myself sitting back and go, "Wow, how did I do that? Oh, I remember how that is!" Then I have to practise it to get it under my fingers. So it almost comes in a backwards way. Going back and re-learning stuff and practising after I've done it.
HRH: How do you maintain your technique? Does it require everyday practice?
RK: No. No, because I don't think in terms of technique. I'm not one of those players who thinks in terms of that. I think in terms of notes and melodies and musical terms. So what happens is, when I hear something in my head that I can't make my fingers do, that's when I sit down and figure it: "I can hear it, so how do I play it?" That's when that comes into play. What I've noticed, because I've been playing the guitar since I was 7, and I'm 39 now – I've been playing for a long time – it's not so much about practising as it is about time spent with the instrument in my hands. And what that means is that I can go for 3 days without playing and when I pick up the guitar, if I play it for 2 hours straight, I get into a mode where I can play pretty much what the hell I want. You know, it's like riding a bike. It's not like I'm going to sit down and relearn it, I just have to get re-acclimated. I was never much of a practice guy, I was more of a player. I just sit and play stuff and go over things, and if I was in trouble and there was something I couldn't do, I'd play it repetitively till I could do it. But I never sat down and went, "OK, it's practice time." Because I never wanted to do that. It's boring to me. I don't wanna practice, I wanna play.
HRH: Do you think the nature of musicianship, as applicable to your instrument, has changed in any fundamental way since the time when you were growing up? Not in terms of technology or distribution, but in terms of pure craft, in terms of being a rock guitarist?
RK: I do. There was the time where musicians, like my generation of guys, we would sit down with a record and listen to it and try to figure out what people where playing. And develop our ears. And the other thing – if you got lucky, you'd buy a new guitar magazine that would have a guitar transcription in there that would be close, so you could see it as well. Maybe later on they started with instruction videos. But the point is – you had to sit and learn the instrument. You had to learn how to play. Nowadays it seems like you don't have to do that as much and you can still make music. So what you have now is a situation where people who aren't by nature music-makers are in a position where they can make music. Through technology. Through an the ability to sample something that was played many years ago perfectly and now incorporate that into something else, and they can talk over it, and they can yell over it, or whatever they do, but suddenly it becomes a creative thing. And it's kind of interesting because you get this other perspective of people who aren't necessarily musicians by nature, but they are using that as a creative outlet. I think that's OK. The only downside is that I find there aren't as many musicians like the kind of people that I play with in my band. There not so many young people around like that around. When I was a kid and I went to school, the guys that were into music where players. Now you get guys that are into music that are DJs and computer guys that are pulling stuff together. Some guys who are making records and making a lot of money – they can't even play the drums. They are programming them and they are making beats, but they can't play a beat. It's kind of interesting, it's kind of strange. But in a way, like I said, it's good, it gives a different perspective. Where it will become bad is if we'll run out of real guys to play the beats. And hopefully that doesn't happen. I hope that doesn't happen. I don't think that's gonna happen because guys still come up and there are young musicians who still play. But there is not as many.
HRH: Would you say that requirements are more lax these days as applicable to guitar players?
RK: The requirements are more lax?
HRH: Or, on the contrary, the requirements are tougher these days?
RK: What do you mean "lax"?
HRH: When you were growing up, for your generation – what a lot people are calling the post-Van Halen generation, people like Malmsteen and Vai – there was a necessary requirement to…
RK: To be able to play?
HRH: …to be able to play like a virtuoso. Do you think it still stands to this day? Do you think that requirement is still there?
RK: I don't think that requirement was EVER there. I think there was a TREND. And I don't think all those guys are virtuosos. The guys you've named are. But not all the guys who are thrown together in that basket are really what you call virtuosos. In other words, there was a movement in ROCK guitar to play really wild impossible licks, OK? Just because you can play those licks doesn't mean you are a virtuoso in music or on your instrument, it means you can do that one thing. To me it's a much broader scope. Stanley Clarke is a virtuoso. I played with him. And I see why from working with him, I understand the difference. Some of the other guys who excel at a certain thing which is valuable and comes from having put a lot of work in, which is important… But the thing about music, it's not really relevant. You don't need to be a virtuoso to touch people. The virtuoso musician could play something that could totally go over someone's head – at least the guy you are calling a virtuoso – and the guy who only knows 5 or 6 chords can write a song that will move you way more. So I don't know if any of that really means anything. The only thing that matters is what your objective is and what you are trying to create. So if you want to play a Paganini, you gonna have to have that kind of chops. You're gonna spend that time to develop some chops. If you wanna play Bruce Springsteen's songs, it's a whole different avenue, but it's a equally valuable development – you gonna have to learn how to take your life's experiences and translate that into a simple way with lyrics that are heartfelt and still interesting. It's an equally important talent, just a different focus. And to me music has always been something where there is a connection. It's not like sports. It's not like, "I'm gonna beat you at sports." Music isn't like that. I'm not gonna beat you at the guitar, I'm not gonna play faster than you. It's about creating something and people either connect with it or not. And I think in that period of those names of people that vision kind of got lost. And for a minute guitar playing was like sports with all those guys trying to outplay each other and play faster and crazier. It was a fad, and like all fads, it goes away. And there is a couple of guys who are left who are actually making music and they are still around playing. Long-winded answer.
HRH: Yes… But talking about the nature of that fad – lots of young guys trying to be virtuosos – do you think it's ultimately about domination? Where nothing is left that cannot be absorbed into your technique and that for them that became the nature of artistic fulfilment?
RK: No, because I don't think a lot of these players were doing that. I think a lot of these players where doing the same thing over and over again. It's just different guys doing it in a different way. There is not one of those guys that does what you are saying. In other words, each guy has their own style and their won thing which is really great, but there isn't one guy who can play any type of guitar playing – any type of flamenco guitar playing, and then the blues shit really well, and then play the classical shit really well, and then the classical shit really well, and then the country stuff. It doesn't exist. And if it does, then that guy can play all that stuff pretty good, but he's not gonna play the flamenco stuff like the guy who grew up in South America who only ever played flamenco. It's not gonna happen, it's a cultural thing. It's my opinion, but I haven't seen it. The guy who does the great rock'n'roll guitar playing lives the rock'n'roll lifestyle. He wasn't studying doing the jazz thing. He was on the streets playing dirty grungy rock'n'roll, living the lifestyle. The same way the guy that plays the jazz is coming up in the jazz circuit playing with horn players. You get guys that kind of play at different stuff, but ultimately people find comfort in a style and a sound and become to identify with it and that's why you get these kind of artists who say, "This sounds like Jimi Hendrix." Jimi Hendrix couldn't play every style of music, he played Jimi Hendrix music, and that's what he got to identify with. I'm not comparing myself with anybody, but I play my music. I play the guitar the way I play it which is a collection of my influences and then my perspective on it, so I'm at my best when I'm doing what Richie Kotzen does, which is what I'm doing tonight. That's me at my best. Whatever that is, whatever you call it – rock, whatever it is, blues, metal, I don't care what you call it. That's kind of my take on that.
HRH: How do you manage on the one hand your amazing chops and at the same time being a composer and a songwriter?
RK: Well, it's time, that's what it is – it's time. In other words, when I was 15, I wasn't a very good composer, I wasn't a very prolific composer, it was new to me, so like with anything, like with riding a bike, you have to do it enough to learn the craft. So during my teenage years I was focusing on playing the guitar and learning to play stuff that I heard other people do, and it was difficult back then. It wasn't perceived by me as difficult because everyone else was doing it. I mean Greg Howe, Paul Gilbert, Jason Becker, all those guys were putting their records out post-Van Halen, so I was listening to that, thinking, "OK, those guys are doing it, that's what guys like me are playing like," so I started getting into it. So in that early time, I would say at 15, 16, 17, 18 in that period I was focusing on the guitar. I wasn't singing, I wasn't really writing songs, just playing the guitar. Constantly. So in those years I think is where I developed all the physicality of moving my hands. And then, I after I made my first record, I suddenly realised, "Well, OK, it's kind of boring now. I did this, but I don't want to keep doing the same thing." And I thought, "What made me want to do this in the first place? It is music. What kind of music that I like? I like the Stones, I like the Beatles, I like Jimi Hendrix, I like Janis Joplin." I started listening to their records and I started writing songs. I started writing songs that were similar to the artists that inspired me. On my second record I was singing. And then from there it's a natural evolution, so you are looking at something that started at 18 when I made my first record, now I'm 38. It's 20 years of consistently making records under my own name. Now I am who I am. I now have my own style, but it took 20 years to get there. Some people get there like that. (Snaps his fingers). I'm a lot slower. (Smiles).
HRH: Are you happier being a solo artist as opposed to being in a band scenario? Do you feel freer, you feel less restricted?
RK: Absolutely. To me, the difference between being a solo artist and being in a band is like between being at home and staying in a hotel. Sometimes the hotel is nice, they have a swimming pool there, and they have all that other stuff, but you know what, I have the swimming pool at home too and there is nothing like home. So I look at it like that. The normal situation for me is what I am doing here. Writing my songs, singing and playing. I don't like dividing that. I don't like just playing the guitar and don't like just singing. I like it together as a circle. That's what I'm happy with. And I like playing with guys who can bring life to my music and bring it to life on stage, and that's what I'm doing with these guys here. But the notion of the band thing… It's been fun, in my experience, for a period of time. In the 3 situations, as I've only really been in 3 bands publicly, it became where I went, "OK, I gotta go home now." Do you know what I mean? And then I'd go back to making my own records. That's what I like doing, that's what I am.
HRH: Of all rock trios, the Jimi Hendrix Experience excluding, which one do you think has inspired you the most?
RK: I don't know, it's hard to say. I like Eric Clapton, I like Cream. I never really sat around and listened to too many Cream records, but I'm hearing stuff on the radio and it sounds great. I just like the trio format. It's comfortable for me, there's a lot of freedom in it. And I did tour with an organ player, but we didn't tour, we did gigs in LA, but he was part of the group. And now it's really fun too because we connected. But as a trio format is something that just makes a lot of sense. If I couldn't sing, we'd be a four-piece, we'd have a lead singer. That's the thing about trios and not a trio. If you get a band like the Who – he's singing, or Led Zeppelin – he's the singer, but if the other guys sang like that, he'd be gone, and they'd be a trio. So a trio format is a kind of like a standard rock thing: guitar, bass, and drums. And somebody singing – whether it's one of the three or an extra dude. So it's the same format to me.
HRH: I have one last question and it's a bit goofy, I hope you don't mind.
RK: OK, we'll see.
HRH: If you were granted an answer to any question in the universe, what would you ask?
RK: I don't have any questions, I think I have all the answers. I have every answer you can possibly imagine. (Smiles).
HRH: Steve Vai said exactly the same thing to me.
RK: Did he?
HRH: The only two musicians who have given me this same answer to this question are you and Steve Vai.
RK: Well, I'm number two. The thing that is funny about it is that I am not a person… I don't want to go on a philosophical rant, but I get a feeling that I am here in this situation and that's what my focus is always on. So I guess, in a weird way, there aren't really any answers. I really think that if people spend a lot of time hung up on, "Why didn't I make it? Why am I short? Why am I too tall? Why am I this, and why am I that?" and they don't live their lives, you are what you are, make the best of it and do something functional with it, enjoy your time here. You really don't know where you're going. Everybody is going to the same place. When you're dead, you're dead. But I don't really sit around asking questions, "Why this, why that?" I'm happy to live my life and be in the moment and enjoy myself. That's really the way I look at it.
by Mike Debbage
Staff Writer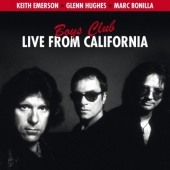 For those of you fortunate enough to witness the live collaboration of guitar extraordinaire Marc Bonilla with friends Keith Emerson and Glenn Hughes, you will know that these recordings have been rumored to have existed for a very long time. Well, it is a rumor no more as this all star line up affectionately know as Boys Club has finally seen the light of day. Chronicling a few live California dates back in 1998, Live From California encapsulates the magical moments of these three brilliant musicians on stage.
While for many, Emerson and Hughes will be the marquee players, this album is anchored by the utterly underrated and underexposed Marc Bonilla who released two fabulous solo albums back in 1991 and 1993. To this day they remain probably the best instrumental electric guitar albums of all times. With Keith Emerson making an appearance on Bonilla's debut EE Ticket courtesy of the song "White Noise" and then Hughes on the follow up American Matador on the entirely breathtaking rendition of "A Whiter Shade Of Pale," relationships had already been established. Three years later, Bonilla collaborated on Glenn Hughes solo album Addiction, while Bonilla has been playing live with Emerson since 2006. This ultimately progressed to last year's ambitious studio recording under the Keith Emerson Band featuring Marc Bonilla.
But let's turn back the clocks over a decade and take a look at Live From California that features the three amigos, as well as Bonilla's impressive band affectionately know as the Dragonchoir. Prior to this live recording, Bonilla appeared at Billboard Live also known as The Key Club which is relatively small but one of the most efficient venues back in its heyday. That particular concert also included the surprise appearance of not only the three amigos but also Ronnie Montrose. Whether there were any high quality recordings of this particular concert captured still remains to be heard but had it been captured here it would have been the quintessential recording to fully represent the live dates of California on what is already close to absolute perfection.
Nevertheless, the 68 minutes of live material that also includes the impressive studio collaboration "Middle Of A Dream" is an utter sonic delight of musician perfection. The album opens with Bonilla's solo track "Afterburner" that outright sizzles and places you on immediate notice that you are in for a wild ride of utter rock n' roll. Accompanied by the duel guitar work of Mike Wallace the music is tight and spellbinding. The album immediately changes pace with the more ambient "Long Journey Home" where it is Bonilla on his Ebow guitar downright weeping music tears mixed in a light wash of Ed Roth's keyboards. While it is a wonderful song in and of itself it acts as a prelude to the introduction of Keith Emerson's stage entrance as the song migrates into a brilliant rendition of Emerson Lake and Palmer's "Hoedown." The Emerson Lake & Palmer catalog is revisited later with the 19 minute mother lode "Tarkus" hammered out. However, instrumentally the band is at its best with their rip-roaring sampling of the Nutcracker courtesy of their playful and dizzy performance of "Nutrocker" that is so magical and transforming that it will have you believing that it could snow in the middle of the Sahara. The band is also spot on with the execution of Bonilla's composition "White Noise".
However, let's not forget the powerful Glenn Hughes who arrives on stage on track four to present the audience with his awesome vocal rendition of "A Whiter Shade Of Pale." With Bonilla's guitar taking over the lead parts that were originally written for the keyboards, the duo and the entire band for that matter, breathe new life into this stellar Procol Harum classic. Those of you who have had the privilege to hear Bonilla's studio rendition will be happy to know that both the guitarist and the Voice of Rock are totally capable of reigniting their magic live. Hughes is also prominent when Boys Club's perform his mid-tempo moody rocker "Cover Me" from the Addiction album, as he is on the band's interpretation of the Allman Brother's song "Dreams" all done with the powerful funk that we have come to expect from Glenn.
For those of us that managed to miss this low profile magical moment, Live From California, you will not be disappointed. The production, energy and brilliant live performances have finally been etched for eternity via this official release. Run don't walk to purchase this silver disc and slip it into your hi-fi player of choice. Then close your eyes and let Bonilla, Emerson and Hughes take you to musical heaven. Your rock and roll spirit will truly soar!
Label: Ear Music
Track Listing:
1. Afterburner
2. Long Journey Home
3. Hoedown
4. A Whiter Shade Of Pale
5. White Noise
6. Cover Me
7. Nutrocker
8. Tarkus
9. Dreams
10.Middle Of A Dream (studio recording)
HRH rating 9.7/10
by Derric Miller
Staff Writer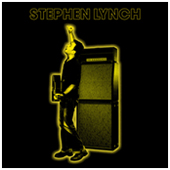 Pornographic minstrel Stephen Lynch is back again with a brand new studio release, 3 Balloons. Lynch—a comedian first, singer/songwriter second—is one of the most brazenly talented artists out there making "music" today, except it's basically XXX-Rated. To put this into perspective, this is what it'd sound like if James Taylor recorded his version of Steel Panther songs. With a surprising command of his instruments, in this case, his angelic and enviable vocal range and delivery; his fluid dexterity on the acoustic guitar; and demonic ability to write songs that offend on multiple levels, there is no one better (or worse, if you are an offendee) than Stephen Lynch.
If you've heard any of his cult hits, like "Kill a Kitten" or "Special Olympics," you'll know no subject matter is safe. Abortion, priestly pedophilia, hermaphrodites … it's all game when Lynch puts pen to paper. On the opening track, he tackles the doctor visit, except in this case, it's for an A.I.D.S test. He could have worked in "Anally inflicted death sentence," but he's probably not an M.O.D. fan. Regardless, the soaring vocals on the chorus, "Waiting for my A.I.D.S. test to come back, I shouldn't have fucked that prostitute without a prophylactic, waiting for my A.I.D.S. test to come back, regret is dripping from me like my semen down her crack … and now I wait," are pretty much counter to the dire and nympho-maniacal lyrics. Only Lynch draw you in with his seemingly innocent vocal style, all the while singing lines like, "I swear to God if I'm clean, I swear I'll stop shooting smack … probably."
Lynch was influenced by Louis C.K. on the next song, "Fishin' Hole." If you know Louis' work, he talks about how big of an asshole his daughter is. Well, Lynch runs with it, decrying the assholishness of his son, his wife, a bar, and some dude who sold him a mirror. While hilarious, you will get to hear Lynch use his smooth falsetto to really push the point across. Not as funny as "Waiting," but still damn good.
There is a theme throughout the release, and it's called "Dear Diary." There are four entries, and they all have the same acoustic and beautiful guitar melody. It's basically a brief diary entry, highlighting the grandeur of life, and then ending with lines like star-crossed individuals like Anne Frank. The worst/best, by far, is this one: "Dear diary, today was a great day. I bought myself a brand new horse. She's strong and fast, and so very beautiful, and just a little wild of course. I know tomorrow I can tame her, if I only believe. Wish me luck diary, Christopher Reeve." If you haven't figured it out by now, nothing is sacred in Lynch's world.
They all don't strike the same level of gut-wrenching hilarity, though. "Medieval Bush" is onerous, with his plodding faux-accent and use of words like "beseech" and "verily." The track about Peanuts characters, "Crazy Peanuts," is an improvement, but it pales in comparison to the earlier tracks. "The Ballad of Scarface" is one of the tracks you'll maybe listen to once, and then, forget.
Irreverent is an apropos way to describe Lynch's songwriting process. How the hell else can you come up with the line, "And by the way does anyone want to buy a Guatemalan child from my derriere?" How do you even get to the point where that line makes sense, as in, "Oh, I know what the next lyric should be!" This is from the title track, "3 Balloons," and it has a jacked-up Hitchcockian twist. The song opens with the main character's anxiety so high that he may cry, because … he has three balloons of cocaine in an uncomfortable place. As the "hero" boards the plane, you can hear him think intelligently about the smuggling process with Einstein-like clarity, especially when he notes, "I must remember don't leave any drugs inside the host. I did that once, and a girl who tossed my salad overdosed." Yes, that's part of the song too. At the end, the hero boards the plane with balloons of heroin, cocaine, ecstasy, hash, LSD, Chinese fireworks and a Guatemalan child. And where do you think the hero sits? In the cockpit of course … fly the friendly skies.
Lynch gets surprisingly political on "America," a song written in the spirit of all classic Folk Rock songs. It's cutting, a dissection of America, and yet, patriotic. Some people will hate it, with lines like, "Worshipped by France and North Vietnam, Afghanistan thinks we're the bomb!" If Lynch cared about pissing off anyone, though, he gave that up a long, long time ago.
3 Balloons ends on a different note, Lynch bringing in keyboards and penning a ballad on "Hallelujah." While the song was meant to be a sonic idol to his true love, he seemed to have difficulty putting any of her attributes on a pedestal, and thus he emotes, "I wanted to tell of your wisdom, how the courage within your heart soars. But all I can think of how I be loving those great big big titties of yours." It gets better, with his insanely earnest "Oh-oh, hallelujas" getting back up vocals from a gospel choir. If you've ever seen Lynch pull this type of song off live, the ladies actually eat it up. If he can get away with singing about sliding a coat hanger up a woman's thigh in past tracks, he can certainly be absolved for singing an ode to DDs. You see, he's maturing …
Lynch interviewed with Hardrock Haven a few years back, and took semi-umbrage to the fact he was introduced as a "singer/songwriter/comedian." Now that he's spent time on Broadway and earned nominations for a Tony and Drama Desk Award for his role in The Wedding Singer, don't think for a second he's not going to keep comedy at the forefront. That being said, with a voice and imagination like this, if he doesn't start popping up on movie screens, in music videos, and wherever else his talent should lead him, it'd be an utter waste. That aside, 3 Balloons is a ballsy and expert studio effort, and one you will listen to repeatedly, cringing yet singing along the whole way through.
Label: What Are Records
Track listing:
WAITING
FISHIN' HOLE
DEAR DIARY 1
CRAZY PEANUTS
3 BALLOONS
DEAR DIARY 2
MEDIEVAL BUSH
A HISTORY LESSON
DEAR DIARY 3
YOU (PRETTIER THAN)
THE BALLAD OF SCARFACE
AMERICA
DEAR DIARY 4
HALLELUJAH
HRH Rating: 8/10
September 25th, 2009 at The Starlight Theatre in Kansas City, MO.
by Mike Allen
Guest Writer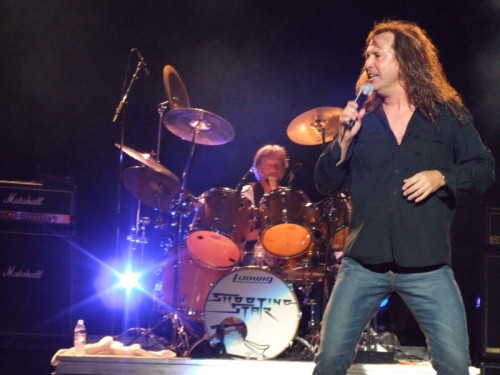 Shooting Star is a band that always packs a punch and never lets the crowd walk away disappointed. Their level of musicianship is so high, that they were, by far, the most professional and talented band of the evening. From the opening of "Tonight," to the ever popular radio hit, "Last Chance," each song was played with energy and excitement. Although they've been performing more than 30 years, they sound like a band that still has a lot to prove. From every aspect of their show, they keep it alive. Van McLain, who recently had surgery on his left hand, played like he hasn't played since his early days with Shooting Star. His licks were precise, fast and full of energy.
Janet Jameson, the band's violinist who has been in the band for a little more than a year, is such a welcome addition to the band. She is the newest member of the band, yet she plays like she's been there since its inception. The way she and Van are able to "duel" is incredible and a complete eye-opener. Not only that, she has incredible stage presence. She also adds a lot to the depth to the background vocals. Her playing on "Flesh and Blood" is nothing short of phenomenal. She and Van pull off duels during their shows, but last night, they really hit it hard and heavy. During the middle of "Hang on for Your Life," as they were dueling, it was apparent that Van was sort of challenging her. Van even threw in a riff from "Cat Scratch Fever," and without missing a beat, Janet mimicked him right back with a smile and a "one up" riff back at him!
Ronnie Platt, who's been singing with Shooting Star for more than two years now, just gets better with every show. He's certainly at the level of guys like Steve Perry and Kevin Chalfant. Platt is starting to own the songs that he was once merely covering with Shooting Star. He throws in his own little twists now and then but keeps it totally respectful in his approach, so he doesn't take away from the originality.
The song "You've Got Love," which is a timing nightmare for anyone trying to air drum or air guitar to, was pulled off with ease. Steve Thomas, who sounds like he's doing the work of at least three drummers, always manages to lay down an incredible groove with this number.
Dennis Laffoon's keyboard solo last night was something to remember. He plays voice sounds instead of keyboard sounds, and makes it sound like a really jazzed-up choir. Not only does Laffoon play keys, he's also the bass player with an incredible left hand. Capping off the show was Ronnie Platt playing the timpani drums up in the balcony of the stage; this brought a standing ovation from the Kansas City audience. All in all, Shooting Star owned their hometown crowd last night.
Shooting Star 2009 Photo Gallery
Photos by Gary Dean Ash & Mike Allen
by Derric Miller
Staff Writer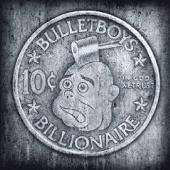 You've got to hand it to all the '80s bands who aren't afraid to release new music, instead of just touring on the strength of their past hits. Bands like Winger, Motley Crue, Danger Danger, Helix, Great White, Europe, Dokken, Stryper, and numerous others have taken the plunge and redefined their recording legacy, bringing them into the now … like Tesla. And there are plenty more on the way, with the likes of KEEL and Ratt both back with (nearly) original line-ups and releasing new music in early 2010. Bulletboys have admirably taken the path less traveled and followed suit with a brand new studio release, 10c Billionaire.
Singer/guitarist/songwriter Marq Torien is the only remaining original member in the band, now consisting of Ryche Green (drums), Tory Stoffegen (guitars) and bassist Rob Lane.
"Asteroid" is the opening track, and it sounds closer to Shinedown than any past composition, like "Kissin' Kitty." With down tuned riffs, and lower key vocals during the verses that lead into a shouting chorus, odds are you'd never guess this was Bulletboys if someone didn't tell you first. Not that it's a bad song, but it is Modern Rock. The next track carries the same tone, with "Blessed By Your Touch" basically more of a Pop Punk yet still modern composition, with a chorus catchier than anything Rev. Theory could write.
You get a more vintage feel on "Born to Bleed," for about half the song. The verses have that breakneck speed and more melodic guitars of yore, but overall "Born to Bleed" still dumbs itself down into anything you could hear by 3 Days Grace.
The best tracks are back to back on 10c Billionaire, and the first is "Girls Kissin' Girls." It's like they are channeling The Ramones and perhaps, their old selves, with a sleazy, rampaging Arena Rock anthem that is just as fun as anything they've ever penned. Torien's vocals haven't lost much — if any — range over the years, and his wide-eyed, open-mouthed yells on this spreading the disease sing-a-long reaffirms why they were once so freakin' popular.
"Jenna Star" is up next, and you can hear a bit of the Beatles (ok, Enuff Z' Nuff) influence here. While most of the CD seems to have gone a severely more mainstream direction, "Jenna Star" should have been the first single. It's got enough of the "new" sound to perhaps have a chance on whatever passes for radio today, but all the old fans will embrace this song without pause. It may be Torien's best vocal moment on 10c Billionaire as well.
And then, you run into "Road to Nowhere." Diehard fans will not appreciate this track by any measure. If you like Saving Abel, then you are going to go all ga-ga over "Road to Nowhere." The intrinsic problem, though, is that fans of the Bulletboys don't want to hear Saving Abel. And fans of Saving Abel don't know who the Bulletboys are and probably hate Hair Metal, unless they are pretending to be all "retro." The good news: Bulletboys wanted to write a Modern Rock track and pull it off, which they did and no one can argue the fact. The bad news: doesn't sound anything like Bulletboys.
"Save the World" is another one of the catchier compositions; it's obvious that Torien has never lost his penchant for creating addictive choruses. While still somewhat a Modern Rock track, Torien's gritty higher vocal moments and the brief but still cutting guitar leads bridges the past to the present.
It's obviously difficult for any '80s band to outpace their past. They will all be known for where they came from, not for where they are going. That's why bands like Firehouse, Poison, Cinderella, and a percentage of '80s bands aren't even pretending they can sell new music — they are comfortable touring on their past accomplishments. The fact of the matter is that 20+ years changes who you are, as an individual, and as a musician. Maybe Marq Torien and his brethren should be given some leeway when it comes to trying to compete in the unmusical music industry today. In some ways, 10c Billionaire is asking listeners to appreciate it for what it IS, instead of for what it's NOT … because it's certainly not a return to "Smooth Up in Ya" by any measurement.
Label: Chavis Records
Track listing:
1. Asteroid
2. Blessed By Your Touch
3. Born To Breed
4. Bringing Home The Gun
5. Girls Kissin' Girls
6. Jenna Star
7. Road To Nowhere
8. Save The World
9. Wasted
10. Witness
11. Road To Nowhere (bonus track radio mix)
HRH Rating: 7.2/10
by Joe Mis
Staff Writer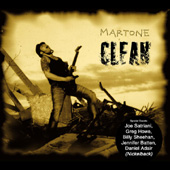 Talent – immense. Execution – excellent. Content – inconsistent.
Clean is the latest release by the highly praised Canadian guitar virtuoso Dave Martone, and it is paradise for tech-savvy guitar fans, but may prove somewhat inaccessible for the average rocker due to its musical complexity. This is guitar music for well-trained guitarists.
The Martone power-trio consists of Dave Martone (guitar), David Spidel (bass) and Daniel Adair of Nickelback (drums), along with a rasher of guests – Greg Howe, Jennifer Batten, Joe Satriani, Billy Sheehan and Ric Fierabracci. Martone is a guitarist's guitarist – extremely technical and very fast – the quintessential shredder. His style is a mix of Joe Satriani and Paul Gilbert, with touches of Yngwie and Steve Vai thrown in for good measure. Spidel is an excellent bass player who seems quite capable of keeping up with Martone no matter the style of music. Ric Fierabracci plays bass on two tracks. Adair is a very good drummer, but unfortunately doesn't really get a chance to shine since this is a guitar showcase.
The CD opens with "The Goodie Squeegie Song," a punchy technical piece with all sorts of squeals, harmonics and taps – just about anything and everything gets tossed in here. In a way this sums up both the good and bad of Martone's album. The piece is amazingly technical and must be extraordinarily difficult to play, mixing a bunch of different tempos and styles making for an interesting listen. At the same time it really isn't a "song" per se, more a collection of riffs loosely tied together by barrages of blistering notes and chords. "Nail Grinder" is more cohesive as a musical piece and features Joe Satriani as a soloist. "Bossa Dorado" is one of the highlights and probably the most "musical" of all of the tracks on Clean. It has a definite Latin, almost flamenco flavor and is a brilliant song that shows just how good Dave Martone can be. Billy Sheehan provides some truly remarkable bass on "Dinky Pinky," but how do they come up with these song titles? "Coming Clean" is a nice acoustic jazz/blues track. Greg Howe helps to kick out some heavy riffs on "Hard Wired." "If I Was A Piano" is a very Satriani-esque soft instrumental with some interesting structure to it. "Moron Face" features some great basswork and a powerful guitar solo by Jennifer Batten. "Turn On The Heater" starts out mellow and melodic, but then seems to deteriorate into high-speed scales and progressions. "Angel Fish" is a great rocker with a hooky melody and would be right at home on Satriani's Surfing With The Alien. "Fading Into Change" is nice mellow wrap up to the CD.
Martone's music is tough to pigeonhole. He seems to mix elements from rock, jazz, progressive rock, old school shredding metal and classical and comes out with a unique flavor. He has to remember that all of the talent and technique in the world is not enough to make "music". Some of the songs work amazingly well because they have a consistent sound and style from beginning to end, while others seems to be just bits and pieces of random riffs stuck together with no clear musical structure. There are some incredible moments of brilliance and great riffs here – and some great music – but it does not carry from track to track.
Dave Martone has proven to the world on many an occasion that he is an incredible guitar player. An album like Clean seems to be more of a collection of demo pieces that a shredder would put together when trying to get noticed. Martone already has the attention and respect of the guitar world, now he needs to focus on gaining mainstream appeal by improving his composition skills. He needs to make music, not just play guitar.
On the whole, Martone's Clean is a must have for fans of technical guitar. It may be too abstract to capture the average rock fan, but it does demonstrate that Dave Martone belongs as a member of the pantheon of Great Guitar Gods.
Label: Magna Carta
Web: http://www.magnacarta.net/releases/clean.html
http://www.davemartone.com
Track Listing:
01. The Goodie Squeegie Song
02. Nail Grinder
03. Bossa Dorado
04. Dinky Pinky
05. Coming Clean
06. Hard Wired
07. If I Was A Piano
08. Moron Face
09. Turn On The Heater
10. Angel Fish
11. Fading Into Change
HRH Rating: 8/10
by Curt Hauff
Staff Writer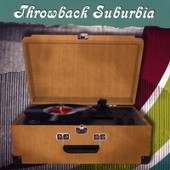 Calling all powerpop addicts: Throwback Suburbia is here! With a mix of the Torries, ELO, Butch Walker and some '70s pop a la Shawn and David Cassidy, Throwback Suburbia brings the power back to pop music.
From start to finish, the self-titled album is full of catchy songs. Using sugar coated harmonies, throwback guitar tones (full pun intended) and well placed piano and keyboard tracks, the band manages to put together a heavyweight pop album.
"Asking Why" is reminiscent of a Marvelous 3 song that might have been released on Math & Other Problems. The chord structure is a little more complex than the typical 1-4-5 arrangement, which is not only unusual in this genre, but typically makes it difficult to absorb quickly.  However, in the case with many of the band's songs, the fresh chordings actually make it easier to get the chorus stuck in your head.
"Halfway to the Stars," a story of a girl searching for fame only to lose herself in the process, is another track that has a familiar chord structure from days past, yet it's unique and refreshing. Even the bridge is different than you hear with so many of today's songwriters.
It would be absolutely amazing to hear what these guys would put out with a producer like Butch Walker, Don Gilmore or Glen Ballard. With the energy of any of the aforementioned producers and the skillful writing the band possesses, Throwback Suburbia would have number one hits coming out of their ass.
From the sing-songy "Same Mistake" to the driving "Say When" to the Partridge Family-esqe "Just Need a Day", Throwback Suburbia has a winning formula to pure powerpop pleasure. Throwback Suburbia is the perfect fix for powerpop addicts everywhere.
TRACK LISTING
1. Private Oasis
2. Asking Why
3. Rewind
4. Head Over Heels
5. Same Mistake
6. All About Me
7. Say When
8. Perfectly Okay
9. Halfway to the Stars
10. You'll Never Know
11. Just Need a Day
12. Don't Pray For Me
13. The Ride
HRH RATING: 8/10
by Justin Gaines
Staff Writer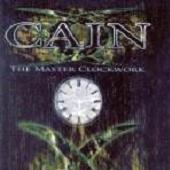 The Master Clockwork is the debut offering from Swedish progressive metal band Cain. The Kalmar-based band has been kicking around since 2003, opening for bands as varied as Mustasch and CrashDiet. Cain has a fairly straightforward, middle of the road progressive metal sound. They're not as dark as Evergrey, as "out there" as Pain of Salvation or as instantly accessible as Pagan's Mind. The members of Cain are clearly influenced by bands like Dream Theater and Fates Warning, and take a pretty melodic approach (they're Swedish after all) to the genre, not unlike Circus Maximus.
The Master Clockwork features nine songs (none reaching the 6-minute mark) totaling just 40 minutes. It's probably not a good sign that it felt like twice that amount listening to the album. Now, the lack of self-indulgent 10-minute instrumental passages and multi-part conceptual suites is quite refreshing, especially for a band that appears to have more than enough technical ability to pull off that kind of thing, but between the bland songwriting and "been there, done that" feel, it's hard to love an album like The Master Clockwork. The musicianship and vocals are perfectly solid, but there's just nothing here that makes you run out and tell your friends "dude, you've got to hear this!"
The Master Clockwork is a totally decent progressive metal album, and one that is at least as good as any album by Halcyon Way, Mindflow, or anything released by say, the Nightmare Records label. Unfortunately it's really nothing you haven't heard before. The progressive metal arena has only become more crowded over the past decade, which requires new bands to push the envelope (and their own talents) to stand out from the rest of the pack. Bands like Circus Maximus, Voyager and Leprous, for example, have done just that. Cain has not, at least with this release. The potential and the talent are definitely there, but The Master Clockwork just doesn't rise above the tide. If you're crazy about progressive metal and haven't yet reached that burnout point, by all means give Cain a try. Just don't expect to hear the next Symphony X or Pain of Salvation.
Lineup:
Patrick Stomberg – Vocals
Pontus Lundin – Guitar
Joel Eriksson – Guitar
Tobias Jonsson – Bass
Andreas Grauffman – Drums
Stefan Runberg – Keyboards
Track Listing:
1. Intelligence 101
2. Lost Forever More
3. The Master Clockwork
4. Level 6:14
5. Red Water
6. Mourning Star
7. Breather Field
8. The Dead and the Calm
9. Sink
Online: www.myspace.com/cainswe
HRH Rating: 5.5/10