Bulletboys 10c Billionaire
by Derric Miller
Staff Writer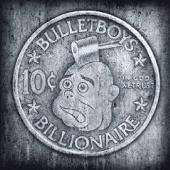 You've got to hand it to all the '80s bands who aren't afraid to release new music, instead of just touring on the strength of their past hits. Bands like Winger, Motley Crue, Danger Danger, Helix, Great White, Europe, Dokken, Stryper, and numerous others have taken the plunge and redefined their recording legacy, bringing them into the now … like Tesla. And there are plenty more on the way, with the likes of KEEL and Ratt both back with (nearly) original line-ups and releasing new music in early 2010. Bulletboys have admirably taken the path less traveled and followed suit with a brand new studio release, 10c Billionaire.
Singer/guitarist/songwriter Marq Torien is the only remaining original member in the band, now consisting of Ryche Green (drums), Tory Stoffegen (guitars) and bassist Rob Lane.
"Asteroid" is the opening track, and it sounds closer to Shinedown than any past composition, like "Kissin' Kitty." With down tuned riffs, and lower key vocals during the verses that lead into a shouting chorus, odds are you'd never guess this was Bulletboys if someone didn't tell you first. Not that it's a bad song, but it is Modern Rock. The next track carries the same tone, with "Blessed By Your Touch" basically more of a Pop Punk yet still modern composition, with a chorus catchier than anything Rev. Theory could write.
You get a more vintage feel on "Born to Bleed," for about half the song. The verses have that breakneck speed and more melodic guitars of yore, but overall "Born to Bleed" still dumbs itself down into anything you could hear by 3 Days Grace.
The best tracks are back to back on 10c Billionaire, and the first is "Girls Kissin' Girls." It's like they are channeling The Ramones and perhaps, their old selves, with a sleazy, rampaging Arena Rock anthem that is just as fun as anything they've ever penned. Torien's vocals haven't lost much — if any — range over the years, and his wide-eyed, open-mouthed yells on this spreading the disease sing-a-long reaffirms why they were once so freakin' popular.
"Jenna Star" is up next, and you can hear a bit of the Beatles (ok, Enuff Z' Nuff) influence here. While most of the CD seems to have gone a severely more mainstream direction, "Jenna Star" should have been the first single. It's got enough of the "new" sound to perhaps have a chance on whatever passes for radio today, but all the old fans will embrace this song without pause. It may be Torien's best vocal moment on 10c Billionaire as well.
And then, you run into "Road to Nowhere." Diehard fans will not appreciate this track by any measure. If you like Saving Abel, then you are going to go all ga-ga over "Road to Nowhere." The intrinsic problem, though, is that fans of the Bulletboys don't want to hear Saving Abel. And fans of Saving Abel don't know who the Bulletboys are and probably hate Hair Metal, unless they are pretending to be all "retro." The good news: Bulletboys wanted to write a Modern Rock track and pull it off, which they did and no one can argue the fact. The bad news: doesn't sound anything like Bulletboys.
"Save the World" is another one of the catchier compositions; it's obvious that Torien has never lost his penchant for creating addictive choruses. While still somewhat a Modern Rock track, Torien's gritty higher vocal moments and the brief but still cutting guitar leads bridges the past to the present.
It's obviously difficult for any '80s band to outpace their past. They will all be known for where they came from, not for where they are going. That's why bands like Firehouse, Poison, Cinderella, and a percentage of '80s bands aren't even pretending they can sell new music — they are comfortable touring on their past accomplishments. The fact of the matter is that 20+ years changes who you are, as an individual, and as a musician. Maybe Marq Torien and his brethren should be given some leeway when it comes to trying to compete in the unmusical music industry today. In some ways, 10c Billionaire is asking listeners to appreciate it for what it IS, instead of for what it's NOT … because it's certainly not a return to "Smooth Up in Ya" by any measurement.
Label: Chavis Records
Track listing:
1. Asteroid
2. Blessed By Your Touch
3. Born To Breed
4. Bringing Home The Gun
5. Girls Kissin' Girls
6. Jenna Star
7. Road To Nowhere
8. Save The World
9. Wasted
10. Witness
11. Road To Nowhere (bonus track radio mix)
HRH Rating: 7.2/10