Richie Kotzen Live!
October 8th, 2009 at The Underworld Plub in London, England.
by Alissa Ordabai
Staff Writer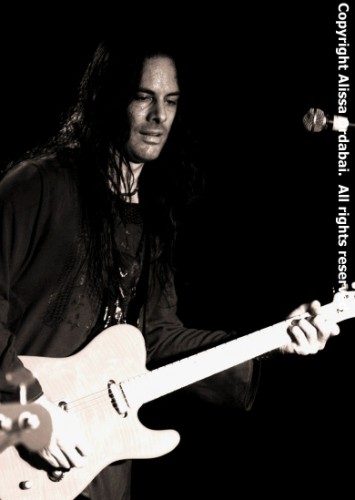 London's Underworld club to this day remains the epicentre of London's rock scene, throughout its 20-year history having hosted a plethora of rock'n'roll luminaries – from Smashing Pumpkins to Sepultura – and still continuing to showcase the best of established as well as newcoming talent. Given the recession, however, full house at the Underworld these days is a rare occasion. But Richie Kotzen has still managed to sell out the first date of his current UK tour last week with fans desperately walking up and down the street even after the show has already started, begging scalpers for tickets – a strange and at the same time exciting sight which confirms that Kotzen to this day remains not only one of the most respected of the guitar heroes of his generation, but also an international phenomenon with as varied a following as you could imagine.
The audience on the night showcased almost the entire spectrum of London's rock community: young aspiring musicians, guitar geeks, blues fans, metalheads, teenage music fans, and women in their 30s clad in animal print who to this day count themselves in as fans of glam metal. Having played in London five years ago, Kotzen could, perhaps, not quite predict who would turn up to see him this time around, and maybe the audience equally didn't know what to expect. What the show in the end became, turned out to be illuminating in more ways than one.
Promoting his new studio album Peace Sign on this tour, Kotzen presented himself, first of all, as a composer whose songwriting style continues to develop as he delves deeper into explorations of funk, blues and rock. On the other hand, his guitar playing on the night put through messages that went beyond any premeditated songwriting form, beyond verbal lyricism, and even beyond his highly commendable singing. The way Kotzen is able to channel the purely intuitive magic while he plays his improvised solos remains the pivotal and the most important aspect of him as a musician, the golden nugget at the centre of his well-balanced act.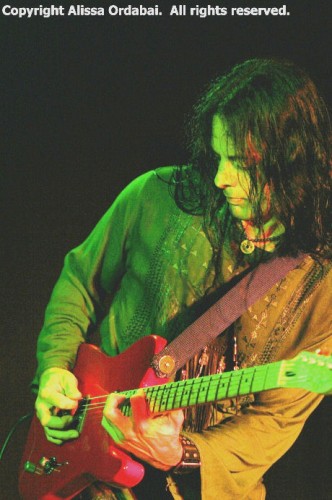 Throughout the show Kotzen put a lot of feel, weight, and thought into the guitar leads of practically each composition he played, but his most expansive, most richly articulated guitar messages emerged on "Fooled Again" and "I'm Losing You". Those were the moments of a pure force of nature taking over, that primary impulse, that intuitive magic which is at the heart of all improvised music. You can't put a price on these flashes of artistic insight, especially these days when they are becoming increasingly rare in live situations, in rock music especially, so the audience – some on an intuitive level, some very consciously – instantly recognised those spontaneous gems and responded fabulously, welcoming Kotzen with the best response an English crowd can give.
In terms of sheer all-around virtuosity the highlights of the show have been many, including the perfectly crafted, instantly memorable songs from the new album ("Paying Dues" and the title track "Peace Sign") which received as much applause as did his all-time crowd favourites "You Can't Save Me" and "Remember".
The set list has been eclectic, based mostly on the material Kotzen released this decade but also including covers of his 1960s heroes including Dylan's (or should we say Hendrix's?) "All Along the Watchtower," the Yardbirds' "Shapes of Things" and the Four Tops' "Reach Out I'll be There."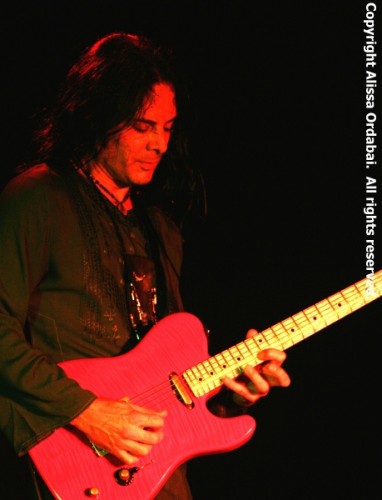 "All Along the Watchtower" initially sounded like a disappointment, stalling for the first few verses, but when time to came for the solo, Kotzen really let it rip with fretboard fireworks that lit up faces all across the room – a completely unexpected, raw-edged interpretation of the classic that showed that when used with real artistic purpose, lightning-fast chops to this day remain as indelible a requisite in an arsenal of a certain type of guitar player as being able to strum chords.
Kotzen often says that to him his guitar playing and his singing are equally important components of his art, but while they are both, certainly, essential to the presentation of his act as a unified whole, what Kotzen is able to achieve through his guitar playing in terms of spontaneous gestures of the spirit, bears an altogether deeper message than his perfectly honed vocal chops.
At the same time, the appeal of Kotzen's music is so wide-ranging that those in London who would never have come out to watch just a guitar shredder did come out on the night to hear the tunes, to hear Kotzen sing and, last, but not least – watch him perform, because despite the small stage allowing little space for manoeuvre, Kotzen came through as an elegant, graceful visual performer, adding a subtle but still indispensable visual element to his act which to this day remains as entertaining and as authentic as ever.
Photos by Alissa Ordabai