Blanc Faces Falling from the Moon
by Justin Gaines
Staff Writer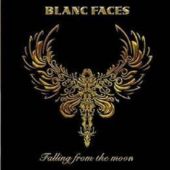 Falling From the Moon is the second release from Blanc Faces, the US-based melodic rock band formed by brothers Robbie and Brian Le Blanc. As with the band's self-titled debut, Robbie handles vocals and rhythm guitar while Brian handles bass duties. Session drummer Kyle Woodring (Survivor) also makes a return appearance on this album. Sadly, he passed away shortly after its completion, so Falling From the Moon is dedicated to his memory.
Two things quickly become apparent when you spin this album. The first thing is that if you're a metal fan, you're going to lose some "metal points" for listening to the ballad-laden Falling From the Moon. More accurately, you're going to lose those points for loving Falling From the Moon. That's the second thing that jumps out at you. From the start you know you're listening to something special. This is the kind of music – call it AOR, melodic rock, arena rock, whatever – that was everywhere between 1988 and 1991.
 Think of those great bands that you used to love – Alias, Valentine, Giant, Sheriff, Bad Company with Brian Howe. Blanc Faces channels all of them beautifully. So many of the songs on Falling From the Moon have that classic AOR sound you'd swear this album has been locked in a vault for the last 20 years. Smooth ballad "Deep in the Heart" could have been an Alias or Boulevard single, and rocking opener "I Come Alive" sounds like a Bad Company (circa Holy Water) hit. Every single song reminds you of a classic melodic rock band, but without sounding derivative.
You have to give the lion's share of the credit to Robbie Le Blanc's vocal performance. His voice is ultra smooth, but packs a punch when it needs to. His voice is somewhere between Alias/Sheriff frontman Freddie Curci and Brian Howe's, and that's a damn good place to be. Another key component of Blanc Faces' formula is the presence of Pink Cream 69 mastermind Dennis Ward on production duties. Ward is probably the best mixing/mastering talent in the melodic rock world, and he adds his trademark polished touch to this album.
Honestly, if you were a fan of this kind of music as the '80s rolled into the '90s, you absolutely have to own this album. Falling From the Moon is AOR perfection, and will instantly take you back 20 years to when AOR ruled the radio.
Label: Frontiers Records
Track Listing:
1. I Come Alive
2. I Swear To You
3. Falling From the Moon
4. Everything
5. It's All About the Love
6. Goodbye Summer Goodbye
7. Deep In the Heart
8. Don't Take It Away
9. Like A Believer
10. Light Of the World
11. I Will
12. Fly
Online: www.facebook.com/blancfaces
Hardrock Haven Rating: 8/10