Joel McIver
The Life and Death of Metallica's Cliff Burton
by Chris A.
Staff Writer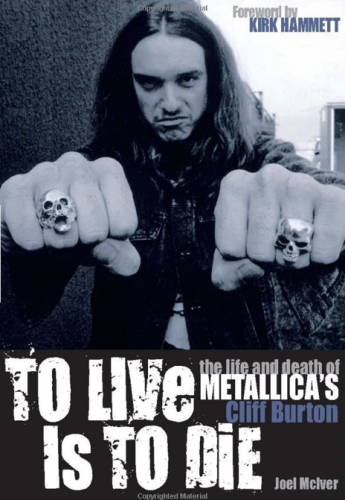 Metallica bass player Cliff Burton was killed Sept. 27, 1986 while on tour with Metallica. He was asleep in his bunk on the band's tour bus, when, in the early mist-covered morning hours on a Swedish road, the vehicle suddenly ran off the road and flipped over. Burton was ejected as the bus overturned and was crushed beneath it. "To Live Is To Die", the title of the book, is taken from the title of the last song penned for Metallica by Cliff Burton. With far more focus on Burton's life than his tragic death, author Joel McIver relies on first hand interviews of friends, associates, fellow musicians and his band mates to try to turn nearly 25 years of media sound-bites into a sensible, cognizant story of a man whom we really knew very little about…until now.
After extensive research, author Joel McIver's learned assessment of Cliff Burton's influence on Metallica, the "world's biggest heavy metal band," is that Burton lives on today in the subtle and not so subtle contributions he made all those years ago during the formative years of the band. The long haired kid with the thin mustache and toothy grin, seemingly quiet in his role was far more involved and instrumental in the development of Metallica that most people realized. McIver's research and interviews offer up a legacy far greater than the frenetic, energized bass licks recorded on too few albums so many years ago. Choosing to pass on trying to recount Burton's life as a child, McIver sets the tone of Burton's story with just a few simple pages of his youth, quickly transitioning into his teen years to concentrate on Burton's appreciation and passion for rock 'n' roll and guitars.
It's a book about Cliff Burton the musician, guitarist and very active Metallica member and stays true to its roadmap and avoids wasting time and ink rehashing the mountainous "alcoholica" era debauchery and typical rock star excesses that other rock authors tend to glorify. Instead "To Live Is To Die" tells the story of a contradictory man, quiet, unassuming to many, but clearly a determined, focused musician who was a genuine force to be reckoned with and a prowess on the bass guitar that to this day hasn't been fully appreciated. A contemplative thinker whose vision for his band helped it to become what it is today.
With a forward by Burton's friend and Metallica bandmate Kirk Hammett, the book is first and foremost very credible. McIver's writing style is easy to follow and remains consistent. He delves into the musical contributions of Burton and explores the legacy of a man who's love for metal and his passion for the bass guitar changed the course of Metallica's future. While not "the Metallica story", readers will soon realize that Burton's contributions to Metallica were many and that telling his story requires recounting parts of the Metallica tale as well. From Metallica's efforts to recruit Burton through that fateful day in Sweden in 1986, "To Live Is To Die" goes beyond the typical rock and roll book that extols the performance and playing skills of a dearly departed rock star. What readers will walk away with when they turn the final page of the book is the realization that Burton's musical tastes and drive not only inspired Hetfield, Ulrich, Mustaine and Hammett in the foundational days of Metallica, but that his influence continues to this day. He may not have been the most visible or famous person to play in Metallica but no one can deny he casts a long shadow.
"To Live Is To Die, The Life and Death of Metallica's Cliff Burton" is a wonderful tribute to Metallica's revered bassist. It's a book that recounts the story of a young man's heart, drive and ambition to play his music they way he wanted to play it. He lived ferociously and died tragically at far too young an age. Hat's off to the author for his efforts to give one of metal's unheralded influences the credit and respect he truly deserves.
For more information on "To Live is to Die" and other books by Joel McIver, visit www.joelmciver.co.uk