Angels of Babylon Kingdom of Evil
by John Kindred
Staff Writer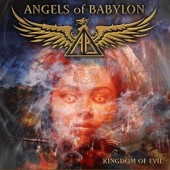 Angels of Babylon is a super group of sorts, featuring three veteran rockers; Rhino, David Fefolt and David Ellefson and newcomer guitar virtuoso, Ethan Brosh. Each of the vets have cut their teeth with bands like Manowar, Megadeth and Hawk, while Brosh's first solo release, Out of Oblivion, was released in '09 on the Magna Carta record label.
Their first album, Kingdom of Evil, is a compilation of music written by Rhino, who waited for the right group of guys to bring his vision to life. The album features 10 songs that fall in the vein of heavy metal and that also have a strong melodic feel. At times, the music pushes the envelope into the edges of power metal. With the use of keyboards and synthesizers layered over crushing palm-muted rhythm guitar arrangements, the band produces an epic and symphonic feel.
For some of older metal heads, David Fefolt's vocals are going to sound awfully familiar. Back in the '80s, he fronted Doug Marks' (Metal Method guitar instructor) band, Hawk. His vocal style is reminiscent of his previous works. He still has that metallic raspy voice that you will recall. You know what you are getting with quality musicianship of Rhino and Ellefson. The drums and bass are tight and heavy.
Newcomer Brosh shines through with brilliant solo work and solid guitar playing all around. It's evident that he is a musician who can excel as an instrumentalist as well as a bona fide band member. His influences added into the mix of the music rounds out the band's overall metal sound. Although he struts his stuff all over the CD, he tears it up with a blazing solo on the intro to the title track, "Angels of Babylon."
Other great songs include the opener "Conspiracy Theory," "Tear Out My Heart," "Oh How The Mighty Have Fallen" and "Kingdom of Evil." There seems to be Christian themes tied into the lyrical content of several songs. So whether this is a Christian release is unknown. Although they are not reinventing the wheel, their level of musicianship and strong song writing skills produce a well-crafted studio album.
The only real weak track is the instrumental track, "The Remnant," which features a piano melody played against a synthesizer. It doesn't fit the flow of all the other bombastic metal tracks. Landing in the track listing as song eight, it really could have been placed last, as metal heads are going skip over this one.
Web: www.myspace.com/officialangelsofbabylon
Line-Up:
Rhino (d)
David Ellefson (b)
David Fefolt (v)
Ethan Brosh (g)
Track list:
1. Conspiracy Theory
2. Apocalypse 2012
3. Night Magic
4. Tear Out My Heart
5. Oh How The Mighty Have Fallen
6. Tarot
7. Kingdom Of Evil
8. The Remnant
9. Angels Of Babylon
10. Second Coming
Hardrock Haven rating: 7/10