Mower Make It a Double
by Justin Gaines
Staff Writer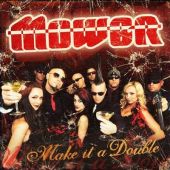 Well, it was bound to happen sooner or later…a nu-metal album that doesn't make you want to carve your eardrums out with a rusty screwdriver. Hell, maybe Mower isn't technically a nu-metal band (there's nobody rapping and the bass isn't doing that "boing boing" Korn thing), but they sound enough like a metalized version of Nickelback and Hinder that the nu-metal (or at least alternative metal) tag seems appropriate.
Make It a Double is Mower's third album, and it's all over the place, swerving between rock, metal, punk and alternative before slowing down completely for the second half of the album. The first half is all thundering rhythms and crushing guitars, plus some very angry lyricism and sharp vocals. Think Static X and Biohazard, but with a degree of mainstream rock radio appeal. The second half of the album is made up of reworked versions of previous Mower songs done under the "Slower" tag. They're stripped down and almost lounge-y, but no less angry than the songs on the first half of the album.
Make It a Double is probably more effective in small doses. A few of these songs are more than enough to get the party started, but the "Slower" songs on the last half of the album kill the buzz pretty quickly. There's no denying the power of some of the songs on Make It a Double though. If Nickelback had released absolute monster of a party metal anthem "The Party" it would be in regular radio rotation for at least a year. Same with the song "Faded", which could have been released by any number of skinny-jeans-wearing emo types.
It may not work as a full album, but Make It a Double has enough very strong and very hard-hitting metal songs in the first half to make the album well worth checking out, particularly if you're already a fan of alternative and/or nu-metal. If you're not (and you are not alone there), this might come as a welcome surprise.
Label: Suburban Noize
Lineup:
Brian Sheerin – Vocals
Dominic Moscatello – Vocals
Chris McCredie – Bass
Greg Russell – Guitar
Jessie Tate – Drums
Track Listing:
1. The Party
2. Wolves
3. The Start
4. Shneak
5. The Song We Don't Speak Of
6. Escaped
7. Sicko
8. Alien
9. Faded
10. Road Rage
11. Pieces
12. Undone
13. U Turn
14. Shut Up and Skate
15. Untitled
Online: www.mowermusic.com
Hardrock Haven rating: 6.5/10