Mass Sea of Black
by Franco Wissa
Staff Writer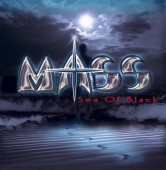 There are a handful of bands whose body of work really demands that the next release will be just as good, if not better, as the ones previous to it. Because of their reputation for having such a great body of work, when their next CD fails to achieve the level expected it is a major disappointment. Then, on the flip side, there are bands who, to a rock-solid core group of fans, have never failed to satisfy. While certainly labels and musicians want sales and recognition, it becomes more about the music, and only the music.
What must be pointed out – and questioned – first and foremost is how is it that with over 25 plus years of countless live performances and multiple releases, Mass lead singer Louis D'Augusta still has such a voice? For the love of God, this man can sing. Each sung word is clear as a bell, from the low octaves to the upper pitches, every utterance is understandable and the passion that comes from his voice is undeniable. It must be said again – Good Lord he can sing!
The new Mass album Sea of Black differs from their previous release, Crack of Dawn, in that this truly has a harder rocking vibe to it. While Crack of Dawn certainly did have its hard rock moments, it was a more polished, more melodic rock feel. Sea of Black is down and dirty hard guitar rock – the kind of hard rock that is certainly needed in a time of Disney fluff, and marginally talented performers who seem to be getting air time because of their looks, or television show, rather than a true, from their core longing to put out music.
Guitarist Gene D'Itria lays into his guitar, and never lets it rest. This hard guitar rock is certainly manifest on such tracks as "Falling From Grace," "All That I Needed," the head banging "The Right Side," "Justify," and the sensational "Ashes to Ashes," To give an equal balance to this CD is the short instrumental "Captain Black" that gives way to the thumping "Sea of Black."
Pay attention as well to the wonderful lyrics of the backwoods sounding "All The Years Gone," the acoustic guitars of the mid tempo Bon Jovi-ish "Coming Home," the crazy effects and the killer bass guitar work heard on "Through the Rain," the soft "More Than A Friend," and the synthesizers that only add to the heartfelt and warm refrains of "Till We Meet Again."
Here's the thing about Mass. It isn't about the number of records sold, or a place on the charts, but instead from their musical souls, they love playing music for the simple reason it is about just that – the music – and nothing more. And as spoken of earlier, the boys of Mass have that reputation for time after time releasing a body of work that has only got better. And here is proof, Sea of Black IS their best yet …
Label: Escape Music
Tracks
Falling From Grace
All The Years Gone
The Right Side
Coming Home
Through The Rain
All That I Needed
More Than A Friend
Justify
Ashes to Ashes
Till We Meet Again
Captain Jack
Sea of Black
Musicians
Louis D'Augusta – vocals
Gene D'Itria – guitars
Michael Palumbo – bass
Joey "Vee' Vadala – drums
Hardrock Haven Rating: 9/10