April 1, 2010 at the Trocadero Theatre in Philadelphia, Penn.
by Steve Trager
Staff Writer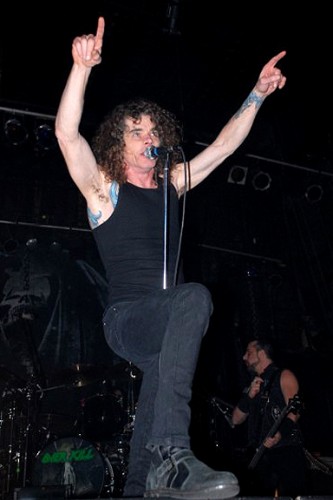 Overkill's recent opening night of their much anticipated "Killfest" 2010 tour was nothing short of decibel greatness. A fully-loaded six band arsenal of some of the finest Metal was launched right here in Philadelphia at the Trocadero Theatre. This tour alone etched another stone in the musical career for thrash veterans Overkill, who have entered their 25th anniversary as a band. Despite the numerous lineup changes that this band has overcome, Overkill still carries the torch as a touring band with just two original band members in the fold, and still have created that one of a kind blend that only Overkill can.
On this momentous first night of the tour in Philly, fans had the up close and personal opportunity to catch some great sets that had kicked off quite early with Woe of Tyrants, who warmed up the stage for what was to be expected a long evening of straight forward guitar driven metal. The greatest reward of any opening tour is that you can get you ultimate metal fix before the rest of the world that alone is an ear candy overload that can be easily defined as priceless.
The greatest feature of this entire show was the quick set changes, from Woe of Tyrants to UK's own Evile, who sounded great. You have to love those old school Jackson guitars. In fact almost every band had some sort of nice style guitar, which reminds me of the good old days when metal bands played flying V's and uniquely designed guitars.
A quick set change to War Bringer who have great stage persona, especially the front man who runs around like a maniac yelling, "I want to see a nice pit Philly … c'mon … let's go." Actually hard to keep track of set lists, some are like maybe 6 to 8 in total rounding each bands set.
Next to grace the Trocadero stage was Holland's God Dethroned who recently released a new CD called Passiondale with a great concept title. While death or black metal isn't for everyone, this band actually sounds great live. From a musical perspective, one has to give credit where credit is due with how well they craft their music and write songs.
Many fans looked forward to catching Poland's' power-packed Vader, who only played 6 songs. With so many bands and quick set changes, you get what you get. It could be worse, each band could perform 3 songs and then the headliner could play a longer set but it's a sacrifice a fan has to live with at a club event. Vader is no stranger to Philly as his band has graced the Trocadero with other tours before. Still with those 6 songs, Vader worked the fans with material from their latest release on the Nuclear Blast label.
It's been five years since Overkill rocked the Trocadero however, still with all the material they have under their belt, it could be quite hard to satisfy ones taste in favorites which have spanned dating back to the late eighties when Thrash Metal was truly built for speed. Overkill has never lost sight of that visual in all their songs throughout every single record, including the popular EP which is their trade mark. As a music fan myself I have always enjoyed their live show, chock full of less talking and more rocking' as they say in terms of a phrase. It's not hard to believe that Overkill has been around this long, despite the lineup changes and various labels that have hosted the band's catalogs; they still pack a punch with their live shows. I can't remember when I went to a show and wasn't impressed with the set list. This year with their most recent killer show in Philly — the set list was crammed with some old favorites, new material, and some old school bold Thrash Metal that has kept Overkill at the top of their game all these years as a band.
Overkill Set List:
The Green and Black
Hammerhead
Old School
Rotten to the Core
Bare Bones
Fuck You
Wrecking Crew
Overkill
Sonic Reducer
Battle
Gasoline Dream
Hello from the Gutter
Bring Me The Night
Feel The Fire
Elimination
Ironbound
Necroshine
Overkill Killfest's Photo Gallery
Photos appear courtesy of Steve Trager