April 2, 2010 at the Trocadero Theatre in Philadelphia, Penn.
by Steve Trager
Staff Writer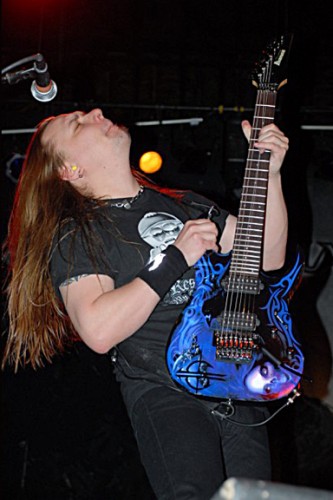 On the opening night of Sonata Arctica's tour, which kicked off right here in Philadelphia at the Trocadero, it seemed to be an overwhelming epic live performance. Of course Sonata Arctica is no stranger to Philly, having already performing here with the likes of NightWish and DragonForce last year. Sonata Arctica returned to conquer North American soil with a headlining tour supporting last years release Days of Gray. For the first time we the fans of Power Metal had the opportunity to catch a full headliner set this time out encapsulating the band's career within 90 minutes spread throughout the evening. Mind you, sitting through a few other bands can be painful enough when the show begins, but was not the case here with all the bands that performed that evening. Even with quick sets designed to keep things moving smoothly, Power Glove played a great set which proves that for a band that surrounds themselves with musical titles of Nintendo games, they can work a Philly crowd into a frenzy.
The next band hailed from Edison, N.J., Mutiny Within, quite a catchy name as they seemed to grip the fans with their explosive live show. Mutiny Within round out a six-piece powerhouse trailing behind with blistering guitar work and voice-shattering lead vocals, all earning this band a "horns up" indeed. Having already been out on the road with Arch Enemy and earning their keep with a major label stinger, Mutiny Within wowed the fans with a great set which is no surprise as their CD sounds exactly like their live set.
One last set change over, as the stage was set for an anticipated show from Finnish power metalers Sonata Arctica, who have some great lengthy songs in their set. Any fan can appreciate breezy melodies and great guitar work, along with the saucy vocals which blend Sonata Arctica's signature sound as a five piece. Though it's not often to see some great Euro bands unless you head to the Prog Power festival or count your dollars and grab a passport and head over to Europe, you won't catch many bands nailing epic shows like Sonata Arctica, who tour often but not in the US frequently, so to catch a great headliner set by these guys is something you should never miss out on, especially if you enjoy Power Metal.
Sonata Arctica's set list went much like this:
Flag In The Ground
Black Sheep
Vodka
The Last Amazing Grays
Broken
Everything Fades To Gray
Paid in Full
The Dead Skin
8th Commandment
Keyboard / Guitar Solos
As if The World Wasn't Ending
The Cage
FullMoon
In Black and White
Juliet
Don't Say A Word
A great set of songs throughout their set in Philadelphia, as voices echoed back and forth in every verse while the band shredded on stage. Perhaps it could very well be a while before this band returns to the US for another great performance. If you weren't there, you missed a great epic live performance!
Sonata Arctica Photo Gallery
Photos appear courtesy of Steve Trager