Kansas City Rockfest 2010 LIVE!
May 15, 2010 at Liberty Memorial, Kansas City, MO.
by John Kindred & Shawna McHenry
Staff Writer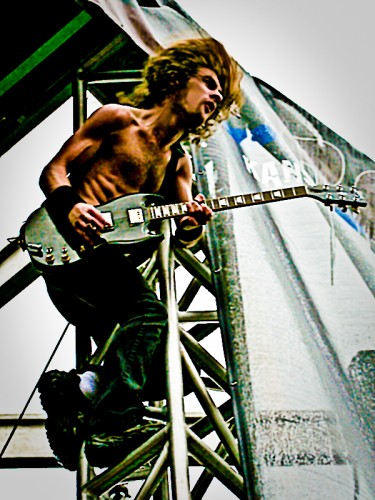 Rockfest always is advertised as a festival that keeps the average fan from shelling out wads of money. The organizers, radio station 98.9 The Rock and AEG Live, provide a days' worth of entertainment with fairly low-cost ticket prices, food and drink prices capped at a maximum of $5 per item and readily available free water.
This year, thunder and rain marked the festival most of the day. Fans made the best of it, enjoying the music despite the lack of sun. This certainly was the one of the coldest and wettest Rockfests to date. Concertgoers have billed the day as "Mudfest 2010" on social networking sites such as Facebook, Twitter and MySpace. Some imaginative fans created a mudslide, and concertgoers who took the journey down the water-soaked hill encased themselves in mud.
Two stages provided the day's musical entertainment. Fifteen bands followed a predefined rotation that kept the music rumbling throughout the afternoon and well into the evening, which was topped off by fireworks. With this year's headliner being Godsmack, fans truly were able to embrace some of the day's popular hard rock and metal bands.

The second stage, sponsored by Monster Energy Drink, was given more attention to make it bigger and better than previous years. The raising of the stage by several additional feet provided crowds a better viewing of the bands. Apparently, this sparked the second stage bands to take their live performances to the next level. The highlight of the day included Airbourne's front man, Joel O'Keefffe, climbing 20 feet up the stage scaffolding for an old-school guitar solo. Their energy and classic hard rock sound got fans out of the dreary day's slump and back into a rock festival mood.
The spirited festival event continues to bring an economic boost to the Kansas City area, if only just for a day. The festival also caters to a younger crowd, which maybe wouldn't have had the income to drop on a more expensive event. However, long lines for frequent food and beverage runs continued to empty wallets. And hanging out with a bone-crushing crowd of 55,000 definitely leads to claustrophobia. In the end, promoters and fans find Rockfest a win/win event.
Main Stage Monster Energy Stage
1:30 – Halestorm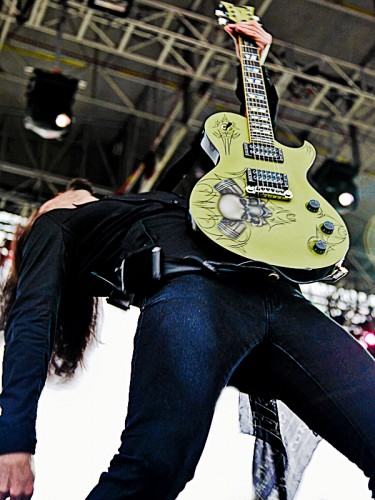 2:40 – Rev Theory
3:50 – Drowning Pool
5:00 – Papa Roach
6:30 – Seether
8:00 – Three Days Grace
9:30 – Godsmack
Monster Energy Stage
12:00 – Taddy Porter
1:00 – Shaman's Harvest
2:10 – Adelitas Way
3:20 – Burn Halo
4:30 – The Veer Union
6:00 – Janus
7:30 – Airbourne
9:00 – Five Finger Death Punch
Kansas City Rockfest Photo Gallery
Photos appear courtesy of Shawna McHenry and Mitchell Luehring