Ronnie James Dio \m/ Forever
In Tribute: Ronnie James Dio Metal \m/ Forever.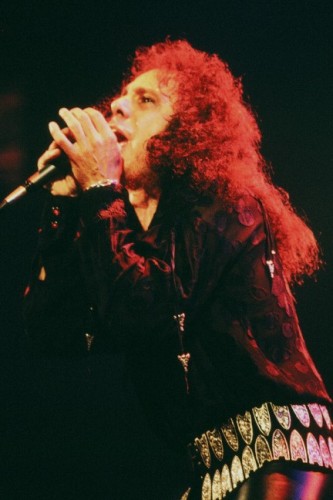 Hardrock Haven would like to pass along our prayers and wishes to the family of Ronnie James Dio, who passed away Sunday, May 16 at the age of 67. On that Sunday morning, Dio finally succumbed to his battle with cancer, after fighting for the past year and undergoing seven bouts of chemotherapy. He was one of the most artful and majestic Heavy Metal singers of all time, and his musical legacy will live on through the ages.
The Hardrock Haven writers have each written their personal message to Dio's family, friends and fans. Please join us and leave a comment as we hail and bid farewell to one of the creators of Heavy Metal as we know it today, Ronnie James Dio.
[Photo provided by: Steve Trager]
"I was fortunate to catch Ronnie James Dio one time, perhaps five years ago when he opened for Iron Maiden in Columbus. It was a great show and I felt lucky to have been there to catch a performance by one of the most powerful vocalists in the history of rock 'n' roll. I'll sure miss Dio."
Chris A.
Writer/Photographer
Staff Writer, Hardrock Haven
"I would like to share an email received from my brother Jeff Debbage's titled Ronnie James Dio RIP who used the "wizards" own words from the epic "A Light In Black." No more need be said …"
Something's calling me back
Like a light in the black
Am I ready to go
I'm coming home, I'm coming home
I'm going back to my home
Mike Debbage
Writer
Staff Writer, Hardrock Haven
"I've had time to process the news of Ronnie James Dio's passing, but it still feels like a hammer to the heart. How can the man whom I've always thought of as ageless and immortal have succumbed to a mere human ailment? This is Dio we're talking about, the slayer of dragons who – more than anyone else – is synonymous with heavy metal. It doesn't seem possible that he will no longer take the stage to transport us to a world of dragons and dreams, rainbows and legends. Dio's titanic voice is one of the most recognizable sounds in metal, and was still a force of nature even at 67. Dio may not have invented heavy metal, but he did give it magic. We've lost a truly irreplaceable legend."
"We've also lost the best possible ambassador for heavy metal. While other so-called "rock stars" are better known for drug abuse and off-stage antics, Dio was the consummate professional. Courteous, dignified, caring and by all accounts one of the most genuine people in an industry where that is hardly a valued commodity."
"It's understandable to believe that, in cancer, Ronnie James Dio finally met a dragon he couldn't slay, but while the disease did in fact end his life, Dio's legacy is now immortal, and will live on in the hearts of his fans worldwide. Every time one of Dio's classic albums is taken off the shelf and handed to a new generation of fans, his legend will grow and the magic will live on."
Justin Gaines
Writer
Staff Writer, Hardrock Haven
"Here was a man whose voice provided signature stamps on the hard rock and heavy metal genres. Having worked with the greatest guitarists (Blackmore, Iommi) of the genre, Dio didn't play second fiddle to any of them; he was an equal. He left his mark with stints in Rainbow, Black Sabbath and Heaven and Hell. Dio also made his mark with his solo band. His voice is a part of some of the greatest metal songs ever. And he launched the careers of guitarists Vivian Campbell, Craig Goldy, Tracy G. and Rowan Robertson. He introduced me personally to Doug Aldrich, now one of my favorite guitarists. Ronnie James Dio is a legend, and he will be missed."
John Kindred
Publisher
Staff Writer, Hardrock Haven
"I was deeply saddened by the passing of Ronnie James Dio. I had the pleasure of meeting Ronnie James Dio back in 1990 while we were both waiting for flights out of Chicago's O'Hare airport. Even though he had quite a few people surrounding him; he was generous enough to shake hands and sign a few autographs for those who were waiting. He was very approachable and very kind. That is how I will always remember him."
John McGee
Writer/Photographer
Staff Writer, Hardrock Haven
"Whenever people ask, debate or argue, "Who is the greatest Heavy Metal singer — Rob Halford or Bruce Dickinson," the equation never rang true to me. Ronnie James Dio was a necessary part of that triumvirate. His work with Rainbow, Black Sabbath, Heaven and Hell and his solo offerings inarguably left more chapters in the annals of Heavy Metal history than both Halford or Dickson … combined. Songs like "Rainbow in the Dark" and "Holy Diver" are just as renowned as "Long Live Rock N' Roll" and "Heaven and Hell." Dio wasn't just a legendary singer for one band — he was a legend for multiple bands, and as a solo artist. Neither Halford nor Dickinson can make that claim. Dio's lifetime accomplishments are singular, and we should always celebrate his legend as such."
Derric Miller
Managing Editor
Staff Writer, Hardrock Haven
"The world is simply a darker place without him. Ronnie James Dio was one of the finest vocalists and lyricists the rock world – no, make that the entire music world – has ever seen, and it will truly be a long time before anyone can claim to be his equal. Hugely influential and often imitated (but never equaled), Dio inspired generations of musicians both as a performer and a discoverer of new talent. From Rainbow to Sabbath to Dio, his work spans decades and he leaves behind a huge discography and a massive musical legacy, and will always be numbered among the greats."
"Dio will always be "The King Of Rock & Roll", "The Man On The Silver Mountain" and a "Rainbow In The Dark."
"My thoughts, prayers and deepst sympathies go out to his family and friends. He will be missed."
Joe Mis
Writer
Staff Writer, Hardrock Haven
"I have to admit, I've never been a huge Dio fan. Not because I didn't like the music, it just wasn't a band I ever got heavily into. Regardless of this, I've always had immense respect for Ronnie; his voice, his music, his personality. Through interviews and stories, and in the few seconds I was able to chat with him years ago during a record signing in Denver, it was clear that he was a man not only of incredible talent, but also a genuine person, untainted by the fame demon. The metal world may have lost a legend, but the world in general has lost something even greater.
Trevor Portz
Writer
Staff Writer, Hardrock Haven
"As I sit here writing a special Tribute for the legendary Ronnie James Dio, it all seems so surreal. The man with the powerful voice and magical stage presence who sang songs about mystic tales and magic has passed. To me Ronnie had a larger than life persona. He started it all with a career that spanned over four decades."
"I was fortunate to see Dio perform at the Palladium in Worcester with my friend Rudy Sarzo on bass. It was a magical evening. Later on in 2007, I had the opportunity to see Heaven and Hell perform in 2007. I had interviewed drummer Vinny Appice that year and he sent me up with tickets that I will be forever grateful. I have to say the Heaven and Hell show was one of the best concerts I have ever seen. I was spellbound. All four musicians were stellar. Ronnie James Dio was amazing."
"The 80's were a time that knew no boundaries, fearless, and larger than life. In my opinion, there will never be another genre of music as great as the 80's genre featuring songs and performers that have survived the test of time. The 80's community is very tight knit and I have been very fortunate in being able to meet Heaven and Hell and other bands from that genre. As we reflect today on the passing of this true legend Ronnie James Dio, lets us be thankful that we were blessed with his true gift of music and legacy that will forever live in our hearts. God Bless you Ronnie, and Thank you for the amazing music."
Deb Rao
Writer
Staff Writer, Hardrock Haven
"It was by text from a fellow metal enthusiast that I got the news – "… Franco, Ronnie James Dio died today." I can remember staring at my phone stunned, like it couldn't be real. But then I read it again, and it hit me like a ton of lead. THE voice of metal was gone, and suddenly a part of my world seemed empty. Since his days with Elf, on through his Sabbath years, fronting Rainbow, his solo projects, and on tour with Heaven and Hell, RJD defined what it was like to be a heavy metal vocalist. There have been times over the years, while listening to such masterpieces as Long Live Rock 'n' Roll, Holy Diver and Dream Evil that I swore his voice would reach the heavens. I was certain, metal would never die. But now with Ronnie James Dio silenced forever, there is a part of that metal world that did die, and it will never be the same."
Franco Wissa
Writer/Photographer
Staff Writer, Hardrock Haven