Kansas, Styx and Foreigner LIVE!
June 3, 2010 at Starlight Amphitheater, Kansas City, MO.
by Mike Allen
Guest Staff Writer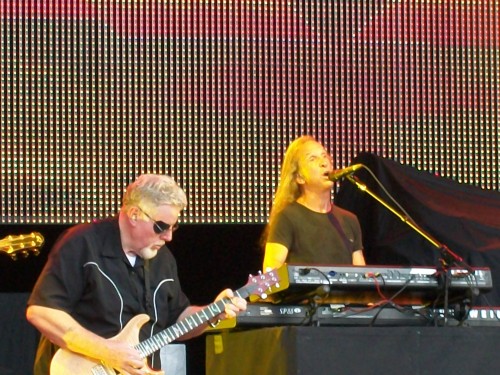 A beautiful night under the stars was the perfect backdrop for this show. Three excellent bands on one bill.
Kansas opened the show with a 45-minute set, which definitely was not long enough for this once-major act to play. However, Kansas wasted no time tearing into their set. The show opener, "Point of Know Return" was performed without flaw, with bassist Billy Greer adding his vocals to the intros of each chorus. Steve Walsh's voice was in raw form, sounding great and not strained as had been reported from previous reviews of the band. The band's original lead guitarist Rich Williams still has the crunch and tone that keeps the Kansas sound very much alive. Rich plays with great finesse on, both, electric and acoustic, perfectly playing very difficult finger picking parts, while letting loose on his electric solos. Violinist David Ragsdale, who replaced original violinist Robby Steinhart about five years ago, plays very precisely, leaving nothing and adding in a little of his own flair and style to the music. Ragsdale also is an accomplished guitarist in his own right. Rounding out the band is original drummer Phil Ehart. The man is a monster on the drums and proved it throughout the show.
Kansas never disappoints, and this night, the only disappointment about Kansas was the band didn't get to play long enough, which was out of their control.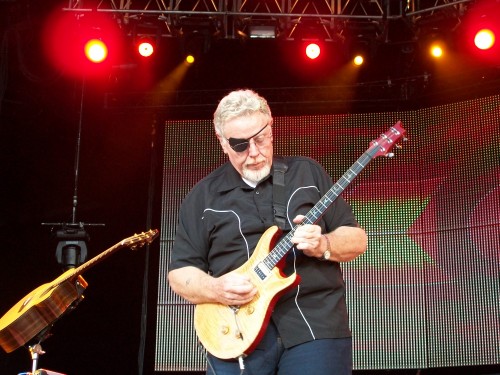 One of several high points of the show was during "Icarus: Born On Wings of Steel," in which Steve Walsh showcased his fantastic keyboard abilities. As the crowd watched and heard him preach the song while he played his classic sound, you, at times, really could feel the emotion Walsh was pouring out. Of course, Walsh let loose on his keyboard solo during "Carry On Wayward Son," which brought the entire crowd to its feet.
It was a very quick and tight set. Kansas needs to be on a tour with one less band and be afforded more time to play. They undoubtedly are not tired and ready to rock.
Kansas Set List:
Point of Know Return (No intro music. They go straight into the song)
Miracles Out of Nowhere
Hold On (With the Peaceful & Warm Section)
Dust in the Wind
Icarus: Born on Wings of Steel
Portrait
Fight Fire With Fire
Carry on Wayward Son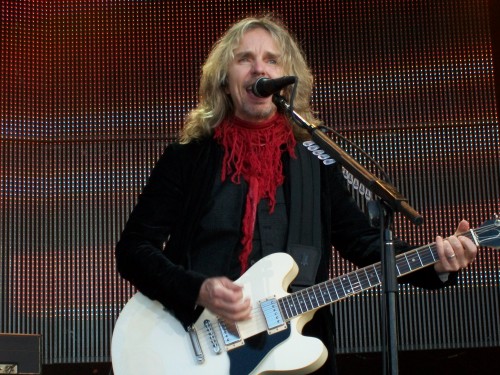 After a brief intermission, Styx took the stage. Opening up with the music to "Light Up," playing as they took the stage, the house, by this time, was full and everyone was on their feet. Styx, no doubt, has the ability to bring a crowd to their feet during their entire show. Although the term "poser" is normally meant for someone who has no talent but knows how to look the part, this isn't the case for Styx. These guys are the best posers in the business. The band is very photo friendly and offers an incredible stage presence. Tommy Shaw probably is the most talented poser ever. Watching Styx is very exciting. It's so hard to believe that James Young and Tommy Shaw are 118 years old when you combine their ages. They both look and sound very young and move like they did in their younger days. Nothing has been lost, and the years have been so kind to Styx.
The opener, "Borrowed Time" went over really well. It's nice to hear a band open a show with a little more of an obscure song, rather than just start playing the hits. They did a bit of a medley during "Borrowed Time," sneaking in excerpts from "Mr. Roboto" and "Rockin The Paradise," then returning to "Borrowed Time" to end the song. The audience loved it and screamed loudly throughout the entire show. Not enough can be said about Tommy Shaw's talent. He's the little man with the big voice.
Lawrence Gowan, the replacement for Dennis DeYoung, is a great fit in the band. He has a very similar voice to that of DeYoung, and his stage presence is sort of like Rod Stewart meets Mick Jagger. He keeps the crowd's attention with not just with his voice, but his keyboard playing stays very true to the original Styx sound. He plays note for note, exactly what Dennis played. His background vocals and harmonies are spot on.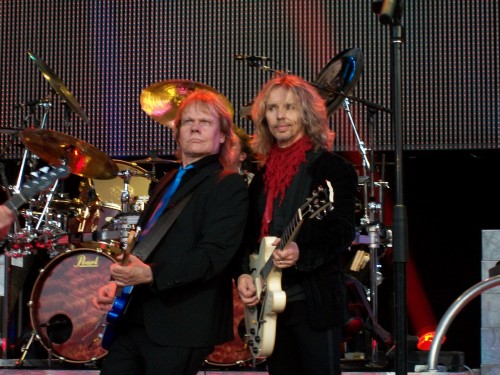 Ricky Phillips' (formerly of Baby's and Bad English) bass playing is very tight. He's a seasoned pro and fits right in with the rest of Styx. Todd Sucherman's drumming is nothing short of incredible. He's a double-bass playing, technical drummer who pays close attention to detail and never, ever misses anything.
All in all, Styx's energy level and enthusiasm makes for a really fun show to watch. A very cool screen with all sorts of graphics that go along with the songs is a really nice added touch. For example, they had a flag with the Statue of Liberty as part of a montage of scenes, along with girls dancing in sync as the backdrop for "Miss America." And during "Come Sail Away," the lyrics popped. These effects also were used during "Foolin Yourself" and "GET UP, which makes it fun to watch Styx.
Styx stepped outside the box and even covered Shaw's Damn Yankee song, "High Enough." With Lawrence Gowan covering Jack Blades' harmony and playing piano, this song really sounded great. Also, hearing James Young's interpretation of a Ted Nugent solo was a nice thing to hear. He did Nugent justice by playing key notes but still played it the way only JY can do it with quite a few more notes in the solo that were performed very tastefully.
James Young sounded great. He's a very underrated guitarist and an even more underrated singer; He pulled off "Lorelei" like he's owned it all along.
Styx certainly is enjoying a second youth these days. It was an incredible and energetic performance.
Styx Set List:
Borrowed Time
Grand Illusion
Too Much Time on My Hands
Lady
Lorelei
Can You Take Me Higher
Suite Madame Blue
Fooling Yourself
Miss America
Come Sail Away
encore
Blue Collar Man
Renegade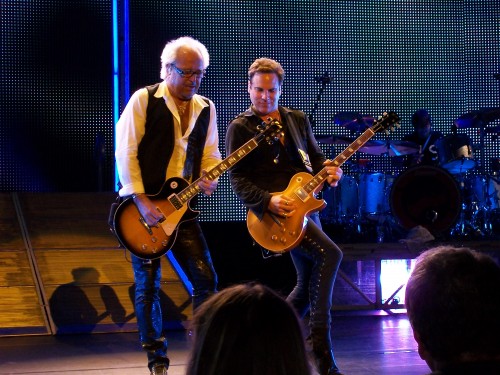 This brings us to Foreigner. It's been rumored that during this tour, Styx and Foreigner have been switching as headliners. This writer is glad that Foreigner was able to close the show because from the second they took the stage to the second they left 90-plus minutes later, Foreigner tore it up. Kelly Hansen, formerly of the '80's-'90's band Hurricane, took the helm for Lou Gramm, who left the band six years ago because of health reasons. Kelly is a singer to be reckoned with. He has all the range of Gramm, the sound of Gramm and the energy of Steven Tyler. What a talent. There absolutely was nothing about his voice that sounded bad. He is so on top of his game that it's borderline orgasmic to listen to him. He is 150 percent balls-to-the-wall the entire show. He belted out all the high parts of "Juke Box Hero," "Urgent," "Head Games," "Hot Blooded" and even breathed life into "I Want To Know What Love Is." Not enough can be said for what Kelly Hansen has done for Mick Jones and Foreigner. Jones probably said it the best when he introduced Hansen to the crowd. Summing it up, he said he found a singer that could bring life back into the songs and restore them to their original energy and form, and Kelly is the MAN! Lou Gramm's shoes are big, big shoes to fill. If anyone was disappointed in Hansen's performance, it wasn't shown by anyone in the full-to-capacity crowd. He literally brought down the house.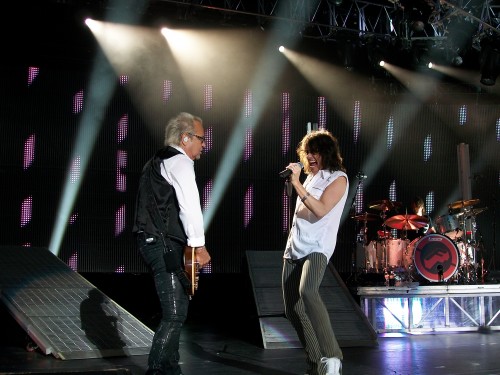 Jones still has everything he always did. He looks great with his bleach-white, spiked hair and skin-tight leather pants. Most people would say that a man in his 60s shouldn't be wearing that type of stuff. But Jones undoubtedly is the rockstar he always was. In fact, having seen him several times over the past 30 years, he was more "on" this night than seen I've seen in a long time. He still has all the crunch and meanness in his tone. The force is very much still alive in Jones. His version of "Starrider" still sounds every bit as good as it ever has with this time being an exception . His vocals sounded nice, but the four-minute guitar solo that erupted out of Jones during this song was awesome. Mick still knows how to work a crowd the old-fashioned way: Shut up and play guitar!
Foreigner's new songs, "Can't Slow Down" and "Pieces" came off sounding like classic Foreigner songs and definitely were a great way to boost a few album sales after the show.
To sum up the entire night, one word comes to mind: ENERGY; and lots of it. Two thumbs up and way to rock it, to all three bands.
Foreigner Set List:
Double Vision
Head Games
Cold As Ice
Can't Slow Down (new)
Dirty White Boy
Pieces (new)
Starrider
Feels Like the First Time
Urgent
I Want to Know What Love Is
Hot Blooded
encore
Jukebox Hero