Dakota Rockfest Weathers the Storm: Bret Michaels and Vince Neil Host Three Day Festival
July 21 – 23, 2010 at Sioux Empire Fairgrounds, Sioux Falls, SD.
by Derric Miller
Staff Writer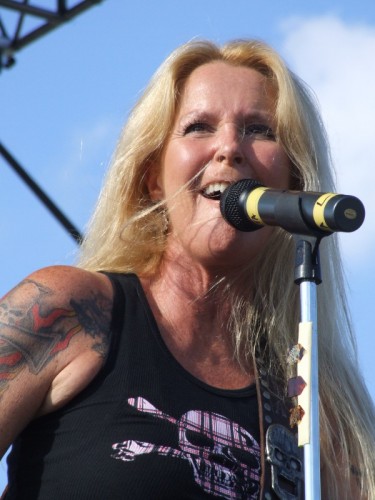 The third annual Dakota Rock Fest took place in Sioux Falls, S.D. July 22-24 at the Sioux Empire Fairgrounds. Like Rocklahoma a couple years back, Dakota Rock Fest 2010 unfortunately had to battle with Mother Nature, and it ended up shortening the Friday night event to just two bands—Lita Ford and Bret Michaels. While the weather didn't turn tornadic, it still put a bit of a damper on the event, considering one of the best new bands on the planet, Mama Kin, traveled from Sweden and didn't get to show the crowd exactly why you need to be their biggest fan.
On Thursday night (which Hardrock Haven was unable to attend), promoters Leisinger Entertainment opened up the gates free of charge for past and current military personnel and their families. All you had to do have some sort of military ID, and you could have seen bands like Asphalt Valentine, Rock N' Roll Damnation and one of the most talked about bands at festival, Hairball. The word on the street is that Hairball pulled out all the stops, went through extensive and believable costume changes, featured two lead singers who pulled off covers of Twisted Sister, KISS … and even Prince.
While the anticipation for Friday was sheerly about Lita and Bret, the bands Mama Kin, Attention and Far Cry planned on having their say as well. But the weather reports forced the promoters to put Lita on at 5:45 p.m., and Michaels at 7 p.m. While the promoters and all of the local radio stations made every effort (and then some) to get the word out, the venue was not as full as anyone would have expected when Lita tore things up. While Lita's new album has taken some head for going in an industrial direction, you cannot deny her musical talent or refute that songs like "Close Your Eyes Forever" and "Kiss Me Deadly" have stood the test of time. Lita, who isn't used to being the opening act for anyone, made it known she wasn't thrilled playing so early, but that didn't stop her from being a true professional. She had the crowd eating out of her hand, and her husband Jim Gillette even sang backing vocals the entire set. Gracious yet still full of snarky fire, Lita lived up to her name.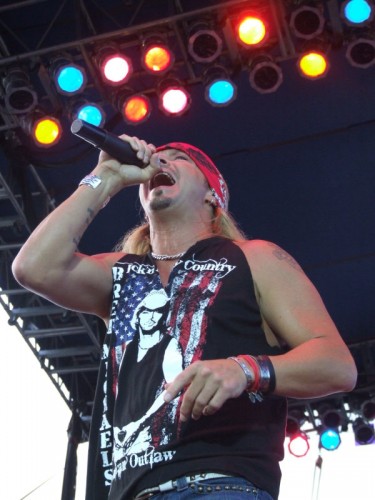 Bret Michaels, who is a nonstop touring machine and by now could do this in his sleep, unleashed his arsenal of Poison hits and some solo work to a crowd that seemingly can't get enough of his music. He was the main headliner in 2009 and Dakota Rock Fest was fortunate to get him back considering the health woes Michaels has struggled with over the past year. The ultimate professional, Michaels closed the concert by making a few carpe diem comments—sometimes it's just good to be alive, especially if you are Bret Michaels.
While the other bands were still holding out hope of playing after Bret Michaels, the minute Michaels left stage the venue announcement lightning, heavy winds and rainstorms are on the way, so everyone got the "you don't have to go home, but you can't stay here" send off. You couldn't help but feel sympathy for Mama Kin, who were living the dream right up until the promoter told them of the lineup time change. Lead singer Ward said it best: "He's Bret Michaels. I can't tell him when he can or can't play." Far Cry, the talented band with powerhouse vocalist Mark Giovi, found a slot on Saturday so their trip to Sioux Falls was not for naught. Mama Kin had a show in Omaha the next day, though, so maybe next year …
Saturday rolled around, and the promoters switched around playing times again, trying to accommodate as much music as possible. By noon, the music started, and local Sioux Falls favorites Jukebox Zeroes were on by 12:45 p.m. In the past, Jukebox Zeroes offered mainly covers, but every single person in that band has been a staple of the Sioux Falls' music scene for a couple decades, and they featured mainly originals for their set. Singer/keyboardist Amy Ellsworth is one of the best singers you have yet to hear (unless you have), and covers be damned … their original music rocked. Of course, the band is known for their Heart covers, so they ended it all with "Crazy on You." Even when you come to expect greatness from them, they exceed expectations anyway.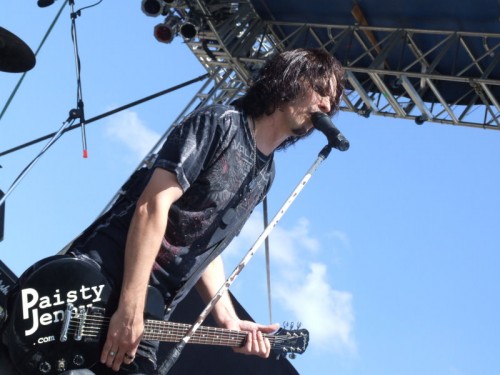 Hardrock Haven's own Derric Miller took the stage to announce Paisty Jenny. This was Paisty Jenny's third time playing Dakota Rock Fest, and first time with new guitarist Stan Liberty, who adds a bit more Metal to the overall sound. Since the band has opened the event the past two years, this was their first chance to play before a larger afternoon crowd (and not hungover morning crowd). Paisty Jenny is now a well-oiled machine, driven by songwriter/singer/guitarist Gregg Lee's snarling yet fiercely melodic anthems. Along with drummer Tye Lovette and bassist Gabe Matthews, Paisty Jenny once again proved they belong on stage with every single band before AND after them.
Tango Down and Far Cry, both Kivel Records recording acts, had their time in the increasingly blistering sun as well. Far Cry, who fortunately found a slot Saturday after the Friday bounce, opened with "We Rock" from Dio and never let up. If you haven't seen or heard them yet, you are doing yourself a disservice. Tango Down had 50 percent different people than last year, and the big addition is David Reece (Bangalore Choir). Tango Down's music becomes more serious and Classic sounding with Reece behind the mic. Former singers Phil Naro and Alex Barbieri both fronted the band at one time, but neither have the weight of Reece's legacy behind him. In fact, two songs played weren't even Tango Down songs—they played a Bangalore Choir and an Accept song instead, making Reece the focal point of the band.
Bombay Black, who has a new album out called Love You to Death on Triage Music, are simply one of the best sounding live acts around. What they create in the studio they can recreate perfectly on stage. Their aggression, their sense of humor, their huge vocal melodies and their limitless attitude come to sonic life when you see them live. Each member is an original personality in his own right, and together, Bombay Black just keeps getting better.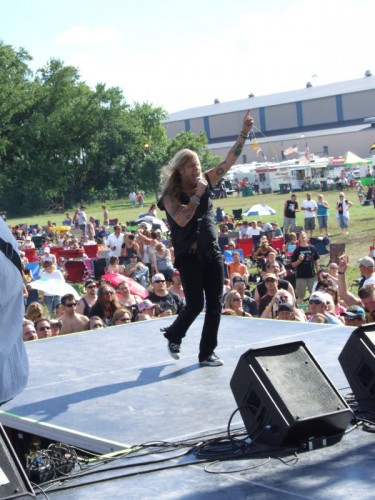 Ted Poley of Danger Danger (www.tedpoley.com) was one of the most anticipated musicians of the whole event. He hasn't played anywhere around the Dakota Territories in far too long, and to finally hear the voice of Danger Danger live was more than worth the wait. To put it bluntly, Poley is the ultimate frontman. He works the crowd, he draws you in, he makes you smile and laugh while you are trying to sing along with hit after hit, and vocally, Poley tied for the best vocals of the entire festival. Unfortunately for Poley, he was so dedicated to giving the crowd everything he had, he forgot that it was now in the high '80s, the sun was blasting a black stage, he had holes in his jeans … and he kept sliding to his knees on this searing surface. After the show, once the adrenaline wore off, Poley realized he was the proud owner of some nasty second degree burns; he even pulled off a silver dollar sized fried piece of himself and flung it at one his prior label heads.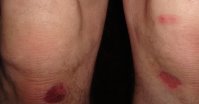 He was even nice enough to send a picture of his fricasseed knees for your viewing pleasure. It was a coup for Dakota Rock Fest to get Poley to play in Sioux Falls. Poley's band featured Vic Rivera (Adriangale, Poley Rivera) and some players from Far Cry, including guitarist Pete Fry who dexterously nailed his Andy Timmons solos.
Last year, Dakota Rock Fest dipped into the vault and brought April Wine to Sioux Falls. This year, their retrospective look included Axe and Molly Hatchet. Axe fared the better of the two, with their hit "Rock And Roll Party in the Streets." Molly Hatchet even played a Skynyrd cover, for some reason.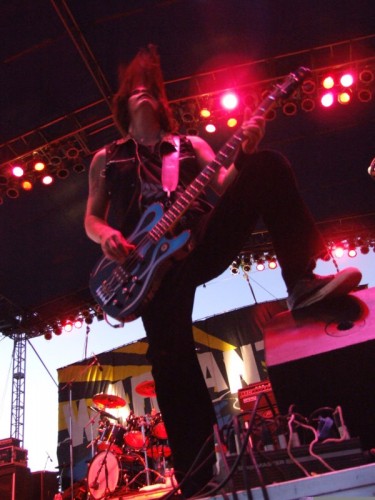 Warrant — who has undergone singer changes from Jani Lane to Jaime St. James back to Jani Lane now to Robert Mason (Lynch Mob, Big C**k) — played right before closer Vince Neil. Warrant finally has a singer who can hit all the notes, recreate the past and help forge the band's future. If you haven't heard Mason live before, his immeasurable vocal talent and limitless energy has to be daunting for other singers to follow. You don't want to be the person to follow Robert Mason, period. From "Cherry Pie" to "I Saw Red" to "Uncle Tom's Cabin," they played all their multi-platinum hits and everyone witnessed a rejuvenated and recharged Warrant steal the show.
With the "evolution" of Rocklahoma, who completely sold out to the Corporate Rock Gods, it seemed that Dakota Rock Fest had the opportunity to steal some of their thunder by featuring these still-relevant '80s acts. Would it have been a bigger draw for the promoters had Motley Crue, Poison and Danger Danger played? Yes, certainly. Dakota Rock Fest is extremely affordable compared to other festivals, but they may have to bite the bullet and pull in a band like Whitesnake next year if they want to keep making the festival bigger and more relevant (and make bank for their efforts). The promoters have updated and rearranged the festival every year and have proven they can adapt, so it should make next year's Dakota Rock Fest even more interesting.
Online: www.dakotarockfest.com
Dakota Rock Fest 2010 Photo Gallery
Photos provided by John Kindred