July 15, 2010 at Sandstone Amphitheater, Bonner Springs, KS.
by Kathy Kindred
Staff Writer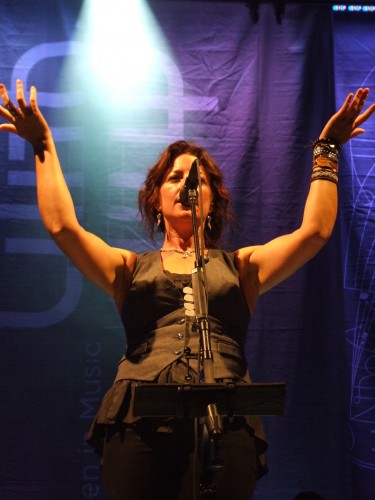 Despite sluggish ticket sales, Lilith Fair 2010 has heart …
The Lilith Fair stop at the Kansas City's area Capitol Federal Park at Sandstone Amphitheater included an empty lawn and half-filled seats. It has been no secret that the popular '90s tour has fizzled out with its 2010 return. Grammy Award-winner singer and songwriter and Lilith Fair co-founder Sarah McLachlan said that the 2010 tour already was in the making in early 2008, before the economy tanked. When lineups and tour dates were set, it was too late to adapt to the economic climate, she said. However, McLachlan confirmed a 2011 return of the Lilith Fair tour and said this year's tour showed that "adjustments and streamlining" will be necessary for 2011.
At each tour stop, $1 of every ticket sold goes to a local women's charity. Kansas City's Hope House, which offers two residential shelters for domestic violence victims, was the area's chosen charity. McLachlan presented a $4,000 check to Hope House CEO MaryAnne Metheny.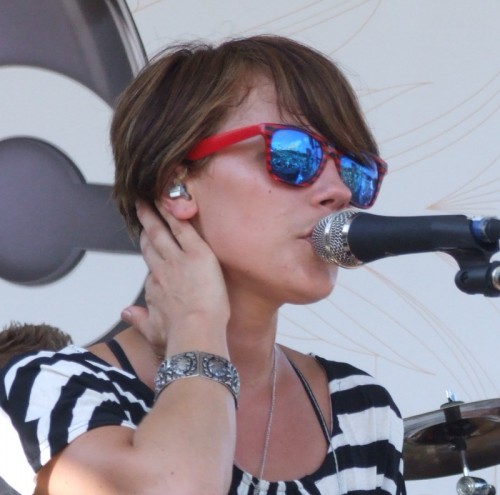 Lilith Fair Kansas City performers included Sarah Swenson, who was the local talent search winner, Julia Othmer, Jennifer Knapp, Kansas City-native group Vedera, Metric, Ingrid Michaelson, Court Yard Hounds, Emmylou Harris, Heart and Sarah McLachlan, who headlines at every tour stop.
For Hardrock Haven fans, Heart, clearly was the day's highlight. Ann and Nancy Wilson kicked off their set with "Barracuda." Ann's voice hasn't changed a bit since the sisters' 1976 debut album Dreamboat Annie. If anything, her voice has improved with time, which was kind of surprising to many in attendance. She received a huge applause for belting it out. Nancy rocked on the guitar and was in perfect vocal and instrumental harmony with Ann. They played the hits "Straight On" and "Even It Up" before performing "WTF," "Hey You" and "Red Velvet Car" from their new CD titled Red Velvet Car. The set concluded with the well-known songs, "Alone," Magic Man" and "Crazy On You." Heart's encore, a cover of Led Zeppelin's "What Is And What Should Never Be" left fans wanting more Rock and Roll and a standalone Heart tour. Props go to the Wilson sisters, who continue to rock and record.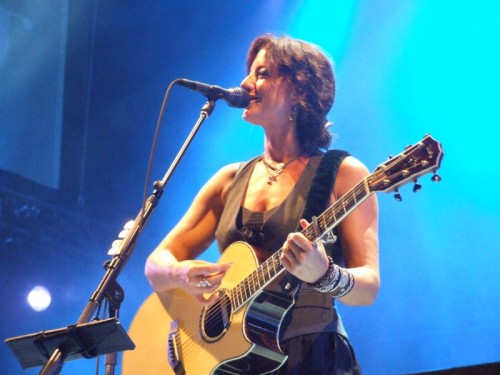 Under a mystical blue light and sitting at the piano, Sarah McLachlan took the stage and, in a duet with Emmylou Harris, began with, perhaps, her most popular song, "Angel." Crowd lighters quickly began shimmering. "Building A Mystery" brought fans to their feet, and the audience clearly could be heard singing along. McLachlan performed a new song, "Loving You Is Easy," which is from her new CD, Laws of Illusion. "World On Fire" had fans swaying and dancing in the aisles, as did "I Will Remember You." The other new songs from Laws of Illusion included "Forgiveness" and "Out Of Tune," both of which received a warm and welcoming audience response. McLachlan concluded her set with "Sweet Surrender" and "Possession." Her encore was the light and up-beat "Ice Cream." The Lilith Fair finale showcased McLachlan with the day's previous female artists as they joined in performing the Patti Smith and Bruce Springteen song "Because The Night."
Lilith Fair 2010 isn't a sell-out tour, but it provides a day in which women in music is celebrated. Ann Wilson said it best: "We don't stand on gender, alone. But we're happy we were able to kick open some doors for other female artists." Let's hope the 2011 Lilith returns to bigger crowds and more fans.
Lilith Fair: Heart Photo Gallery
no images were found
Photos provided by John & Kathy Kindred