July 15, 2010 at Trocadero Theatre, London, Philadelphia PA
by Steve Trager
Staff Writer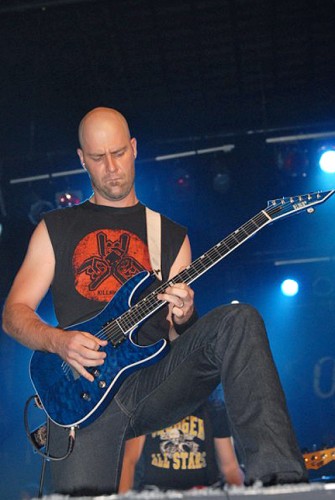 On the second night of Soilwork's "Panic Over North America Tour "which touched down in Philadelphia at the Trocadero Theatre, it seemed to be nothing short of greatness. It has been quite a while for this amazing band to hit American soil once again, and their power-packed show leaves you nothing short of breathless as a music fan who, enjoys Swedish Metal fast and extremely furious. Even with a new axe man at hand and Peter back into the fold, Soilwork never sounded better. In fact this was one of the greatest touring packages comprised of three Nuclear Blast Bands along with Mutiny Within, who seem to be the hardest working young band on the road with every major tour in the last several months.
This tour seemed to be nothing short of great with Swashbuckle opening the show with just under twenty minutes to get the fans going. An odd band from the shores of New Jersey, who entertained the fans with their quirky tunes and pirate outfits, makes you think you're at some Halloween party. However, they still know how to kick it into high gear.
Nothing is greater than short set changes and right back to the fist pumping music with Mutiny Within who, still for only twenty minutes, played a great set with just five songs. This band not only showcases their drive as a young eager six piece outfit, Mutiny's live show is nothing short of greatness as they performed songs from their debut release chock full of melodic metal.
Sharing the stage at the Trocadero Theatre on this super tour package Canada 's own Augury, another great Nuclear Blast band who stepped forward and ripped into some great death metal. Still, with only twenty minutes, it doesn't give you much time to get into it. However, fans still enjoyed a great set.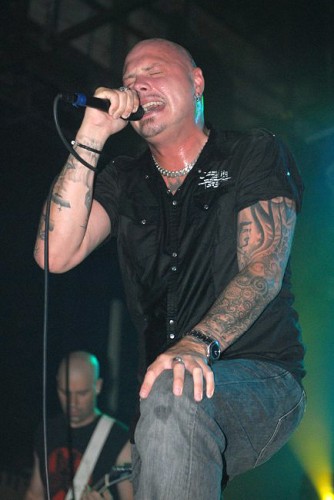 Nuclear Blast has some great bands under their wings and this next band certainly needs no plug. It's been more than 20 years Death Angel has been playing and recording. Not sure if this is the same line up as in the early '90s, but rest assured Death Angel never sounded better with their brand of pure Thrash Metal. It often reminds me of the early days when Thrash Metal reigned over the land with some great bands, pure and simple yet unique. Their live show brings back memories when I first seen this band with Forbidden; same place but different era in music. Nothing like sweating it out while watching these guys performs some great songs from their back catalog.
The night got even better with 90 of pure Swedish metal from Soilwork, who never sounded more tighter as a live band than they did on this momentous tour, featuring their new guitarist along with axe man Peter who, certainly give this band a nice blend of backing vocals and blistering solos, complete with Bjorn at the helm rounding out Soilwork's quest to kick your ass as a live touring band. Seem so long since this band touched down on American soil yet since a short hiatus Soilwork makes a serious comeback in 2010 with Panic Broadcast. A new blend of speed and flawless vocals that we have come to expect only from Soilwork.
Soilwork Set list:
Late For The Kill, Early For The Slaughter
The Chainheart Machine
Night Comes Clean
Rejection Role
Overload
Neurotica Rampage
The Flameout
Natural Born Chaos
Deliverance Is Mine
Follow the Hollow
Nerve
Stabbing the Drama
20 More Miles
As We Speak
The Crestfallen
Two Lives Worth of Reckoning
Let This River Flow
Soilwork Photo Gallery
Photos courtesy of Steve Trager