Bombay Black Love You to Death
by Derric Miller
Staff Writer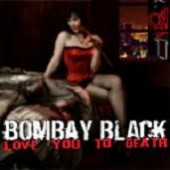 Sooner or later, the listening world is going to have to realize that Bombay Black is simply one of the best bands on the planet making Hard Rock today. Their prior releases—Mercy, Anger Management and Psycho Magnet—all reveled in the band's ability to write snarky, funny, heavy and extremely melodic anthems. None of that has changed on the new studio album, Love You to Death; it's just all better than anything they've recorded or written thus far.
One of Bombay Black's biggest draws is the biting lyrics from singer/guitarist Erik Johnson, and the way he delivers his vocals. On the opening track, "Reign Over Me," it's all there to wallow in. Drummer Rob McCauley also firmly plants his brand on this track, pummeling along at a fevered and deft pace. Musically, it's one of the most Modern Rock sounding Bombay Black has recorded, but they take it even further later in the album.
"It's hard to be good with a demon on your shoulder, when the night is young and we're only getting older," sings Johnson on "The Angel and the Devil." If you want to hear exactly how to write a hooky chorus, this is how you do it. "It's bad to be good when it's good to be evil" is another one of those lyrics that get carved into your noggin after one listen and you will be forced to sing along next time around. Guitarist Jim Perry rips into a searing solo but like the band itself, he is here to make the song the best it can be, not to show off. The song crescendos to a fierce close, and you wonder if or how they'll top this track. And they do …
"Demons Down" is perhaps the best track on Love You to Death. If you haven't heard Bombay Black yet, it's all about attitude. Their songs tell stories, typically funny as hell stories. They are also fond of booze, and ladies, and having a good time—gee, who can relate to that? Oh yeah, everyone. "You can get so goddamned lucky tonight but you couldn't tell if it's a fuck or a fight!" is just another one of those relationships Bombay Black nails down to perfection. The human condition never felt so damn good, except when you are listening to Bombay Black.
One knock on the band in the past, perhaps like AC/DC, is that their songs were somewhat similar and they didn't try anything new or go outside their comfort zone. Well, "Black Widow" makes you rethink everything you thought about Bombay Black. "Black Widow" begins with an almost Industrial Metal groove; it's sleazy, dirty and extremely sexual. Suddenly, synthesizer hit you, which is a first for the band. The song picks up speed, with two-part harmony vocals on the bridge, and spins you into this massive chorus. If this can somehow make it to mainstream radio, and it should, it will be a hit.
They get back to what they do best on "Smother," and if you thought "Black Widow" had a catchy chorus, this one takes it to a new level. Hearing "Choke me smother me! It's all that you do to me … I like it in the bed but not in my head, when you choke me smother me!" is just perfect. The band had best make some t-shirts that say "Choke Me Smother Me!" because who wouldn't wear that to church?
The drumming on "Give Yourself to Me" is more intricate than anything you've heard from Bombay Black before. It's almost tribal in its rhythms, and bassist Ty Sims flaunts a stylistic bass line as well. Again, this is one of those songs that Bombay Black took a chance on and exceeded whatever expectations they set before themselves. It's a mid-paced composition, much like "Black Widow," and one of the coolest tracks they've ever written.
As much as you embrace the experimental Bombay Black, you are still going to glom on to their songs like "New Psycho." This one has that Puddle of Mudd "She Hates Me" vibe, and the band actually wrote this song via e-mail, basically because Johnson seemed to have lost his artfully hateful attitude towards life, and the band pointed it out to him. After a few e-mails, the lyrics were written and the song soon followed. This lyric tells it all: "I've got a nice house and a really cool girl, been playing to people all around the world. I've got my fireball and I've got my guitars, but I know I'm losing sight of what it means to be a star. I need a new PSYCHO!"
Love You to Death is everything you expect from Bombay Black, but it also has a few new tricks to let you know the band is still evolving. Considering they are one of the best live bands you will see hit the stage, it's almost immeasurable how big these guys could become if given the chance.
Band:
Erik Johnson (vocals, guitar)
Ty Sims (bass, vocals)
"Devil" Jim Perry (guitar, vocals)
Rob McCauley (drums, vocals)
Online: www.myspace.com/bombayblack
Track listing:
1. Reign Over Me
2. The Angel and the Devil
3. Love You to Death
4. Demons Down
5. Let the Right One In
6. Black Widow
7. Smother
8. Give Yourself to Me
9. Shackles and Chains
10. Down on the Floor
11. Mojo
12. New Psycho
Genre: Hard Rock
Label: Triage Music
Hardrock Haven rating: 8.4/10